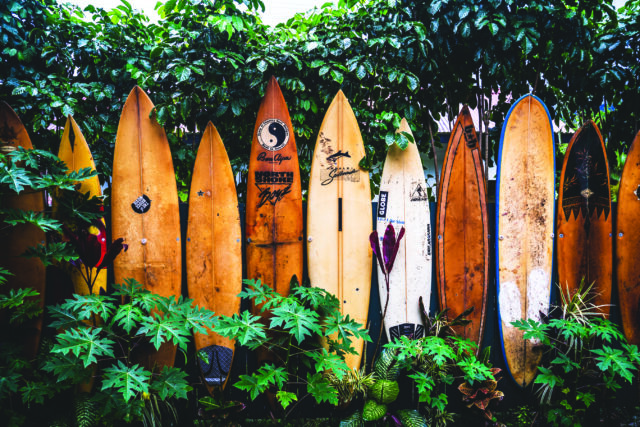 Ready To Shred
By Julia Szabo
No surfer can resist the tidal pull of Montauk's waters. Now, wave warriors, kooks and surf spectators alike all can get stoked about a comprehensive immersion in postmodern surf cool, thanks to The Surf Thing, an inaugural festival taking place June 7 to 12 that hopes to become a new Montauk tradition.
It's the inspired brainchild of Whalebone Media, which has morphed the signature editorial viewpoint of its magazine into a creatively curated live event. Among the festival's main attractions: The Flower Shop will teleport to Montauk from Manhattan's Eldridge Street, taking over The Surf Lodge to serve up "Surf Lodge staples with a Flower Shop twist—think light, bright, fresh," says Whalebone publisher Eddie Berrang. Each day will bring a different surf-related wellness class offering (yoga, meditation, guided breath work), as participants stay healthily hydrated thanks to ZenWTR, one of the festival's sponsors.
Opportunities abound to do good and look good: The Surfrider Fancy Gala will raise funds for the Surfrider Foundation, dedicated to the protection and enjoyment of the world's oceans, waves and beaches, while Left on Friday showcases its performance swimwear styles for body-conscious beachcombers.
At The Surf Market, artists (including James Katsipis and Justin Burkle), makers and photographers invite everyone to "pick up some goods for your wall," and walk away with a chic tote codesigned by sustainable fashion brand GOT BAG. The cultural action even takes a quick detour to the East Hampton movie theater, where cinephiles may sip Solento organic tequila while enjoying short surf films such as Havana Libre and Weird Waves.
The festival's profound spirit of bridging distance is just what the doctor ordered for this post-pandemic period. "There's not much that makes you feel more in-the-moment than being in the ocean," Berrang says. "For The Surf Issue, Whalebone is turning the keys over to The Momentum Generation, which redefined surfing, friendship and community for more than one generation. In honor of the issue, Whalebone wanted to bring to life that sense of community and celebration of the water that the print edition is meant to represent, and turn it into a real-life event that explores all aspects of surf, wellness, music, history and of course, the ocean. Bringing people together: That's the most important thing." thesurfthing.com