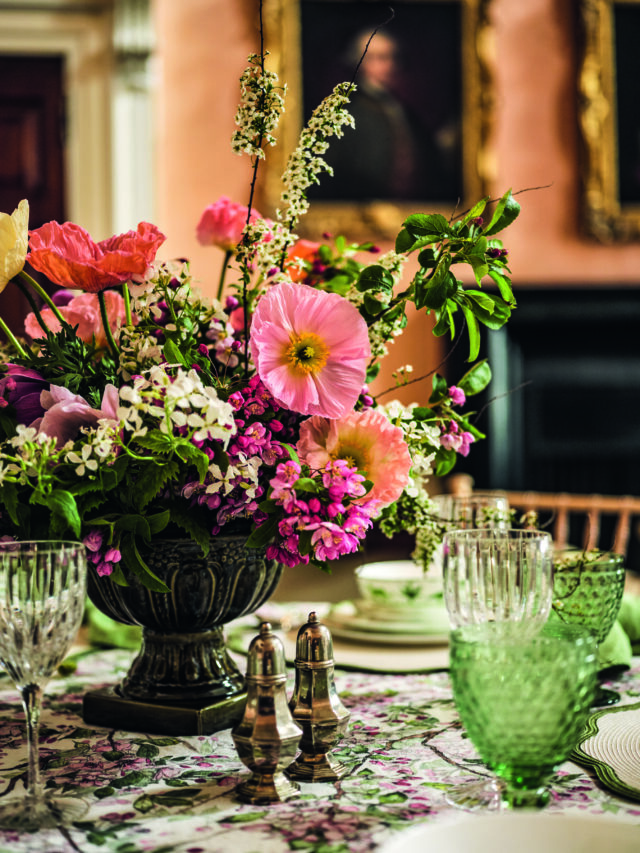 By Regina Weinreich
Interior designer Jane Churchill won't speak about her former "flatmate" Camilla Parker Bowles. Fortunately, and owing to the time afforded during COVID lockdown, Churchill and Emily Astor are more forthcoming on the subject of their own storied, historic families going back to Nancy Astor and Nancy Lancaster, residents of fine Gilded Age-style houses on both shores.
The two Nancys, both American born, married men of title (think Downton Abbey's Lord Grantham and his American wife, Cora), and hosted lavish-looking dinners with beautifully appointed tables, fine china, in grandly furnished, be-gardened homes while working major careers. Nancy Astor was the first woman to take a seat in the House of Commons, while Nancy Lancaster became an interior designer of note.
A recipe book, hand-typed, hand-bound and initialed W. A. (Waldorf Astor) on the front was the basis of Entertaining in Style: Nancy Astor and Nancy Lancaster: Table Settings, Recipes, Flower Arrangements, and Decorating, a coffee-table book published by Rizzoli. Having both spent childhoods summering at Mirador, near Charlottesville, Virginia, Jane Churchill and Emily Astor enliven keen memories, bringing the fineries of their youths close to home, and with copious research, honoring their forebears, accomplished women and renowned hostesses of "luxurious simplicity."
Luxurious simplicity! Now there's an oxymoron East Enders can embrace. A one-day stop on their American book tour took the authors to Southampton and Sag Harbor. At the Southampton Club, friends and fans viewed archival photos of Winston Churchill, Cecil Beaton, Charlie Chaplin and Hermione Lee at tea on glorious lawns.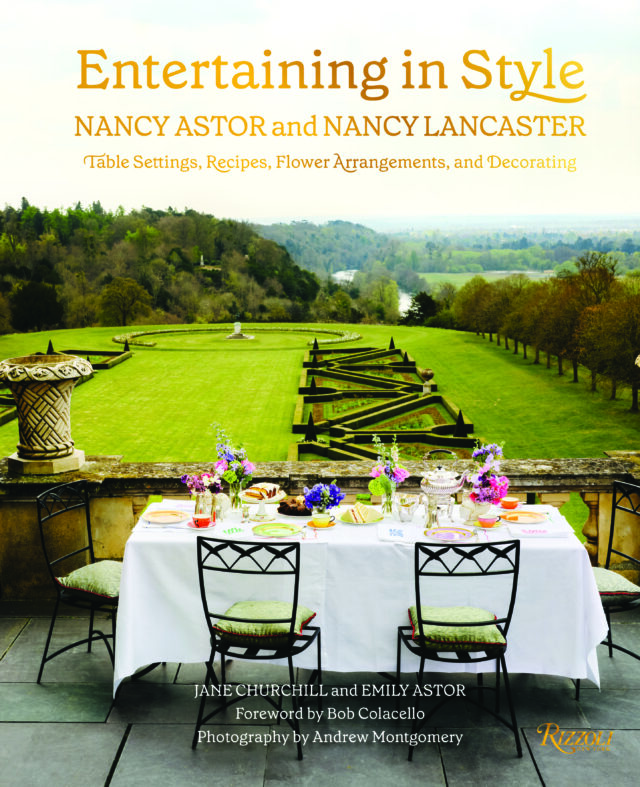 At a book signing hosted by Katie Leede at her Sag Harbor interiors, textiles and antiques shop, Leede said she felt a kinship to Jane and Emily, who "inspired us with stunning images of tabletops and delicious food in gorgeous settings and great storytelling that made us laugh," Leede says. "They deepen my closely held belief that beautifully imagined and thoughtfully run homes have the power to help us thrive in the bigger world."
Similar to their summering at Mirador, Leede learned how to live with largesse from having summered in Maine for about 20 years at Skylands, a house her family bought from the Ford family then sold to Martha Stewart. A source of ongoing inspiration, Skylands was decorated in a relaxed English country style with chintz and warm English antiques. "My store reflects a similar aesthetic to a good English country house," Leede says. "From lighting to upholstery, everything feels comfortable, collected, soulful—and worthy of a story."
And that, too, is a point of connection with Jane Churchill and Nancy Astor, appreciated in Bob Colacello's introduction to Entertaining in Style. Marvelous anecdotes reveal charm and classic wit, where some quips serve as chapter heads. For "Bread, Biscuits, & Cakes," Nancy Astor: "Winston, If I were your wife, I'd put poison in your tea." Winston Churchill: "Nancy, If I were your husband, I'd drink it."
For all that, the book's food is humble—egg mousse, parsley soup, chicken gumbo, fishcakes—empowering recipes that say, speaking of batter, never mind if it's lumpy.
The photographs in Entertaining in Style may show glamour and grandeur worthy of royal families, or our own, but Nancy Astor's thoughts on maintaining health and well-being keep it grounded: "We were very sensibly fed, with good plain food and plenty of it."