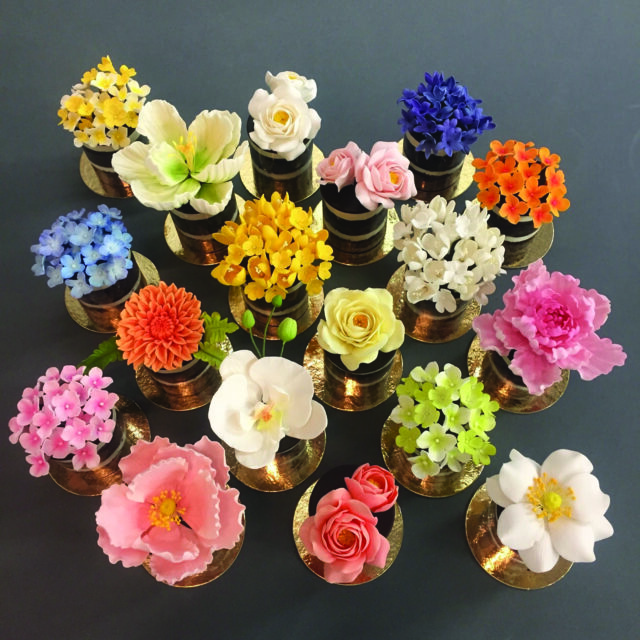 By Gabrielle Echevarrieta
Whether it be runway fashion or an elegantly decorated dessert, creativity is what makes life sweet. A graduate of Williams College and Parsons School of Design, fashion designer Charlotte Neuville began her career as an assistant designer to Perry Ellis before launching her namesake brand in 1985. She then soared to the top of the fashion world, with pieces sold in Barneys New York, Neiman Marcus, Saks Fifth Avenue and Bloomingdale's, and coverage in Vogue, Harper's Bazaar and Elle. After transforming retail chain Lerner New York into the multibillion-dollar fashion house New York & Company and creating Bono's philanthropic global brand PRODUCT (RED), Neuville left her 30-year profession behind to pursue another lifelong passion: cake decorating and design.
Neuville made the jump from fashion to fondant in 2011, honing her confectionery skills at the ​​French Culinary Institute before interning under cake designer Ron Ben-Israel. "Initially, I started it out of my apartment!" she says of her now thriving business. "I actually moved out of my bedroom into the living room, and transformed my bedroom into a cake design studio. I did all of the baking in my home kitchen, and soon outgrew the space. I rented a space nearby in Chelsea, and the rest is history."
From weddings and birthdays, bar mitzvahs to bridal showers and everything in between, Neuville brings each client's vision to life with intricate multidimensional cake concepts. "Baking and confectionery design is two steps away from fashion design," Neuville says. "I am still wildly passionate about fashion, and an active member of the CFDA (Council of Fashion Designers of America). It's all about beauty and creativity—that is what drives me." Some of her most ambitious creations include an eight-tier wedding cake adorned with delicate sugar-paste orchids, ultrarealistic bulldog and cat cakes modeled after real pets, and charming miniature "hamburger slider" cupcakes constructed from fondant. Those looking to impress guests at their next get-together can opt for a bespoke dessert buffet with whimsical cake pops, truffles, chocolate-covered strawberry towers and elaborate croquembouche sculptures.
Each cake journey begins with an in-depth consultation with the client or event planner, including a sketch and design plan from Neuville, as well as samples of an array of delectable flavors and fillings. Among Neuville's extensive clientele is Aerin Lauder, who commissioned a white-and-gold birthday cake featuring blooming peonies and tiny ladybugs. For Olivia Palermo, her namesake pig from the beloved Olivia children's book series was brought to life on a nostalgic storybook cake. Her larger-than-life designs caught the eye of Oprah Winfrey, which secured Charlotte Neuville Cakes a cover spot on 2013's The O List.
What sets Neuville apart from other bakers is her innate ability to project each client's loves and passions onto their cakes. One creation in particular, The Artist and Musician Wedding Cake featured on the opening page of Purist's Food Is Medicine section, tells the bride and groom's story in three meticulously crafted layers. Janey, an artist, singer and Texas native, fell in love with therapist and musician Chris across the country in Boston. An edible microphone, paintbrush and snare drum appear on the base layer of the cake, with the middle tier featuring a draped sugar-paste map of the United States illustrating the route from the Lone Star State all the way to a red heart marking their meeting place on the East Coast.
"We hand-painted one of Janey's screen prints onto the top of the cake, and brought it alive with 3D sugar-paste yellow orchids and juniper berries that appear to be blossoming out of the cake," says Neuville. "We then transformed the base tier into Chris's snare drum, even making our own molds for the snares. This started us making our own proprietary molds exclusively for our clients." The cake was such a hit, Neuville has been commissioned to create Janey's daughter's wedding cake this September. charlotteneuvillecakes.com