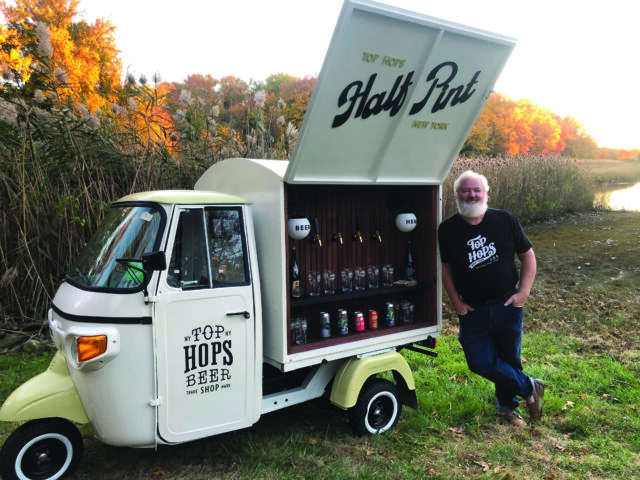 By Nancy Kane
This year, there's a new party truck in town. The Top Hops' Half Pint is the mobile version of entrepreneur Ted Kenny's Top Hops Beer Shop, the Manhattan tasting bar meets craft and import bottle emporium. This summer, The Half Pint, a shiny, three-wheeled Piaggio Ape Classic vehicle made by the same company that manufactures Vespa scooters, and imported from Italy, takes beer drinking on the road, specifically The Hamptons and the North Fork. The Half Pint will be popping up at private parties and public events serving up artisanal, hard-to-find ales and lagers as well as classic favorites.
Positioned for summer private parties, this is not your average kegger. "I can find the beer you loved in college, or something you sipped in Ireland but could never find again," said self-professed "beer geek" Kenny. His passion for all things foamy is matched by his years of experience—after leaving the floor of the New York Stock Exchange, he started bartending, moved into beverage sales and then one night over—what else?—beers with friends, came up with the concept to fill a gap in New York.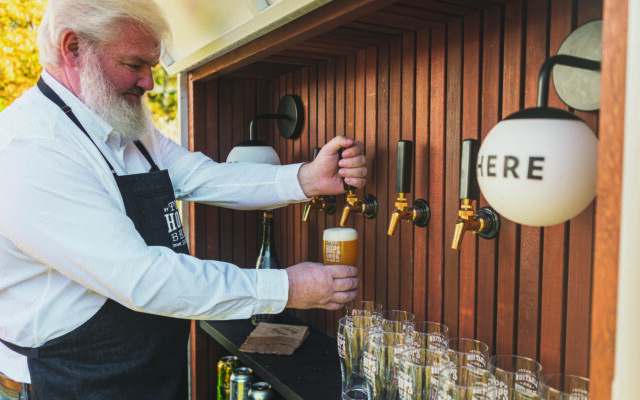 "There was nothing like this in New York City," he said. "With every kind of boutique shop you could think of, there was no place where you could drink and enjoy beer, and then take some home." Now, The Half Pint can serve a thirsty Hamptons crowd of any size with a customized menu featuring six different taps (draft wine and ciders are also available), along with curated packages such as Endless Summer (think beach parties and backyard barbecues) and The Globe Trotter, an around-the-world taste of imported favorites.
For anyone looking to up their party truck game, consider booking King Andrew's mobile cheese shop, which offers a delectable selection of fromage to pair with ales and lagers; or Rolling in Dough, for brick-oven pizzas made on-site with fresh local produce for toppings. tophops.com