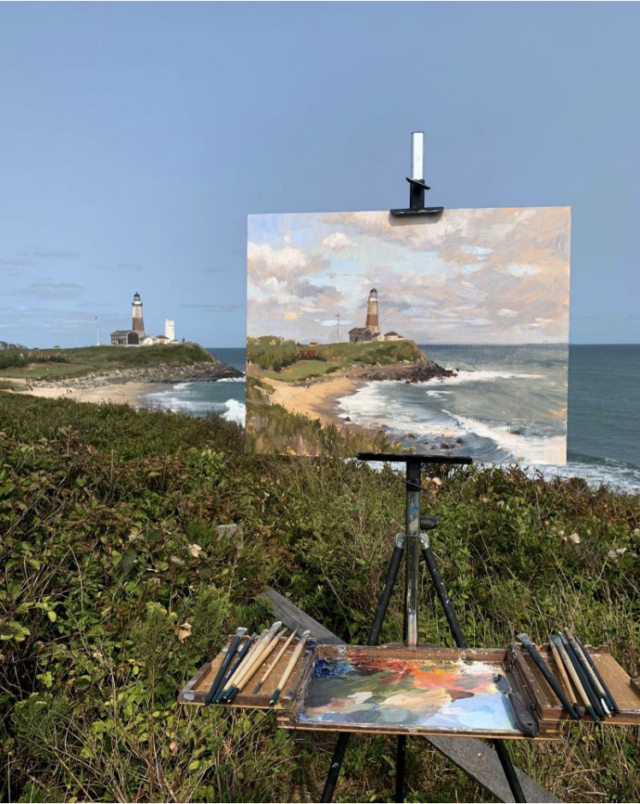 From pristine beaches to rocky sea cliffs and iconic landmarks like the Montauk Lighthouse, the East End's natural splendor has transfixed artists for decades, inspiring the works of Jackson Pollock, Mark Rothko and a new generation of contemporary creators. Revolve Hair, a chic Southampton beauty destination celebrating its 12th anniversary in 2022, is adding an artistic touch to its tranquil, recently renovated interior with a newly commissioned triptych by painter Megan K. Euell. This Sunday, May 29, from 11AM-2PM, head to the salon at 34 Hill Street to witness an exclusive unveiling of this bespoke piece.
Revolve Hair, a premier beauty destination nestled in the bustling epicenter of Southampton, has undergone a complete makeover under the leadership of founder and master stylist Alicia M. Cook. Clients are greeted upon entry with an open, airy ambience reminiscent of a luxury beachfront hotel, complete with laid-back earth tone design details, pops of natural elements like pampas bouquets and lush plantings, plus an extensive line of clean hair care from Oribe on display. Euell's newest creation, inspired by the effortless elegance of the salon, will be a finishing touch to the dramatically revamped beauty sanctuary.
"We kept the coloring for the triptych pieces monochromatic, to complement the serene feel and look of the salon," says Cook. "As a female business owner, supporting women and the community is important—incorporating a painting by a local artist into the design of the space embodies this. It was fun to work with Megan on what each painting should represent." Euell, a Southampton native and graduate of the Florence Academy of Art, currently offers private lessons in NYC and the Hamptons, plus plein air painting workshops on Long Island. The salon's May 29 showcase gives local art lovers an opportunity to gain insight on Euell's unique vision and technique, and explore the full range of hair artistry services offered by Revolve.