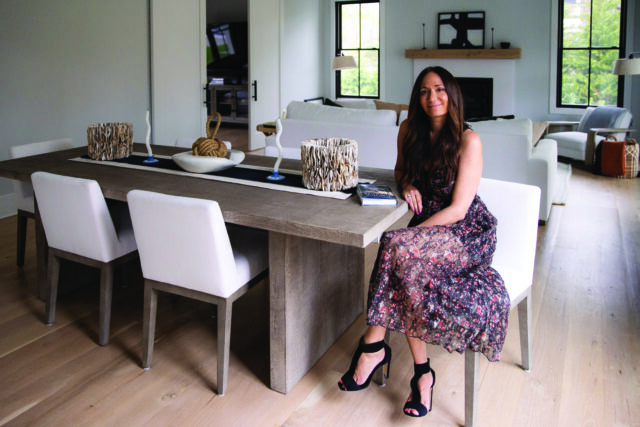 By Julia Szabo
At the height of the pandemic, home was everyone's safe haven in the viral storm. But what if home were actually more menace than comfort? That's the premise of Lacie's Secrets, the new psychological thriller from acclaimed gothic novelists Teresa Sorkin and Tullan Holmqvist (who also co-wrote 2019's The Woman in the Park). Ostensibly, the story's heroine is Kate Williams, who undertakes a trip from Connecticut to her family's vacation home in Maine—the site of the mysterious disappearance, two decades earlier, of Kate's sister Lacie.
The force to be reckoned with in these 320 fast-turning pages isn't the protagonist, or her secretive sibling, or even an eerily ubiquitous lady shrink (who also features in The Woman in the Park); it's the house itself, called Villa Magda (named for Kate's great-grandmother). "The house is a big character—probably the biggest in the book," says Sorkin. Its remote fictional location, in the very real Pine Tree State, is a nod to Stephen King, who pioneered the ready-for-its-close-up novel; together, Sorkin and Holmqvist have left their mark on the genre, with spooky shades of Shirley Jackson's The Haunting of Hill House, plus a feminist spin that slays their loyal readership (in a good way).
Hosting Kate, her husband and son, plus a close-knit group of their friends for one highly eventful week, Villa Magda can hardly contain her malevolent intent. As the days progress, inexplicable incidents and unsettling visitors begin to unravel Kate's peace of mind, as the gorgeous oceanfront property proves far more petrifying than picturesque. The tone is set with the opening paragraph, which reveals a dead body floating in the pool.
Sorkin doesn't so much write books as visualize them: "When I put together a story, I'm always thinking: how can it be turned into a series or film?" Praised for their cinematic writing style ("As dawn slowly broke through the darkness, a scream tore through the house") both authors have film backgrounds: Sorkin as a producer, founder of Roman Way Productions and former Weinstein exec, and Holmqvist as an actress who's also a private investigator, "which helps with all the procedural details," explains Sorkin, "while I bring more of the atmospheric feel." Alfred Hitchcock, the Master of Suspense, is a hero to Sorkin and Holmqvist, who prioritize plot twists with a relentless momentum to do Hitch proud: a room locked for years is unlocked…the person who opens it (Kate and Lacie's mother) is found dead, by long-standing caretakers who may or may not stay on…Kate vows to sell the house after one last summer stay with her family and friends…among those friends is one whom Kate once rescued from a drunken night in jail, proving her therapist's theory that Kate "was still desperately trying to save her sister, and any friend needing her triggered that." Not since Boileau-Narcejac—the French writing duo behind the novel D'Entre les Morts, which became Hitchcock's Vertigo—have authors collaborated to psych out readers with such film-friendly results.
Here's how Publishers Weekly rates Lacie's Secrets: "The authors keep the suspense high as they slowly dole out the mansion's sinister secrets." And indeed they do, savoring each plot twist until the reader can't fathom finding one more wrinkle in the yarn. "When I'm reading and I can easily figure out what's going to happen, I get bored," Sorkin says. "So we make sure to work with twists that our readers won't see coming."