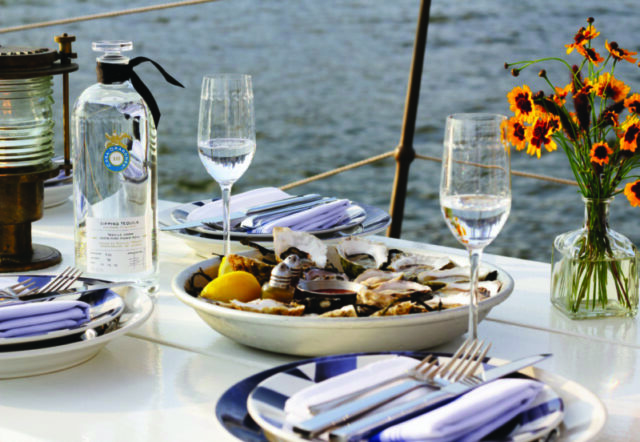 By Abby Tegnelia
Oysters are simply not meant to be overpowered by a beverage that lacks the smoothness required by the decadent all-season shellfish. The delicate flavors, whether sweet or briny, require a certain softness and even silkiness, and this summer, chefs in the Hamptons and in the city are looking at Casa Dragones Joven as the newest hot pairing for gastrophiles with an affinity for a good raw bar.
"The marriage of Casa Dragones Joven and oysters is one of my favorite pairings, especially during the summer," says Casa Dragones co-founder and CEO Bertha González Nieves of the incredibly fine, yet complex, small-batch tequila that's best served in a flute. "The sweet roasted agave notes of Casa Dragones Joven balance perfectly with the creaminess and the sweetness of the oysters, without overpowering them." Adds chef Bobby Flay: "It's crisp; it's clean. I like to drink it on its own, but I also enjoy pairing it with things from a raw bar, things that are really incredibly simple, one or two ingredients."
The tequila itself is fresh and inviting on the nose; expect a subtle floral and citrus aroma with notes of sweet roasted agave. The body is rich yet silky, boasting brilliant platinum hues and the long, pronounced legs that indicate a full body that retains a sleek texture on the palate. The taste is soft and smooth, which expertly complements the distinct minerality of the cold-water oysters served in summer. The master blend of 100% blue agave silver and extra-aged tequila has a complex yet subtle flavor (think hints of vanilla and spiced undertones balanced by delicate notes of pear), and offers a subtle sweetness that brings out the sweet, creamy notes in the oysters. Enjoy a clean, warm finish with hints of hazelnut and a bright, open aftertaste.
To experience this sophisticated tequila and oyster pairing, head to Shelter Island's Sunset Beach, which pairs its Casa Dragones Joven with Orient Pearl oysters. Of course, there are many options for trying this ultra-premium tequila with other seafood and raw bar delicacies, starting with East Hampton's Sí Sí. It recommends sipping Joven with its hamachi crudo served with ponzu, ginger oil and smoked salt. Moby's, also in East Hampton, pairs Joven with mussels and clams.
If you're trying your Joven out at home, don't let the subtlety of this sophisticated tequila stop you from letting your creative juices flow. In Los Cabos, Mexico, at Crudo Bar inside the Waldorf Astoria Los Cabos Pedregal, chef Gustavo Pinet has served guests a pairing of Joven and oysters with mignonettes that run the gamut from grilled pineapple pico de gallo, to spicy sesame oil and a mint-ponzu sauce. casadragones.com