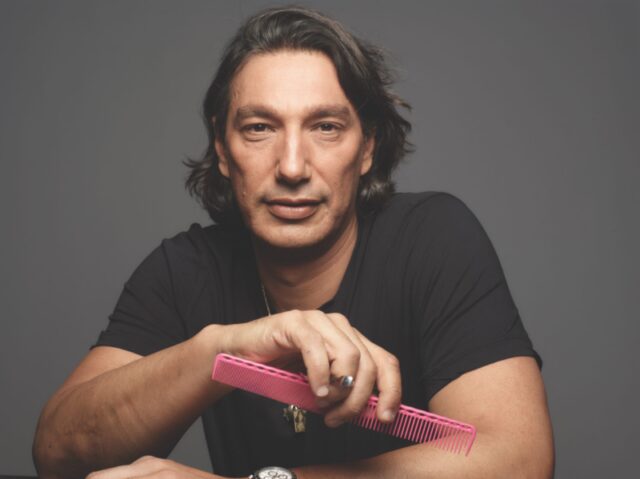 By Cristina Cuomo
Cristina Cuomo: Tell us about coming to America in 1995.
Valery Joseph: It was my first independent trip from Israel. I spoke very little English, and I had a few friends who lived in New York. I chose to come to New York, as I had a vision of what it would be like from the movies I watched growing up. The vibrancy and the architecture of the city fascinated me—the street fashion, the hair fashion, the tall buildings nestled into a small island.
CC: You were an architect by trade back home in Israel. What made you become a hairdresser when you came to New York?
VJ: Architecture is what I chose to study as my profession in the ninth grade while in Israel. Growing up, I had a neighbor who owned a salon. In the summer of age 15, I asked my neighbor if he would help me to learn how to cut my friend's hair. He agreed only if I would help him in the shop during the day with shampoo, cleaning, whatever was needed. At night after the shop closed, he taught me how to cut men's hair. After I went into the Israeli army and was part of the tank division, I unfortunately became injured and could not rejoin my unit. The base sergeant asked what other skills I had, and I told him I had studied architecture and worked in a firm before joining the army, and that I could also cut men's hair. I was placed into the base salon and began cutting the hair of all the men. However, I was really interested in learning about women's hair, so I observed on Mondays, when the salon was dedicated to female soldiers. From there, I attended a prestigious hair academy in Tel Aviv on weeknights, and learned how to cut women's hair. I loved the challenge and satisfaction each time a female soldier left my chair happy with their look. I realized the impact I had in transforming how someone felt about themselves. I knew from that point on that hair is what I was meant to do.
CC: You make people feel good about how they look all day long. What's that feel like?
VJ: Extremely rewarding. I love the challenge of the "live" performance. Every haircut is a new performance, and each time I look at how I can improve my next one. My experience over the last 26 years has allowed me to perform in a more precise and targeted method.
CC: You have a face no one forgets—how do you like getting recognized everywhere you go in NYC?
VJ: My kids get a kick out of how much I am recognized—in New York and worldwide in my travels. It makes me feel like a celebrity, and who doesn't like that? Funny enough, when I run into my female clients and their husbands, the husbands always joke that they have finally met the Valery who appears on all their credit card bills.
CC: You have two salons in NYC, one in Bridgehampton, and one in Miami where you have created a community of all nationalities and personalities—a big family. What is your guiding principle to keeping it all together?
VJ: Our clients and my team have created a mutual community of loyalty. We like to be where our clients are—NYC year round, Bridgehampton in the summer, and Miami in the fall and winter. We are there for our clients to make them feel beautiful at every moment, 365 days a year. We open early, close late, whatever it takes to be available to my clients. Our clients have also created their own social community within the salon—meeting one another to get their hair and makeup done before every event and party. I feel truly fortunate and humbled to have the opportunity to service my clients over the past 20 years.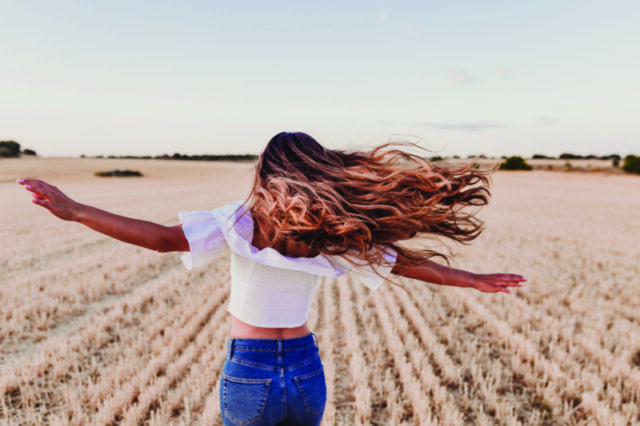 CC: What inspires you?
VJ: Beauty inspires me. The beauty of nature. The beauty in art. The beauty in fashion. The past and present. From street to runway. Food and travel. Architecture in every form. Hair inspires me—the free movement of our signature beachy waves. My team inspires me.
CC: What's the most popular hair style your clients are always asking for?
VJ: Hair depends on the current trend. Right now, clients are looking for long, soft bohemian hair framing the face. They are also looking for mid-length bobs with a soft wave. Our signature beach waves are always in demand. We are one of the few, if not the only one, who creates the waves with a blow-dryer and not a curling iron. Since COVID, many clients have lost some density to their hair, and look to us to provide extensions to fill in the empty spots, as well as keratin treatments to provide the smoothness and hydration.
CC: Your wife, Revi, was an instrumental part of your success. What advice from her do you keep with you, since her passing a few years ago?
VJ: Revi continues to be our orchestra conductor. Even though she may not be here in physical form, she is all around everyday. I can hear Revi in those moments of immense success and in those times of need where she points me in the direction of what I need to do. My clients comment on how they can feel her spirit, and how proud she is of the continued success of myself and the team she created. Revi did not hire people on talent. Revi hired people on their hearts—she just knew who needed that chance to prove themselves, and they have become the most loyal team members.
CC: What's the first thing you teach your staff about client services?
VJ: We are in the people business. Listen to your clients. Have a great consultation, so that you can create the best recipe with all the necessary ingredients.
CC: What are some of your favorite restaurants in the Hamptons?
VJ: I have many restaurants I frequent in the Hamptons; however, my ultimate favorite is the barbecue in my backyard. I have Shabbat dinner every Friday with my staff. It's something that Revi and I created for our extended family.
CC: What are some of your favorite things to do after work in the Hamptons?
VJ: I love seeing my clients outside of the salon and going to their homes for dinner and parties. I also love my morning walks at the beach with my two dogs—Sparky and Cash. I love to surf, hike, fish and enjoy nature.
CC: Your salon has a special spot in an outdoor back lot on Main Street in Bridgehampton. What do you love most about your location?
VJ: The indoor/outdoor flexibility of the shack—like dining alfresco. 2454 Main St., Bridgehampton; 25 Central Park West, NYC; 1044 Madison Ave., NYC; valeryjoseph.com