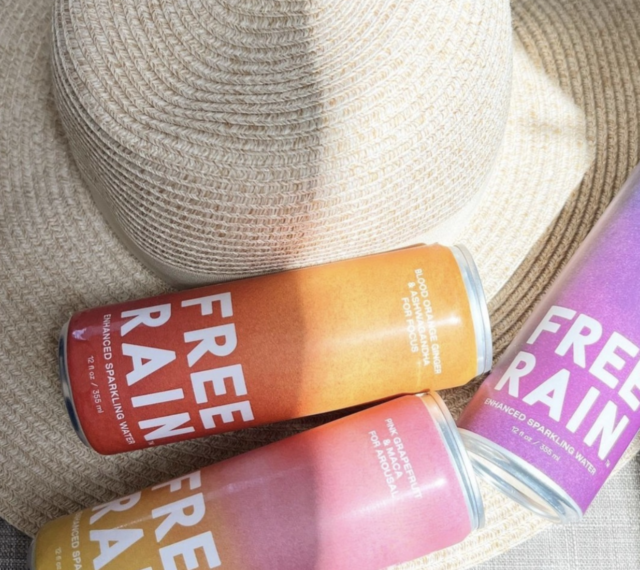 .Despite diligent attempts to replenish the body with the recommended amount of fluids each day, it's shockingly easy to develop chronic dehydration. This sneaky, harmful condition can flare up during warmer months, when people may be sweating more, ramping up their exercise routine and spending more time in the sun. While acute dehydration can be easy to spot, a prolonged period of dehydration can keep the body from performing optimally for extended amounts of time. For those experiencing stubborn headaches, dry or flaky skin, muscle weakness or fatigue, it may be time to reevaluate your fluid intake. For those that have trouble quenching their thirst with regular water, opt instead for a flavorful, nourishing beverage like FREE RAIN.
A tasty alternative to still water—and a great replacement for hard seltzers for those looking to avoid alcohol at summer gatherings—FREE RAIN's line of beverages is made using only natural ingredients, and is infused with functional plant-based compounds to elevate the body and mind. A blood orange and ginger water is formulated with ashwagandha to sharpen cognition, an energy-boosting Siberian ginseng variety promotes physical stamina, a tart pink grapefruit flavor contains 500mg of maca root to support hormone balances and enhance libido, while a blackberry and passionflower beverage helps calm the mind so you can unwind. Founder Colin McCabe says, "I believe that there is more in us than we know and FREE RAIN is crafted with powerful, natural ingredients to help unlock more."
FREE RAIN believes nature is humanity's greatest gift and commits to doing its part to protect the planet. As a member of 1% for the Planet, FREE RAIN joins a dedicated group of eco-conscious brands donating 1% of sales to support the environment. Plus, all of FREE RAIN's packaging and cans are made from recyclable materials and postconsumer materials where possible.