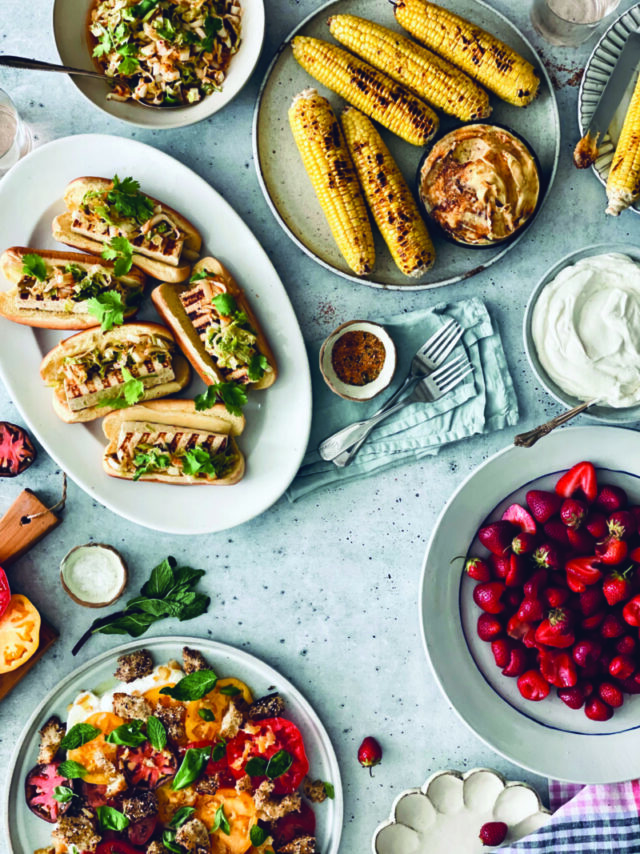 By Peter Som
This summer, I'm enjoying the sheer variety of food that celebrates and reflects what America looks like now. Food is often the first exposure one has to different cultures, and we are so lucky for the opportunity to have such a vast array of food from different cultures available to us. From za'atar, to hoisin, to kimchi, to dukkah, the amount of choices we have is thrilling. Layered onto that is summer's bounty of local fresh produce and ingredients—we have so much to enjoy and appreciate. Many don't have that opportunity, as food insecurity is a very real problem everywhere, and the Hamptons is no exception. There are some amazing local organizations that are actively helping the community (see the list on the following pages). So when grocery shopping, make thoughtful choices, support local farmers and purveyors, make healthy choices, and if you can, help out these local organizations by buying double—or extras—when you shop, to donate. Every little bit helps.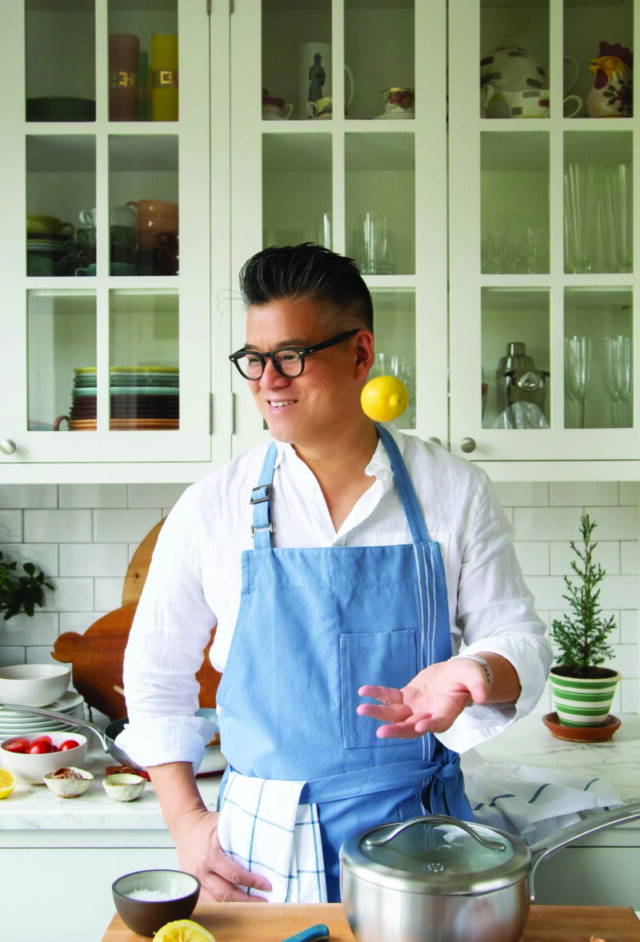 Grilled Corn With Hoisin Parmesan Butter and Togarashi
Fresh corn, simply grilled and eaten with butter, is a summer classic. While it's clear that the corn is the star, I've given the accompaniments a flavor upgrade. I've added Parmesan and hoisin into the butter for a boost of umami—the Parmesan's salty undertones play so well with hoisin, and that hit of lemon zest adds the touch of acid to cut through the richness of the butter. A final finish of togarashi adds that taste of sweet heat. Togarashi is a blend of dried chili peppers, sesame seeds and orange peel and other ingredients that originates from Japan, where it's widely used as a versatile everyday table condiment.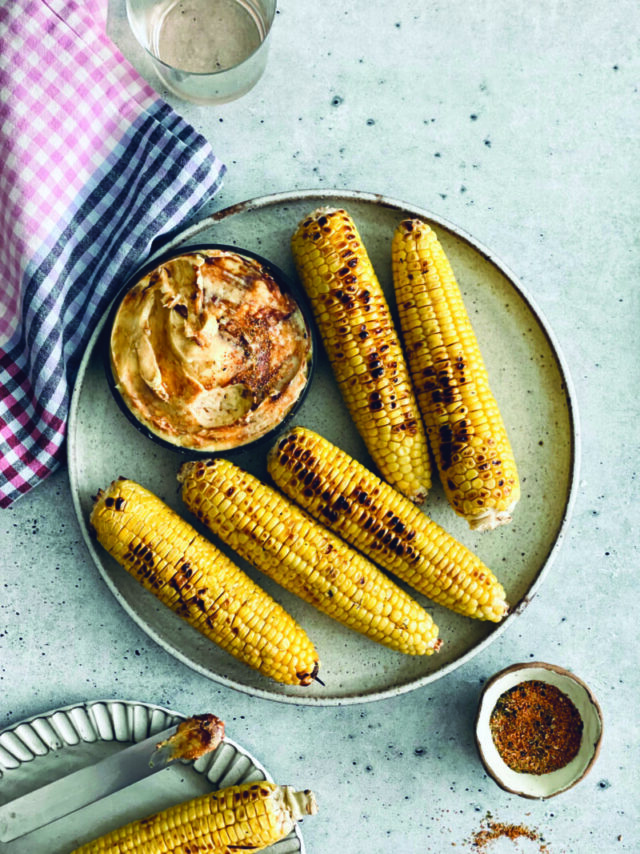 Serves 6
Ingredients:
8 tablespoons unsalted butter, softened
½ cup finely grated Parmesan cheese
1 teaspoon lemon zest
2 tablespoons hoisin
6 ears corn, shucked (Pike Farms)
Togarashi, for finishing
Flaky sea salt, for finishing (Amagansett Sea Salt Co.)
Instructions:
1. In a small bowl, mix together butter, Parmesan and lemon zest until combined. Fold in hoisin. Transfer to a serving bowl and place in the refrigerator.
2. Heat grill to high. Add corn and cook, rotating often, until charred and tender, approximately 10-12 minutes.
3. Serve corn with hoisin Parmesan butter, togarashi and flaky sea salt.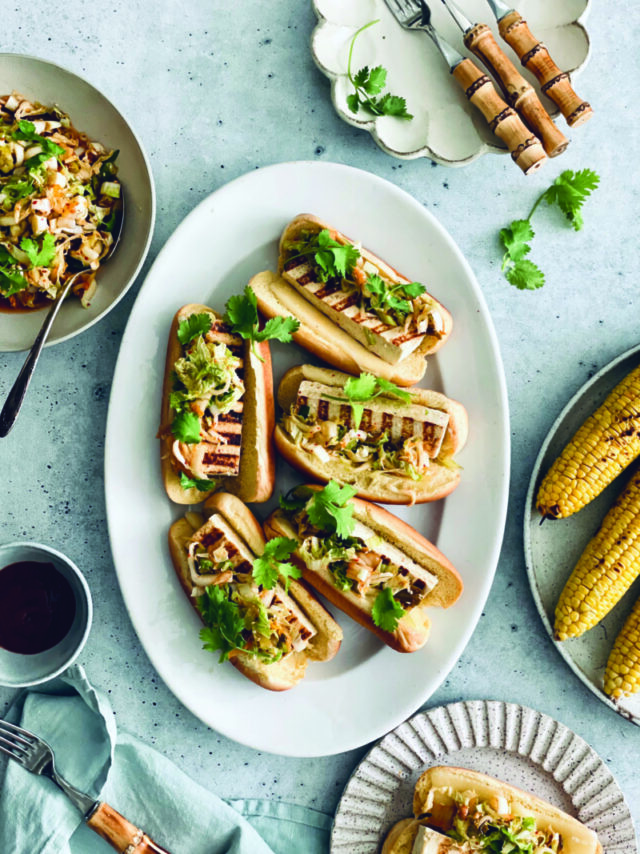 Grilled Tofu Dogs With Kimchi Slaw and Farmhouse Cheddar
Tofu takes the stage for this flavor-packed take on a summer staple. Marinating tofu in mirin and hoisin and then grilling it imparts great flavor, while the kimchi slaw is a powerhouse of crunch and spice. I've added a slice of cheddar to melt as the buns get toasted—that earthy touch of tang adds that melty richness that's the perfect foil for the zingy slaw.
Serves 6
Ingredients
For the Kimchi Slaw:
1 small napa cabbage, thinly sliced (approximately 4 cups) (Amber Waves)
1 cup kimchi
4 scallions, thinly sliced, plus more for garnish (Serene Green)
¼ cup rice wine vinegar
2 tablespoons gochujang, plus more for serving
½ tablespoon honey (The Hamptons Honey Company)
2 teaspoons toasted sesame oil
1 tablespoon grated ginger
1 tablespoon fish sauce
2 tablespoons sesame seeds
For the Tofu Dogs:
2 blocks extra-firm tofu
2 tablespoons mirin
1 tablespoon hoisin
1 tablespoon rice wine vinegar
¼ cup olive oil
6 thin slices farmhouse cheddar cheese (Mecox Bay Dairy)
6 hot dog buns
Kewpie mayonnaise
Cilantro, for garnish (Serene Green)
Instructions:
1. For the Kimchi Slaw, in a large bowl, add cabbage, kimchi, scallions, rice wine vinegar, gochujang, honey, sesame oil, ginger, fish sauce and sesame seeds and stir to combine. Slaw can be made a day in advance and kept in the fridge in a sealed container.
2. For the Tofu Dogs, to remove liquid in the tofu, place on a paper towel-lined plate and microwave for 2 minutes on high. Remove from microwave, top with a few more sheets of paper towel, then place a flat plate or small cutting board on top and let sit for 5-10 minutes. Remove and slice into long slabs approximately ¾ inch thick and place back on plate.
3. To make marinade, in a small bowl, whisk together mirin, hoisin, rice wine vinegar and olive oil. Pour over tofu, making sure all sides are coated, and let sit for 10-15 minutes.
4. Heat grill to medium-high. Place tofu on grill and cook for 5-6 minutes total. To serve, open up hot dog buns, spread with Kewpie mayo and layer with cheddar. Place on grill, cheese side up, and toast just until cheese is melted, approximately 1-2 minutes.
5. To serve, place tofu in buns, top with slaw, garnish with cilantro and serve with additional gochujang alongside.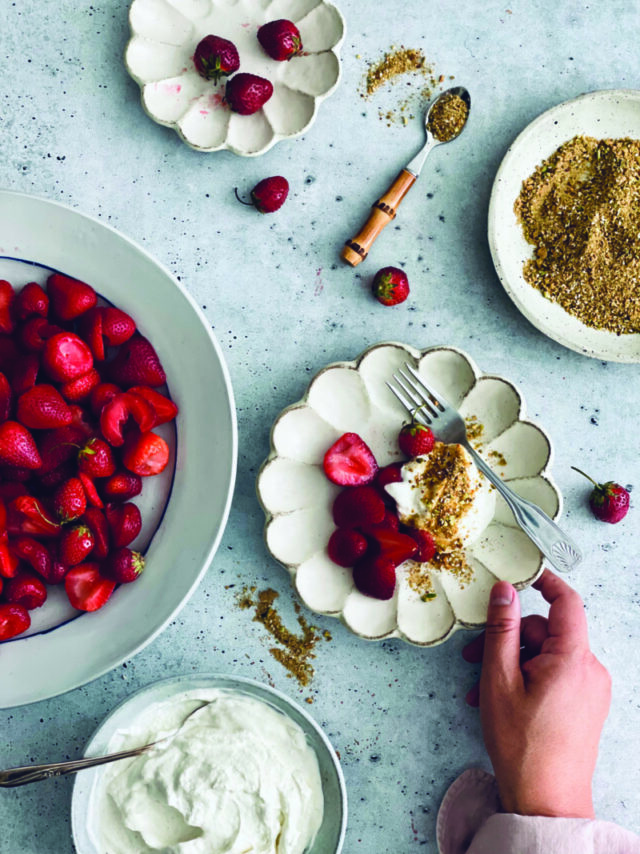 Local Strawberries With Cardamom Whipped Goat Milk Yogurt and Brown Sugar Pistachio Dukkah
Peak-season strawberries are a treasure. Sweet, juicy with a touch of tartness—they are perfect fragrant jewels that beg to be eaten. I've kept things simple with this play on strawberries and cream. The fruit is macerated with honey and a touch of salt. The cream? Goat milk yogurt has a velvety tang that pairs beautifully with the fruit. And the final flourish is a spoonful of dukkah—an Egyptian traditional blend of nuts, seeds and warm spices that I've given a sweet spin with the addition of brown sugar. The beauty of this dessert is the simplicity of it, but feel free to add a biscuit for strawberry shortcake—I don't think anybody will object!
Makes 6
Ingredients
For the Dukkah:
¾ cup pistachios
2 tablespoons sesame seeds
1 teaspoon coriander
1 teaspoon cumin
¼ teaspoon allspice
½ teaspoon kosher salt
½ teaspoon ground black pepper
2 tablespoons light brown sugar
2 pounds strawberries, hulled (Amber Waves)
¼ cup honey, divided (The Hamptons Honey Company)
½ cup heavy whipping cream
½ teaspoon vanilla extract
½ teaspoon cardamom
Pinch of kosher salt
1 cup goat milk yogurt (Catapano Dairy Farm)
Instructions:
1. To make the dukkah, in a dry pan over medium heat, add pistachios and sesame seeds and toast, stirring often until fragrant, approximately 2 minutes. Add coriander, cumin and allspice and continue to toast until pistachios and sesame seeds are golden. Transfer to a food processor and add salt and pepper. Process until nuts are a sandy coarse texture, approximately 20 pulses. Add brown sugar and pulse 2-3 times to combine. Let cool. Can be made up to
a week in advance.
2. In a large bowl, toss strawberries with half the honey and a pinch of kosher salt. Set aside.
3. In the bowl of a stand mixer with a whisk attachment, add whipping cream, remaining honey, vanilla and cardamom and whip for approximately 2 minutes—scraping down sides of bowl as needed—until peaks form. Add in yogurt and whisk until just combined and soft peaks form. Refrigerate until ready to use.
4. To serve, add strawberries to a serving bowl, top with whipped goat milk yogurt and sprinkle with dukkah.
Visit petersom.com for more inspired recipes
Feed the Community. Support your local food banks:
East Hampton Food Pantry: 159 Pantigo Rd., East Hampton; 486 Montauk Hwy., Amagansett; 2 Long Lane, East Hampton easthamptonfoodpantry.org Hamptons Community Outreach hamptonscommunityoutreach.org Heart of the Hamptons: 168 Hill St., Southampton heartofthehamptons.org Living Water Full Gospel Church: 69 Industrial Rd., Wainscott livingwater.online Montauk Food Pantry: St. Therese Parish Center, 67 S. Essex St., Montauk montaukfoodpantry.org Sag Harbor Community Food Pantry, Inc.: 44 Union St., Sag Harbor sagharborfoodpantry.org St. Rosalie's Community Food Pantry: 31 E. Montauk Hwy., Hampton Bays saintrosalie.com/parish-life/psm/92-st-rosalie-s-community-food-pantry Springs Food Pantry: 5 Old Stone Hwy., East Hampton springspc.org