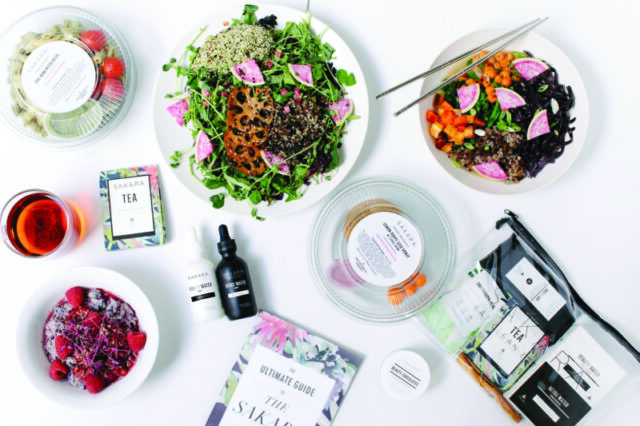 Cristina Cuomo: You have a loyal following, disciples as it were, who swear by your nutrition programs and can't live without them. What inspired you to launch Sakara in 2012, at the age of 26, with your best friend Danielle DuBoise?
Whitney Tingle: Sakara didn't start out as a business. It started out as a solution to our own needs. Danielle is my co-founder, my BFF and co-CEO. She and I grew up together in Sedona, Arizona. We were raised with an understanding of the mind-body-food connection, and the power of the body to heal and cleanse itself. Fast-forward, we are both living crazy busy lives in New York City, and found ourselves both dealing with health conditions. I had terrible cystic acne. Danielle was a yo-yo dieter who was on the path to medical school. She was interning at a hospital in New York City and saw patients coming in with late-stage diseases, like Type 2 diabetes and heart disease. She asked herself, who is talking about lifestyle choices that can prevent those types of diseases later on in life? She decided to go to nutrition school and be on the preventative side of health. We came together to create this program for ourselves, and once it transformed our lives, other people started to catch on, and it just started to grow from there. Now we make millions of meals every year and deliver them all across the country, helping thousands and thousands of people transform their bodies and their health the same way that we transformed our own through the power of personalized nutrition from plants and food as medicine.
CC: What's the best place to start when you're embarking on a health food path with Sakara?
WT: It depends on where you are on your own journey, but about 80 percent of our Sakaralites, as we call them, our Sakara clients, come in through doing either a three- or five-day signature nutrition program. If you're not ready to dive into a signature nutrition program just yet, we have an amazing probiotic, which helps break down undigested food within the gut, reduces bloat, and also helps digestion. One of the keys to having better skin and better overall health is making sure your digestive system is functioning at its best. I also love our Foundation packets supplement. Have you tried these?
CC: I have, and I've got to tell you it helped me get through COVID. My immune system got a veritable boost from them, so thank you. One can take supplements, but to be able to eat all that nutrition in your own food is everything.
WT: You're getting upwards of 70 different plant species in your meals on a day of Sakara. The average American eats 15 different plant species in one week. You're getting all of those different nutrient profiles that each food has—vitamins, minerals, antioxidants, all of the polyphenols—giving you support in different ways. By eating that diversity, eating that rainbow, you're going to help give your body what it needs to feel at its best.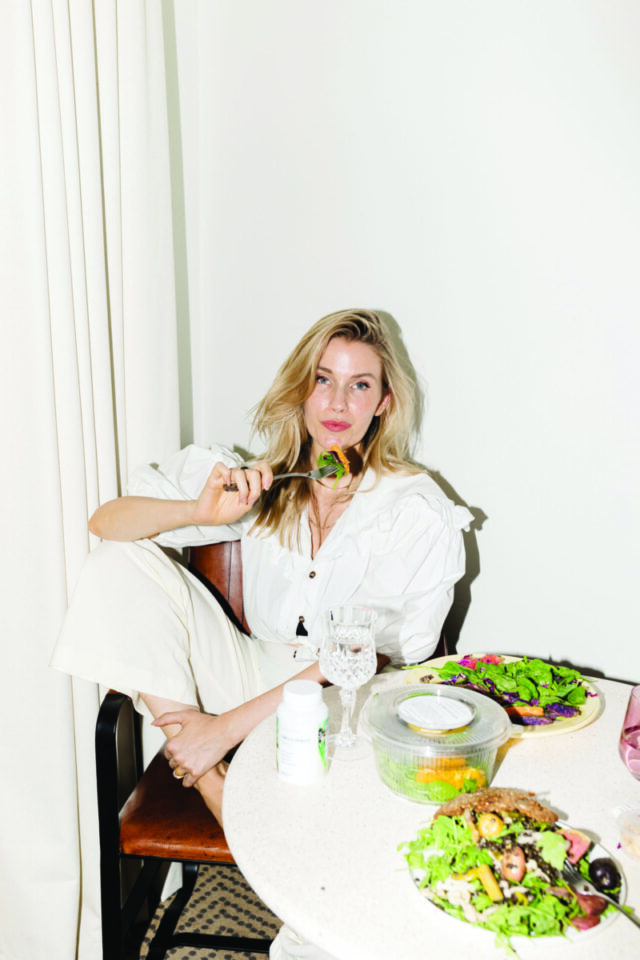 CC: Tell me a little bit about some of your rituals, now that we're coming into summertime.
WT: Hydration is absolutely key. When people ask me, "What's the secret to the fountain of youth?" I say, "It's water. That is the secret. What's the difference between a nice, plump, smooth grape and a dry, wrinkly raisin? The only difference is water."
CC: What's your favorite salad?
WT: The Youth + Beauty Salad—I set out to create the most beautifying salad on the planet. Everything in it is high in water content. It starts with a bed of romaine lettuce, and then cucumber, carrots for beta-carotene, pomegranates—which are bursts of antioxidants for anti-aging benefits—beets, which support blood flow and give you that rosiness in your cheeks, and a super seed blend that helps the water barrier of the skin, keeping it moisturized longer. It's delicious and refreshing during the summertime.
CC: How is that adorable 18-month-old son of yours?
WT: He's good. We have been through quite the journey together. He was actually recently diagnosed with Type 1 diabetes, which is an autoimmune condition. I'm surprised by how common autoimmune conditions are with kids, and how common they're becoming as part of our society. It's just made me even more dedicated to our Sakara mission, to helping people live healthier lives and support that health through nutrition and plants as medicine and providing life-transforming super meals. It's been quite the journey, but we're making it through.
CC: Do you bring Sakara on your vacation?
WT: I do. You can go to sakara.com and check out programs for home delivery. You can get Sakara delivered to your hotel, to your Airbnb. We're going to be out in the Hamptons this summer, so keep an eye out for us if you head out East. sakara.com