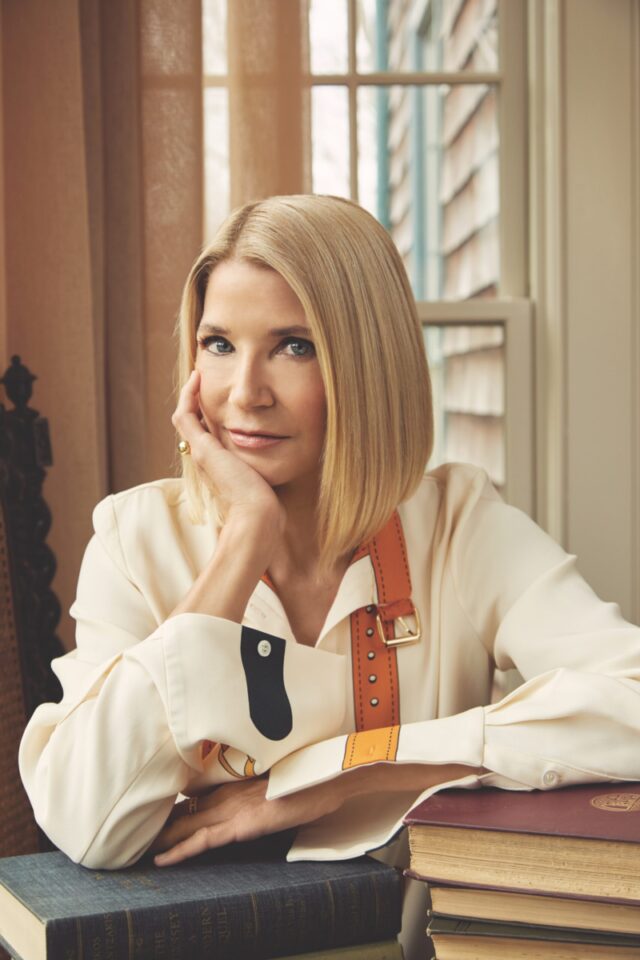 By Marisa Fox
"It actually happened because I met this guy," says bestselling author Candace Bushnell, speaking by phone from her Sag Harbor home. "That's the way it always starts."
That certainly seems to be the case for the creator of Sex and the City, a witty, female, '90s chronicle of New York's dating scene that put Manolos and cosmos on the map. You'd think the "guy" Bushnell is referring to is Mr. Big or some other modelizer. But you'd be wrong. It's her new creative partner, Marc Johnston, who's producing her new live show, Is There Still Sex in the City?
"He said, 'I think you can do a one-woman show,'" she says. Ever fearless at 63, Bushnell was undaunted by the challenge. "I've been doing lectures forever, so it wasn't completely new."
The evening is based on her 2019 memoir of the same title, which tracks her arrival in New York with $20 in her pocket through her salad days as a struggling writer, her various romantic relationships and female friendships, her picture-perfect wedding to New York City Ballet dancer Charles Askegard, 10 years her junior, whom she married weeks after they met, and its dissolution after a decade, and her shock at returning to single life in her 50s.
"After my divorce in 2012, I moved into an old farmhouse in the Hamptons," she says. "And I discovered long-lost friends living nearby. This one's marriage didn't last. Then another friend moved back to New York after living abroad for a decade and got a place down the street. And so I wasn't the only one."
Once slaves to demanding careers and family schedules, they, too, were newly emancipated and dying to talk—what else?—sex. And, well, friends make for great copy.
Is There Still Sex in the City? was the result of many of those late-night dish sessions. In case you're wondering what the answer is, you can find out for yourself when the city's most illustrious bachelorette brings her one-woman show to the Westhampton Beach Performing Arts Center on July 9.
Expect Bushnell's hilarious take on her girlfriends' sex lives, dissected like the social anthropologist that she is, as well as her own sex confessionals and zingy one-liners, delivered in her signature stilettos, a cocktail within hand's reach.
"It's about how I came to New York and going out," she says, adding that the latter is something everyone is doing with abandon after two years of isolation. "They [audiences] come with their girlfriends, and they wear their great shoes, and it's about that experience—that creative energy that is New York."
Creative is how you could describe Bushnell's artful way of looking the part, before she landed it, as someone who dropped out of Rice University in Houston after three semesters and who arrived in New York with big dreams but no budget. She also addresses being depressed in her 20s, something she thinks her younger fans, many of whom got to know her through the SATC spinoff, the SW's The Carrie Diaries, can relate to.
In case you think Bushnell is still looking for Mr. Big, her paramour in her '90s New York Observer column, HBO series, starring Sarah Jessica Parker, two rom-com feature films and the recent HBO Max series And Just Like That, think again. "It has a feminist message: Be your own Mr. Big," she says, something else that resonates with her 20-to-80-year-old audience.
That broad of an age span is also how she'd describe her recent dating prospects. This spring, she turned heads and made gossip headlines after she was spotted with a 21-year-old model whom she'd met at New York Fashion Week. But her affair with the "young buck" is over, as is her dalliance with a 91-year-old.
"Twenty-one and 91—what's wrong with that picture?!" she asks. "That's sex post-menopause, but life goes round and round like a Hula-Hoop. It doesn't go in one direction; it keeps spinning you around."
The hard part, she adds, is keeping up with your body. Not that she's lost her impossibly thin build and her lust for, well, lust. "People don't lose their ability to love or lose interest. Illness is going to strike you down; that's why people of a certain age work so hard on their health."
As for dating in the Hamptons versus the city, she remarks: "It's the same guys!" But that's OK. For now, she's happy to be out again, people watching and writing, and of course, checking out who's eligible.
Instead of watching a fictionalized version of Bushnell write on a laptop in her cramped city apartment, audiences get to pretend they're at Bushnell's place. The set is a staged version of her living room, complete with her own velvet sofa, which the eternally svelte and blond scribe slinks on and off, as she recreates juicy phone calls and trips down memory lane live.
Broadway director and choreographer Lorin Lattaro of Mrs. Doubtfire fame was brought on board, and after a test run at Bucks County Playhouse, the one woman show debuted off-Broadway at the Daryl Roth Theatre. Then she got COVID. Then lockdown struck. When theaters began to reopen, she had a sold-out run at Café Carlyle. Like her beloved city, Bushnell is resilient, and her stories seem more resonant in the pandemic's wake.
"The city is bigger than any of the people who live there," she says. "It has these rhythms, its own story…the story of the city is bigger than everybody; it will outlive us all." whbpac.org