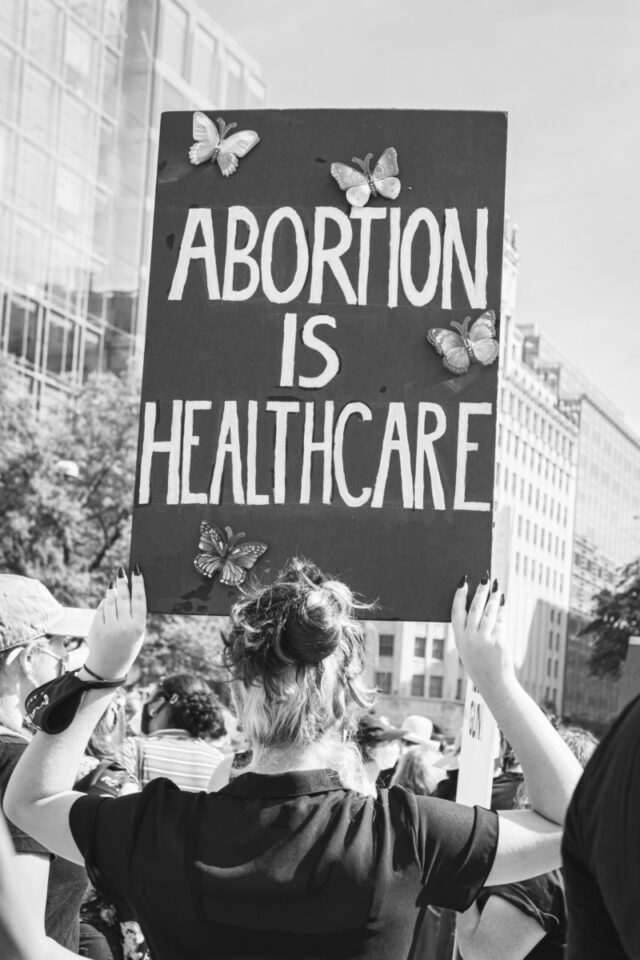 By Kelly Posner Gerstenhaber, PhD
The United States Supreme Court's decision to overturn Roe v. Wade—limiting access to abortion and dismantling reproductive rights—has left women reeling from a devastating loss of bodily autonomy. In addition to the women it directly impacts, the bold move by the court has many men and women worried about the impact the loss of access to safe and legal abortion will have on the health and mental well-being of women in their lives. With 1 in 5 U.S. adults experiencing mental illness, this reversal in rights may trigger stress, depression, anxiety, suicidal ideation and post-traumatic stress disorder (PTSD). While I am deeply concerned for the mental well-being of women in the current climate, I know hope can be found in candid discussions and resources to help prevent self-harm or suicide as we navigate this alarming new reality.
As a mental health expert, I believe minimizing abortion access is dangerous for mental health. We know people in socioeconomically marginalized and lower income groups are disproportionately affected by this decision, as they have less financial ability to seek an abortion outside of their immediate areas. Further, there is heightened risk for Black and Indigenous people, and those of other minority groups, who face maternal health disparities, and they are less likely to receive adequate mental health care. These discrepancies place a population whose mental health has already been significantly impacted by the recent escalation of racism and violence at increased risk for PTSD, anxiety and depression.
Those in favor of stricter limits on reproductive rights often assert abortion is psychologically harmful, suggesting abortion may even lead to suicide. These claims are not credible. There is evidence, however, that abortion access does not harm one's mental health. A 2016 study with more than 500 women across 21 states showed those who obtained an abortion were no more likely to report mental health symptoms or suicidal thoughts than people denied abortion access. While unwanted pregnancy can certainly strain mental health, a separate 2020 study found over 95% of the women who obtained an abortion reported confidence in the decision five years later.
These studies are important in debunking myths linked to abortion and mental health, but they will not bring back abortion access in many states. We must be vigilant about one another's mental health, and provide the first stages of real support when needed. Using proven resources that facilitate ongoing difficult conversations may help prevent those with, or at risk of, mental illness from becoming consumed by trauma and desolation.
I've devoted my career to mental health and developed an easy-to-use and highly effective suicide prevention tool called the Columbia Protocol, enabling anyone to broach the subject of self-harm and assess suicide risk with six questions. The Substance Abuse and Mental Health Services Administration (SAMHSA) helpline is an excellent resource for broader mental health conditions, and anyone at risk of suicide can dial 988, the Suicide & Crisis Lifeline, for immediate help. There are also specific mental health resources for members of minority communities. The decision to overturn Roe v. Wade is tragic, and we may potentially feel the harmful repercussions of this decision for decades. But amid the grief and fear, we must always remember to connect and check in with one another regularly using resources that are readily available and proven to work.
Dr. Kelly Posner is a professor of psychiatry at Columbia University.
More actionable tips to support mental health in a time of uncertainty and crisis
In the wake of Roe v. Wade's overturning, here are some additional ways to support mental health during these uncertain times:
• Check in with yourself and others about feelings.
• Be aware of resources to help with access to reproductive rights.
• Take care of your needs and do everything you can to nurture joy, even in times of uncertainty, fear and crisis.
• Take a break from the news if it is causing you undue distress.
• Meditation and movement can help center your mind-body connection.
• Spend time in nature—the benefits of fresh air are enormous.
• Get involved in your community by joining a support group or by volunteering for an organization whose causes align with your beliefs.
• Hold conversations about emotions and spend time with loved ones. Use the Columbia Protocol if you fear that someone you know may be considering suicide.
• Consider psychotherapy or psychiatry if you are experiencing depression
and/or anxiety.
• Call the SAMHSA helpline at 800.662.HELP (4357) if you are in crisis.