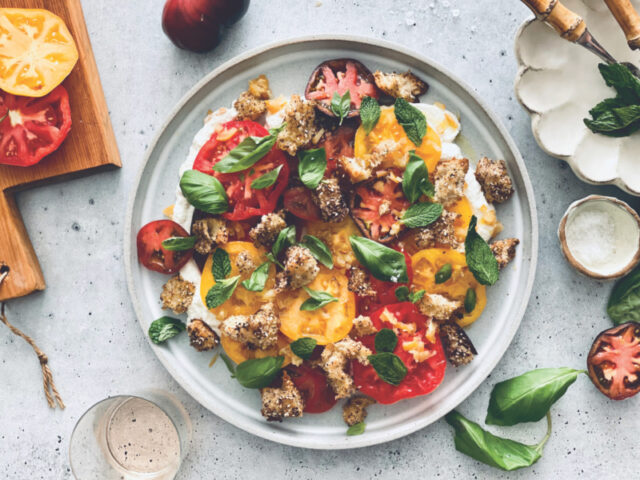 Heirloom Tomato Salad With Garlicky Labneh, Preserved Lemon and Za'atar Sourdough
Tomato season brings us the boldest, most vibrant hues of this summer fruit, and this recipe plays up their inherent sweetness with a symphony of flavor. I've paired heirlooms with labneh—a Middle Eastern strained cheese similar to yogurt—which is infused with roasted garlic and preserved lemon. Sourdough croutons coated with za'atar add a tender crunch. Preserved lemons—used in a variety of Middle Eastern and Asian cuisines—can be bought in jars (I like the ones from New York Shuk), and add a tangy fruity bite to this dish.
Serves 6
Ingredients:
1 head garlic
3 tablespoons extra-virgin olive oil, plus more for drizzling on garlic and finishing
1 cup labneh
1 preserved lemon, rinsed and minced, divided
2 cups sourdough bread, torn into bite-size pieces (Carissa's)
2 tablespoons za'atar
2 pounds heirloom tomatoes, sliced (Serene Green)
Basil and mint leaves, for garnish (Amber Waves)
Flaky sea salt (Amagansett Sea Salt Co.)
Instructions:
1. Heat oven to 400F.
2. Cut ¼ inch off of the top of the garlic head to expose cloves. Drizzle with a bit of olive oil, then loosely wrap in foil. Roast in oven for 25-30 minutes or until flesh is tender. Allow to cool, then squeeze out 5-6 cloves (or all, if you are a garlic fan!) into a bowl. Add labneh, half the preserved lemon and 1 tablespoon olive oil; season with salt and pepper and mix to combine.
3. On a sheet pan, spread bread pieces, drizzle with 2 tablespoons olive oil and sprinkle with za'atar; toss to coat. Toast for 8-10 minutes, tossing once, until golden brown on the outside and still tender on the inside.
4. To serve, spoon labneh on a platter and top with tomato slices. Add remaining preserved lemon, then top with croutons. Garnish with basil and mint leaves, then finish with a glug of olive oil and flaky sea salt.