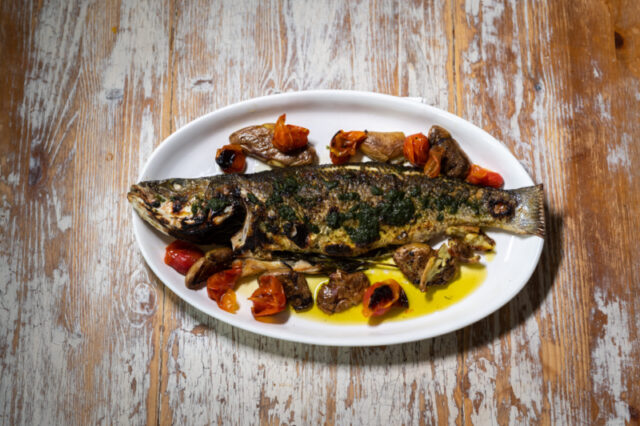 By Ray Rogers
PURIST: What do you love about the flavor profile of this dish?
Justin Finney: The smoke of the wood-fired oven comes through in the crispy skin of the branzino, and is the perfect pairing to the herb-forward salsa verde. The slightly smoky flavor of anything cooked in a wood-fired oven reminds me of barbecues in the late summer as a child.
PURIST: What makes this an excellent dish to prepare and serve for a late-summer dinner party?
JF: Local tomatoes usually don't pop on the East End until late July and this dish is a perfect opportunity to incorporate summer's bounty!
PURIST: Best paired with?
JF: This dish pairs perfectly with Domaine de Triennes 2021 rosé, a semidry fruit-forward wine with enough acidity to balance the smoky flavor. Or, if you are staying away from the hard stuff, a refreshing mint iced tea made with Balsam Farms mint pairs nicely with the herbs in the salsa verde.
PURIST: What's your favorite way to enjoy the bounty of farm-fresh produce and locally sourced proteins on the East End?
JF: Less is more. I am a firm believer in letting ingredients speak for themselves. Fresh salads using different cooking techniques (grilling, roasting, blanching) to layer flavors is probably my favorite way to enjoy East End produce.
PURIST: I imagine you've had a packed schedule with Autostrada Catering this season. What do you love about cooking for the community out here?
JF: I love being able to connect and cook for our customers on their turf. Cooking for someone at their home is a very special experience for both myself and the client. I am able to take myself out of my comfort zone— the restaurant—and go on an adventure. I also get to wear my "away" uniform! autostradahamptons.com
Whole Roasted Branzino With Salsa Verde
Ingredients:
2 pounds local fingerling potatoes
2 garlic cloves
4 sprigs fresh thyme
4-6 cups neutral oil
2 garlic cloves, minced
1 shallot, minced
1 anchovy fillet, minced
½ cup capers, drained and chopped
½ teaspoon crushed red pepper flakes
1 cup chopped parsley
Zest of 1 lemon
1 cup extra-virgin olive oil, divided
1 pint local cherry tomatoes, stemmed
1 (2- to 2½-pound) branzino, deboned (most fishmongers will do this for you)
Sea salt and freshly cracked black pepper, to taste.
Directions:
1. The day before, make the potatoes: In a medium saucepan, add potatoes, thyme and garlic cloves; pour in enough neutral oil to cover. Set heat to medium; bring to a simmer and cook until the potatoes are tender. Drain the potatoes; let cool for several minutes, then slightly smash and place in the refrigerator (use one of your many takeout boxes from your Highway takeout!).
2. The day of, light the pizza oven and heat to 700 F. Take potatoes out of the refrigerator to bring them to room temperature.
3. Meanwhile, make the salsa verde: In a medium bowl, add minced garlic, shallot, anchovy, capers, red pepper flakes, parsley and lemon zest. Stir in ¾ cup olive oil; taste and season with salt if needed. Refrigerate until serving.
4. In an oven-safe skillet (we like to use cast iron), add ¼ inch of olive oil; add potatoes and tomatoes. In another oven-safe skillet, add branzino; drizzle with olive oil and season with salt and black pepper.
5. Place the branzino pan deep into the oven, where it's the hottest. Place the vegetable pan toward the front of the oven. The whole process should take about 12-15 minutes. Meanwhile, get out your favorite serving platter! The branzino's skin should be blistered nicely and the potatoes crispy. Place the branzino on the platter; surround with vegetables and serve with salsa verde.