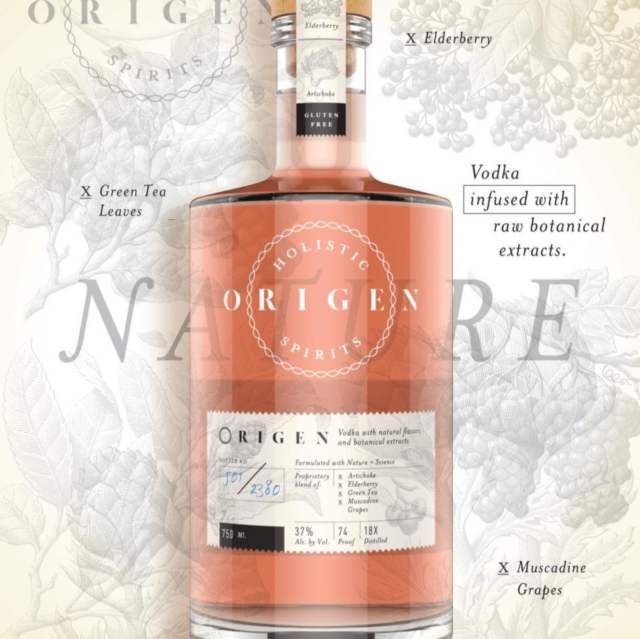 While a typical shot of vodka is regarded as the antithesis of a healthy beverage, a new wellness-focused alcohol brand is shaking up the cocktail scene with a sophisticated alternative to traditional spirits. Origen Vodka, the first functional alcoholic spirit created by Amy Holmwood, harnesses the power of plants. Dubbed by the brand as a "better way to drink," Origen Vodka is phytonutrient-infused with ingredients like elderberry, artichoke, green tea and muscadine—which are known to streamline the body's alcohol metabolization process.
Crafted from certified organic gluten-free white wheat, this ultra-pure vodka base produces an exquisite mouthfeel and is high in antioxidants. Origen is hand-stirred and distilled 18 times at the award-winning McClintock Distilling in Frederick, Maryland, one of the country's premier small-batch distilleries. Known for its low-impact, cutting-edge distilling techniques, McClintock is 100 percent green energy-powered, certified organic by the USDA, and also supports local farmers throughout the United States with education and development programs.
Origen's natural rosy-pink hue is the result of raw superfood infusion, and contains a complex flavor palette with cherry and olive fruit notes complemented by a rounded floral backbone. With a balanced acidity and vanilla finish, Origen is mellow enough to be drunk neat, over ice or mixed into a cocktail. Try the "Holistic Hole-In-One", a simple and refreshing 133-calorie mixed beverage featuring tonic, grapefruit juice and bitters; or the brand's classic martini, crafted with Dolin Blanc Vermouth, by renowned NYC mixologist Nick Mautone. Origen is available for purchase now online in 31 states, and select locations across the East End, NYC and Los Angeles.
Click here to find locations: https://origenvodka.com/shop/
Find Origen behind the bar at Baron's Cove in Sag Harbor, NY and Pierre's in Bridgehampton, NY. Use code THANKYOU10 for 10% off purchases at origenvodka.com