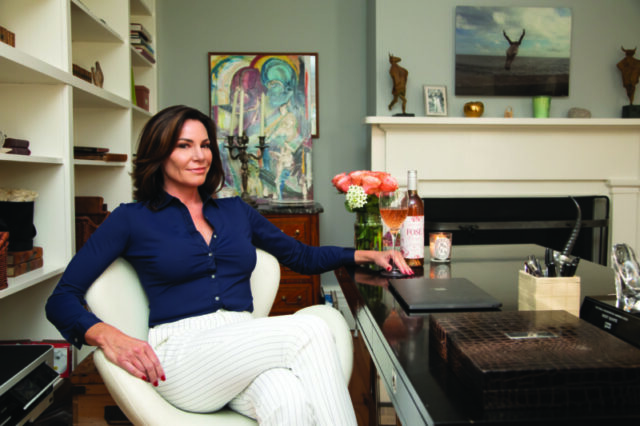 By Cristina Cuomo
Cristina Cuomo: Why did you decide to launch a nonalcoholic rosé, Countess Luann's Fosé Rosé?
Luann de Lesseps: During the pandemic my daughter Victoria and I weren't drinking, and so we couldn't find anything on the market that we really liked. We wanted to make something that was more elevated, instead of ordering a sparkling water or a Diet Coke. There is such a stigma around drinking. I wanted to take that stigma away and have something made in a beautiful bottle that could sit with other rosés at a party, and you could be drinking right along with everybody else and feel like you're included. So, we worked with Kin Euphorics, a company that makes nonalcoholic beverages with adaptogens and all kinds of beautiful ingredients that make you feel good, to come up with the perfect juice.
CC: What are some of the benefits to the ingredients you picked?
LdL: I wanted to have ingredients that were all natural, and I wanted it to have a bit of a bite that a wine would have. Rosemary gives it flavor. Schisandra and dried damiana are good for the nervous system. There's white oak bark extract and hibiscus extract. All those flavors together mimic the taste of wine.
CC: What does wellness mean to you?
LdL: I do yoga and live a healthy lifestyle. Fosé is a part of that. Eating a Mediterranean diet. Nice baths and walking in Central Park, or on the beach in the Hamptons. Meditation. After I meditate, I'm a happier person.
CC: What did you love about being a reality TV star?
LdL: I grew up in a big family, and that prepared me for the Housewives. The journey has been an incredible one. We never thought in the very beginning that this would become a pop culture phenomenon. I have gotten to do so many great things on the show—such as sing with Natalie Cole, who was a fan of the show. We went to Morocco, we've been to London. I've worked for the homeless on the show, the American Cancer Society, for the Fortune Society helping people who have been formerly incarcerated get back on their feet. It's a tremendous platform to promote whatever you want to promote. I would say the good parts totally outweigh the bad. We did the ultimate girls' trip recently. where the casts from Beverly Hills, Jersey, New York and Atlanta were put together. We talked about being vulnerable to people who judge us, and how difficult it can be, especially with raising a family in the limelight.
CC: How's your love life now?
LdL: I've been married and divorced twice on the show. I was married to Alex, and after the second season or so I ended up getting divorced. Then I found love again and married Tom [D'Agostino], and then I divorced Tom. But I'm a hopeless romantic.
CC: What's it like having a spotlight on you while you're going through these emotional life changes?
LdL: It's difficult, and at the same time after being on the show for so long, you develop more of a thick skin. I try to keep my personal life separate from the show. To keep your sanity, you have to put yourself and your family first. And the show is my job.
CC: Tell me some of your favorite things about Sag Harbor.
LdL: I live in the village, so I love being able to walk to town. I love the history of Sag Harbor. I love that it's protected historically. I love the harbor. I have a boat, so I go out on the water. I swim off my boat. I go to restaurants on my boat. We have a new movie cinema in town. And then you have the art world. My daughter showed at Keyes Art this summer. My son Noel has a show at The Ranch, the big space in Montauk.
CC: You raised two artists. How did that happen?
LdL: Victoria's been drawing since I can remember. My son as well. They've both been very interested in art from the get-go. Their grandfather was an English watercolor painter called Noel Sampson, and their father [Alexandre de Lesseps] is an artist. He went to Northwestern, and studied art as part of his curriculum. I'm a different kind of artist. I can't draw a rabbit, but I'm an artist who gets onstage.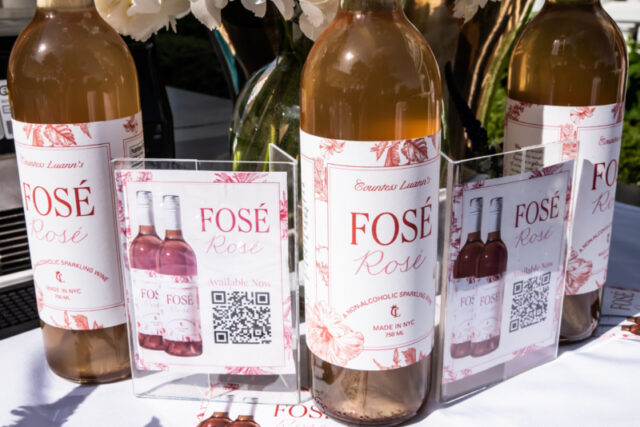 CC: Out of the TV show, several new careers evolved—winemaker and cabaret star. That's so wonderful.
LdL: Years ago, a really old friend of mine said, "Luann, you love to sing for your friends. You love to tell jokes and you love to host parties. You should be doing cabaret." My show is like being in my living room. You come and visit, just sit down and enjoy the ride. I think people love the show because they love my resilience and they love the fact that no matter how down I've been, I can rise to the cabaret stage. When you do the things you love, I think things fall into place. It just happened that way with me, and I'm so grateful because my shows are selling out. I'm touring with Live Nation. I have Richard Jay-Alexander, who has directed tours by Barbra Streisand and Kristin Chenoweth, working with me on my show. The iconic Billy Stritch has been my musical director for years. I've surrounded myself with an incredible team because they believed in me from the get-go. I'm soon to go to London and Australia with my show. I'm very excited about expanding internationally.
CC: What's one bit of advice you'd tell your younger self, or your children?
LdL: I think it's a great quote, and I'm not sure who I've stolen it from, but I always say the minute you think you're right, you begin to rot. Life is about being interested in things because that's what makes you interesting. I didn't know my cabaret would work. I had no idea. I took a big chance, and I put myself out there on stage and it wasn't easy, but it paid off. No guts, no glory. drinkfose.com
Click here to see the Fosé Rosé launch at Topping Rose, Bridgehampton.