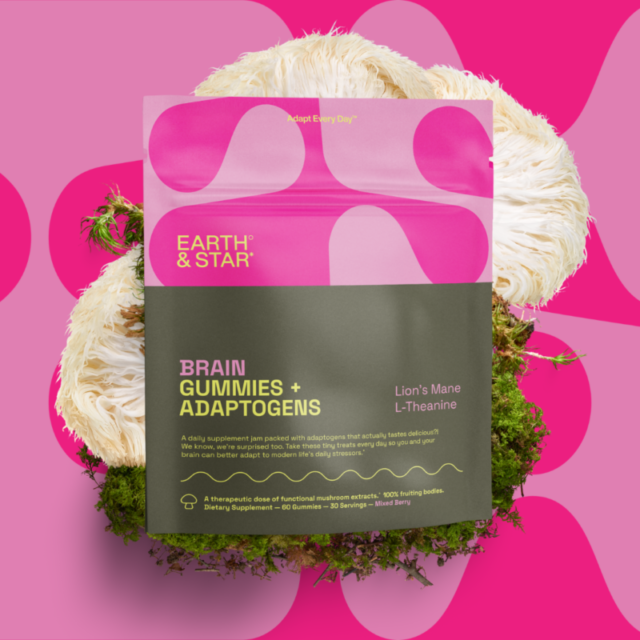 Founded by longtime wellness enthusiasts and entrepreneurs Erica Huss and Zoe Sakoutis, Earth & Star delivers the incredible health benefits of adaptogens in the everyday products you know and love, like coffee, chocolate and even daily gummies.
Huss and Sakoutis were on a quest to find foods and ingredients that actually worked to improve health when they came upon functional mushrooms—adaptogenic superheroes that possess some of the most powerful health benefits on the planet.
"The amazing thing about functional mushrooms is that they are all incredibly powerful in supporting immunity, thanks to their high concentrations of beta glucans, a type of polysaccharide that has been shown to have powerful antioxidant properties to ward off disease," Huss says. "The basis of the immune system starts in the gut, so gut health is the most powerful tool you can use in the battle against disease."
Earth & Star's products are as tasty as they are functional.The company's dark roast coffee has a therapeutic dose of lion's mane, reishi, cordyceps and chaga mushroom extracts to deliver a totally delicious, totally jitter-free cup. (The mix is also available in hazelnut and decaf.) Those with a dark chocolate habit can indulge in the brand's 72% cacao bars, loaded with functional extracts and offered in flavors like Sea Salt and Mint. Earth & Star also offers vegan daily gummies packing a 2000 mg blend of powerful mushroom extracts into two berry-flavored gummies. This season, the brand is also introducing Gut and Brain formulas to the gummy family, along with its bestselling Immune formula. It also has megadose tinctures for Brain, Immunity and Beauty that can be added to literally anything.
Huss and Sakoutis believe adaptogens are the key to optimizing your health. As they say, "The future is fungi!" earthandstar.com