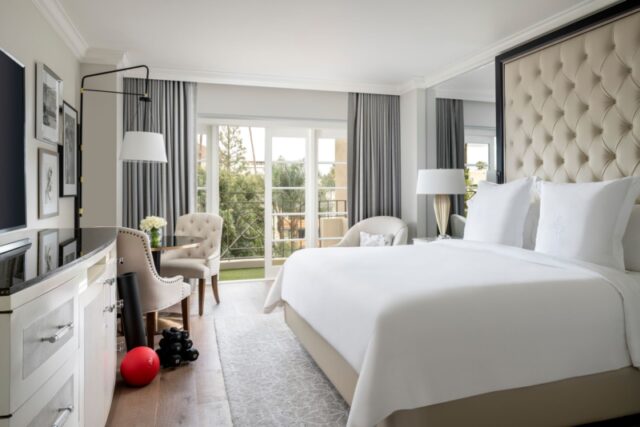 By Ray Rogers
The wall of living greenery facing the elevator banks on the fourth floor of the Four Seasons Beverly Hills signals that you are indeed on the new "wellness" corridor, an entire floor of the iconic property devoted exclusively to well-being. This includes private wellness workspaces (WELL Office) and a separate indoor private fitness suite, all of it leading to the spa area and outdoor heated pool, jacuzzi and al fresco workout area.
Everything has been thoroughly thought out here, and you'll notice it the moment you open the door to your wellness suite or room, where you'll be greeted by a black meditation mat and cushion, and an Alo yoga mat in room. An especially nice touch is the natural-light mimicking alarm clock on the nightstand, meaning you'll rise to a glorious sunrise no matter what time your wakeup call is. All guests in the wellness suites are granted access to guided meditations and other wellness and fitness classes with their stay, and you'll have access to them long after you leave too.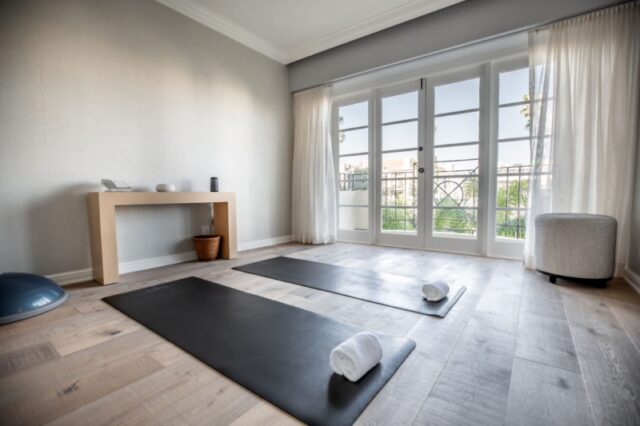 Rest comfortably knowing that the property has been awarded the WELL Health-Safety Rating, too, meaning it has met specific requirements to address a post-COVID-19 environement.
While you're there, be sure to book your own personal time in the saunas at the end of the corridor and opt for either an eco-luxury organic facial or the just-launched series of bespoke facials by Knesko, which utilize active, holistic ingredients and are supercharged with the use of gemstones and Reiki energy healing.
A fresh coconut poolside after laps and a soak in the outdoor hot tub will spirit you away to the tropics, without ever leaving the City of Angels. Pure heaven.