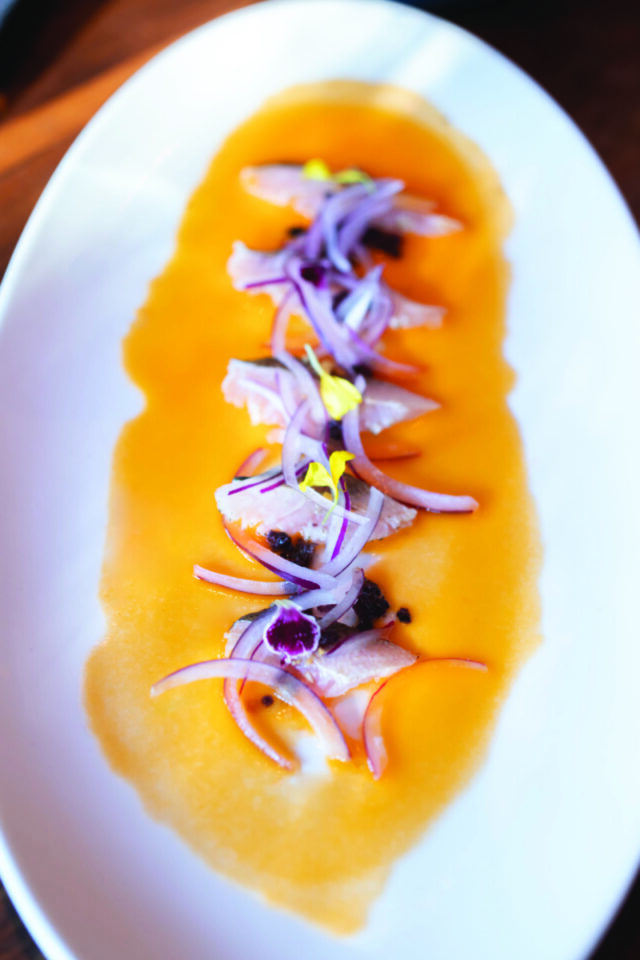 By Amanda Rae
Executive Chef Jesus Alvarado is spicing up Duemani Aspen this winter, importing some 60 flavors from Greece, Turkey, Morocco, Lebanon, Sardinia, Spain and France. Bold Mediterranean ingredients represent a broadening of horizons to transport diners beyond coastal Italy.
"Obviously I try to sneak in some Asian ingredients," quips Alvarado, an Aspen native who is Korean Mexican and began working in his father's Chinese restaurant in Michoacán at age 12. "I'm taking techniques I learned from Nobu [Matsuhisa] and my old boss and mentor Phil Tanaka and putting a twist on it."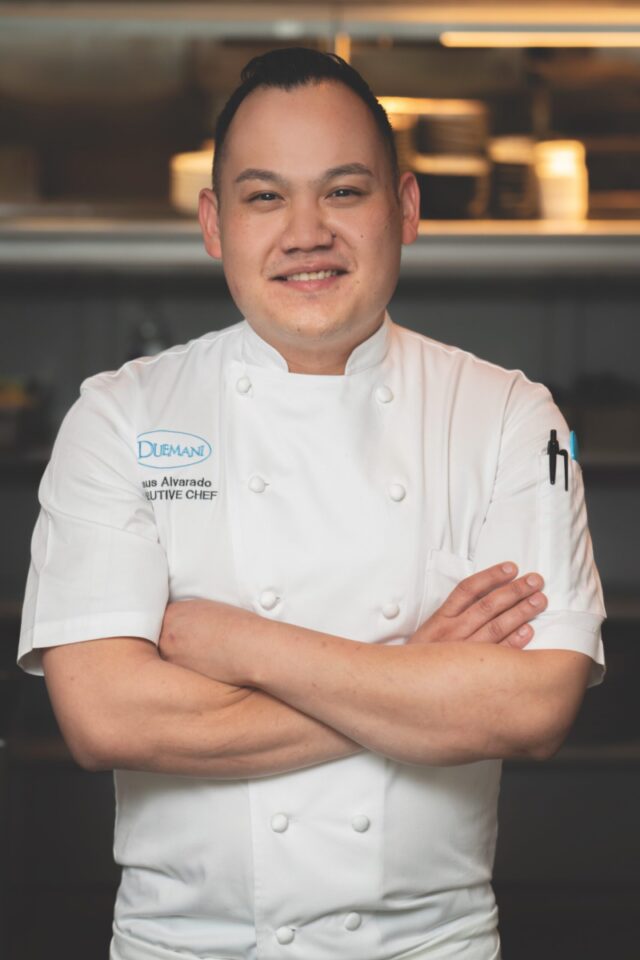 Duemani's winter dishes are refreshingly diverse, and include yellowtail crudo with red yuzu kosho, lemon, fried garlic, micro-cilantro and Hawaiian red sea salt; whole roasted branzino served over 12-hour puttanesca sauce; and sea bass (carved almost daily from 60-pound fish) with a brown butter-lemon-caper sauce and fennel puree. Fresh pasta specials might well include raviolini stuffed with beef braised in soy, mirin and sake, then glazed with a butter-soy reduction.
"Even our chimichurri sauce—that's South American, but instead of using red pepper flakes I'm using gochugaru, Korean chile flakes," Alvarado says.
The herby condiment accompanies an organic half-chicken, cooked sous vide then seared until crispy, alongside brown-butter mashed potatoes. Alvarado's dehydrated Kalamata olives enhance a scallop crudo in piquillo pepper vinaigrette; merguez sausage kefta is paired with fluffy, orange-tinged Espelette pita; and grilled lamb chops get black lime labneh. Duemani's bestselling crab tostadas remain, with a Mexican twist; oysters arrive with 10-day-fermented Fresno chile hot sauce.
The move toward Mediterranean cuisine—combined with subtle style upgrades, an eight-item bar menu and a flat-screen in the 26-seat wine room for private events—honors a healthy evolution since Aspen Hospitality Group acquired Duemani (and sister restaurant Acquolina) in October 2021.
"Duemani means 'two hands,' embracing cultures," explains founder and managing partner and prominent, Aspen-based sommelier Carlos Solorzano-Smith. "We put our own touch on what the soul of the restaurant has always been."
He can hardly wait to introduce diners to featherweight Zalto stemware, crafted in Austria. Duemani's wine cellar has 4,500 bottles, and the wine list of more than 900 different labels from France, Italy, Spain and the Americas is worth it (and the cost of a dishwasher upgrade). "When you come to Aspen, you come for an experience," Solorzano-Smith says.
Part of Duemani since day one in December 2019, general manager Darko Petrov agrees. "Duemani is about wine—we are elevating that experience," he shares. "If someone wants to come in ski boots, it's all good! We can do it fancy this way as well."
216 S. Monarch St., Aspen, 970.920.2555; duemaniaspen.com