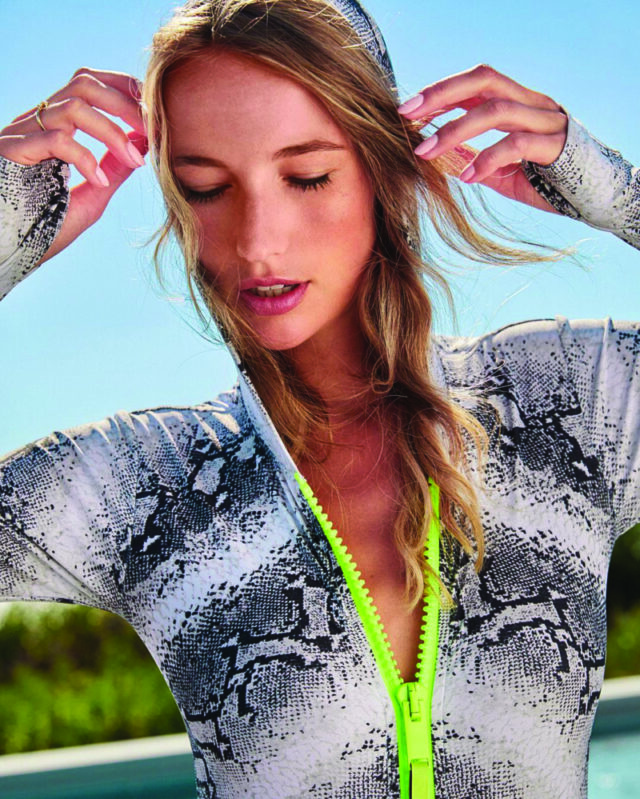 By Julia Szabo
Filming was about to start on Ithaca, Meg Ryan's directorial debut feature, in mid-July 2014. One of its cast members, actor Lois Robbins, was packing her bags in anticipation of the shoot near Richmond, Virginia, well known for its hot and humid summers. A lifelong sun worshipper and outdoors enthusiast, Robbins was also planning a family vacation in the Grand Canyon. But first, she paid a visit to her dermatologist, who had recently removed a basal cell carcinoma from Robbins' lip.
The doctor delivered this decree: "You cannot be in the sun any more." A stunned Robbins got through the movie shoot by "holding an umbrella over my head every time I was outside," she recalls. As soon as filming wrapped, Robbins began researching chic ways to dress for sun protection, a search with "pretty bleak" results, she says. Then one night, Robbins bolted upright with this thought: "It would be really cool to have a catsuit and skirt made of soft, two-way stretch fabric with UPF (ultraviolet protection factor) 50+." She called a friend skilled at sewing, and together the duo turned out six of the ensembles Robbins envisioned, zip-front catsuits in six different patterns (including her favorite, spotted leopard), each with a matching wrap skirt. These quick-drying layering essentials, blocking 98 percent of the sun's rays and designed to be worn in and out of the water, formed the nucleus of WATSKIN, the name intended to evoke the meeting of water and skin.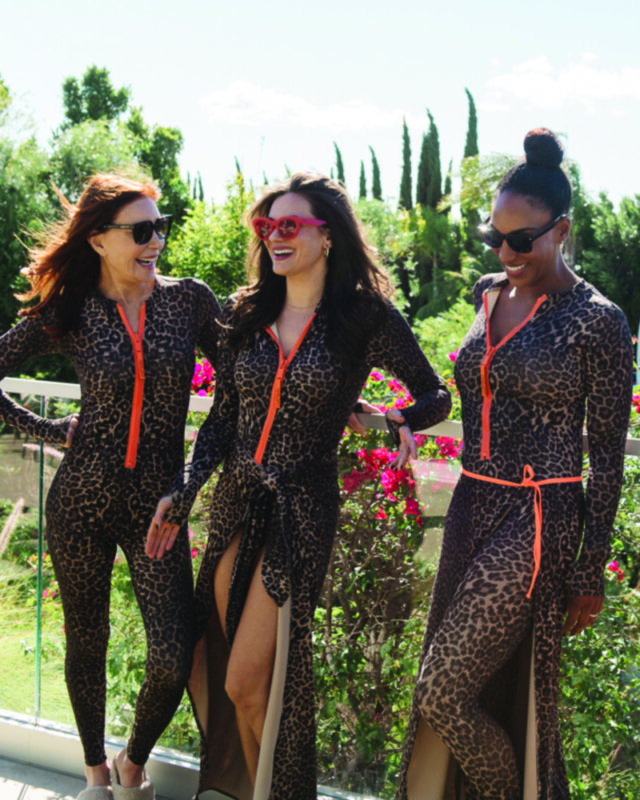 The collection now includes the original catsuit and skirt, plus bodysuits, pareos, even hats. The hood looks sleek worn up or down, while long sleeves cover the vulnerable skin on the wearer's hands, thanks to the clever thumbhole (which, together with bold, colorful zippers, assures a second-skin, photo-finish fit that Instagrammers love).
"WATSKIN is so comfortable that when I wake up in the morning, I can't think of anything I'd rather wear. That's not a plug, it's the truth," says Robbins, who donates 5 percent of each purchase to the Melanoma Research Alliance. "I'm getting so much joy out of creating the sunsuits," she adds. "It's a great new chapter." watskinsunwear.com