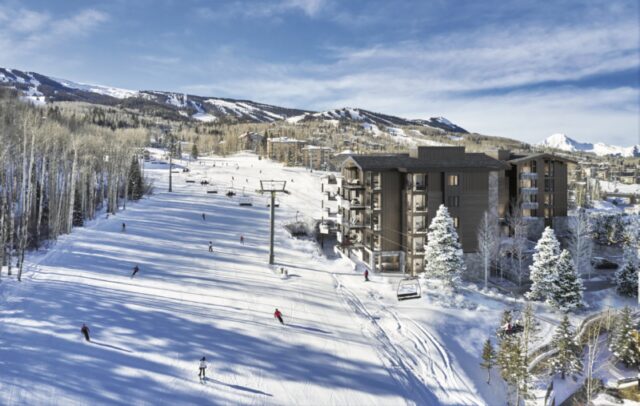 By Linda Hayes
Think luxury accommodations in Colorado mountain resorts these days, and what comes to mind? Floor-to-ceiling windows, top-of-the-line appliances, and of course, ski-in, ski-out locales.
Aura, a collection of 21 private residences set along the Assay Hill ski trail at the edge of Snowmass Base Village (SBV), takes amenities and practices further with a near- unprecedented mix of biophilic design, all-electric strategies, and mass timber construction, offering what's touted as the next generation of luxury living experiences. "It's a most special property for this type of exclusive, ultra-high-end residential project, combining the guiding pillars of health, sustainability and luxury living," explains Andy Gunion, Colorado-based real estate development company East West Partners managing partner for Snowmass and the Roaring Fork Valley. "Aura residences will not only feel good to live in, but will be a home that you can feel really good about owning."
Designed by two Denver-based firms, 4240 Architecture and interior design studio River + Lime, which specialize in high-end mountain resorts (4240 also designed One Snowmass in SBV; both firms are involved with the in-process Electric Pass Lodge there), Aura's appeal is both obvious and subliminal. Visually striking, the mass timber exterior also speaks to sustainability, generating lower carbon emissions in production than steel or concrete, and helping to blend the five-story building into the surrounding environment.
Biophilic design features, such as large operable window walls and expansive terraces, encourage natural light into the interiors and offer a connection to the natural surroundings. Wood ceilings, beams and columns further that connection and help create a calming interior aesthetic. Powering the all-electric building 100 percent by renewable energy (primarily through local Holy Cross Energy's PuRE program) helps mitigate carbon emissions as well. LEED Gold Certification is being sought for the building.
In the style of single-family homes, residences feature four- and five-bedroom options, with one bedroom in each designed as a flex space that may be customized for uses such as­ an office, media room or game room. While residences are sold unfurnished, recommendations for local designers are available. Furthering ownership advantages, amenities range from ski lockers, concierge service to the indoor-outdoor Aura Lounge and a private outdoor oasis known as the Aura Grotto.
Completion is set for summer of 2024. Prices range from $8 million to $12 million. 970.924.9100, aurasnowmass.com