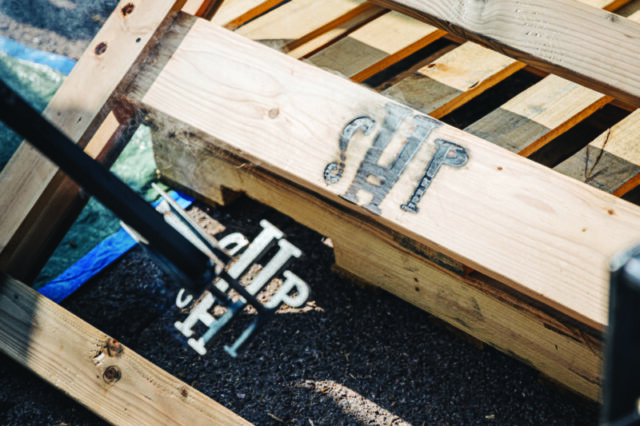 By Adam Rosante
ADAM ROSANTE: For anyone who's not familiar, what is Sleep in Heavenly Peace?
Luke Mickelson: It can be hard to imagine, but there are children living in your town who don't have a bed to sleep in. It's called child bedlessness. After a long day at school, these children sleep on the couch or a pile of clothes. Some even sleep on the bare floor. We're an international nonprofit dedicated to ending that. Our mission is to see that no kid sleeps on the floor in our town. And we want to make our town everyone's town. Specifically, we build, furnish and deliver twin-size beds to children ages 3 through 17 who don't have one.
AR: How does your team find the children in need?
LM: The families reach out. Anyone can apply for a
bed or refer us to a child in need right on our website,
shpbeds.org. Click on the tab "Apply for a Bed" and fill out a simple form. Our chapter presidents review the applications, select what they feel is the most dire need and arrange for a delivery.
AR: You were named one of the Top 10 Heroes by CNN in 2018. How did things change for SHP after that?
LM: It legitimized our organization even more and provided additional national coverage, which helped us raise awareness to the problem. We were able to really announce to the world that this is a serious issue with a simple, powerful solution that you can be part of. And right in your own hometown.
AR: If you could go back 10 years to just before you started SHP, what advice would you give yourself?
LM: To hold on. It's been such a crazy, fun ride that there isn't much that I would change. I would also tell myself to enjoy the moment. Oftentimes, I spend too much time looking to the future and not enjoying the moment.
AR: What would you tell someone who feels that their efforts at giving back aren't "big enough" and therefore don't matter?
LM: I would say that they need to stop comparing themselves to others. Every small act of service means something to someone. They are a success and are making a difference, even if it's in that one person's life at that moment in time. When I built my first bed, I wasn't thinking I was going to start and run the world's largest bed-building charity. I just wanted to help a few children in my own community.
AR: This work can get overwhelming. How do you take care of your mental health?
LM: I teach our chapter presidents that although this is fun and fulfilling work, it can be addictive and all-consuming and to be sure that you keep and maintain a balanced life. I forget that myself sometimes. Again, stopping to smell the roses is still excellent advice. And it's OK to disconnect once in a while. I have the best wife in the world and she continues to teach me the value of the moment and to enjoy the now and let the future come as it may.
AR: It's clear what SHP does for the children it serves. What has this work done for you?
LM: I ask this question all the time on my Humans Helping Humans podcast. It has literally changed my life, my purpose and my heart. There isn't a day that I don't think about how I can better our mission, reach more kiddos and support our volunteers. I think it's provided me the purpose in life that I was missing and passion I feel I have had bottled up inside.
AR: How can someone get involved with Sleep in Heavenly Peace?
LM: There are a few ways. By visiting shpbeds.org, anyone can donate money to their favorite chapter, learn how to become a chapter president and serve the kids in their own hometown. Or help us raise awareness to the pandemic that is child bedlessness. By reaching out to us or to your local chapter president, you'll feel the joy of service and the blessings of making a difference in the world. shpbeds.org
Adam Rosante hosts the podcast Season of Giving; find it on seasonofgiving.org