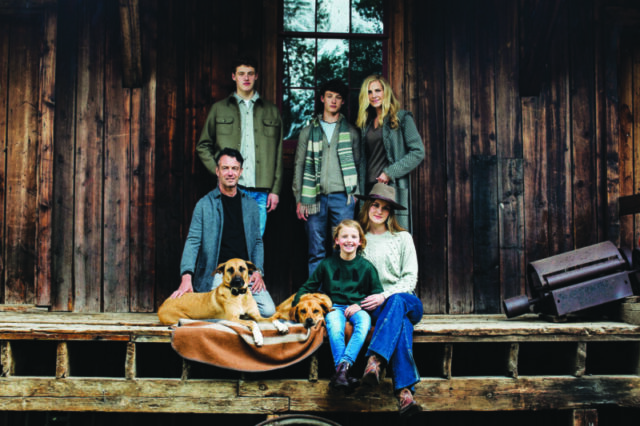 By Abby Tegnelia
In Aspen social circles, there's a sign that winter is coming that's as clear as cool, crisp air: the appearance of capes from Alicia Adams Alpaca all over town. But while the ultrasoft, incredibly luxe outerwear pieces are now ubiquitous—fashionable women prefer the capes to puffy coats when wanting a more elegant look—the company started with a production of baby clothes, a testament to just how soft this impeccably made alpaca fleece feels on the skin.
Adams and her husband, Daniel, moved to the Hudson Valley, New York, town of Millbrook from Germany in 2006 for a brand-new adventure: raising alpacas. After a few years of idyllic farm living—and caring for the alpacas' fibers that had to be shorn yearly—Adams knew that the bags of soft material simply couldn't go to waste.
"I am not a weaver or a knitter," she says. "I had had a romantic fantasy when I was pregnant that I would knit, but my scarves came out looking like Swiss cheese." So the then-mother of three went out scouting (a fourth child, a daughter, was born a few years later). After some trial and error, she headed to "the source": Peru, the country of origin of her beloved alpacas. Now her precious upstate New York alpaca fiber is woven in talleres, Peruvian workshops, by artisans with generations of experience weaving the superfine fiber. The items are then sold in Adams' flagship store in Millbrook, and the Aspen and Malibu Lifestyle stores, as well as in Comerford Collection in Bridgehampton, and French Presse in Amagansett. Adams also works with interior designers including Martyn Lawrence Bullard; she outfits hotels such as Hampton Bays' Canoe Place Inn & Cottages with her throws and runs a robust wholesale business, selling to over 200 stores.
"Alpaca is so tightly woven that it protects you from the cold and keeps you super warm," she says. "The cape, or a super-duper chunky sweater, doesn't feel heavy; it feels like it's hugging you. All of our accessories are also popular—hats and scarves. Alpaca is super versatile."
Adams advocates against fast fashion, and loves that her throws and staple clothing items are true investment pieces. "You can buy a throw as a shower gift for a baby, and watch the baby grow with it," she says. "The baby is swaddled with it, then the mom uses it as she nurses—and then the child chooses to bring it to the dorm when going to college! If treated well, an alpaca item is long-lasting and can be passed on. No more buying five cheap sweaters that end up in the landfill. We have to stop that."
The rare alpacas (who give birth only once a year) are also endearingly gentle on the environment. "Alpacas have pads versus hooves," Adams says. "So when they're grazing they're not destroying the grass. They also nibble at roots, but don't tear them out, like goats do. Their carbon footprint is pretty low—no big machines are used—and there's not a lot of waste with the fiber. And they're born in an array of colors, 22 of them, including ivory, black and brown." aliciaadamsalpaca.com