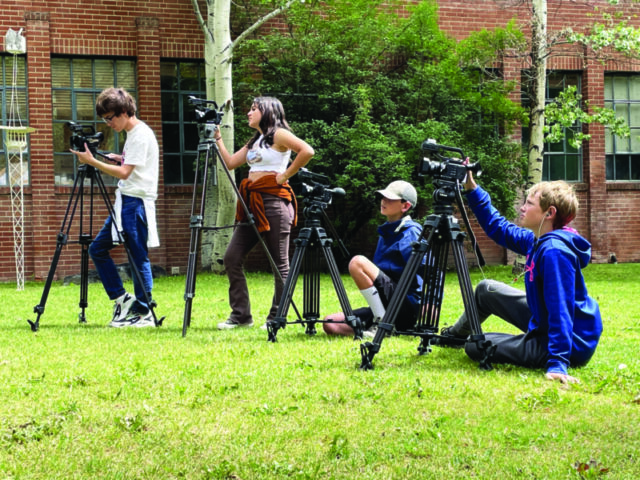 By Jenna Lebovits
A forward-thinking Colorado-based arts organization, Aspen Film prides itself on its inclusive and accessible youth-oriented filmmaking initiatives. One of its year-round programs, FilmEducates, has been making an impact for over 20 years, and is critical to the mission and purpose of the larger organization. Aspen FilmEducates supports students in the art of "storytelling through visual media and film as a way to amplify their voices," says Regna Frank-Jones, head of education development and programs at Aspen Film.
This year's Shortsfest, the renowned Oscar-qualifying festival, provides a selection of growth-oriented initiatives for young filmmakers. "It's phenomenal because students have the opportunity to receive feedback from industry professionals that they may not have had access to otherwise," says Aaron Koehler, a Colorado Film School and Aspen Film's Film Camp instructor. Felicia Hettinga, one of Koehler's students, will be showing the documentary that she co-directed, Sean & The Ramblings of a Sculpture Artist, at Aspen Film Shortsfest. The film provides a compelling look into what it means to be an artist: the ups and downs; the challenges and joys.
The FilmEducates program provides thoughtfully curated offerings, such as Making Movies Matter—a program that distributes film-focused educational supplements for online access and relevant curriculum guides—and Filmmakers to the Classroom, in which the organization brings industry professionals into schools around the Roaring Fork Valley, at no cost. Their mission is to support youth in realizing their limitless creative potential, and feeling empowered to embody it. "Recognizing that everyone's voice has value and strength" is the first step, says Koehler. "They allow space for smaller voices—folks who haven't always had room at the table—and all of a sudden, they do."
Using film as a vehicle to elevate and empower, "We work hard to include diverse voices from across a broad spectrum," says Koehler. "Understanding that we don't live in a vacuum, and that we're stronger together when we recognize the range of stories and experiences that come to the table." Students hailing from the Roaring Fork Valley and beyond—from middle school to the collegiate level—are supported by Aspen Film's FilmEducates' robust year-round programming initiatives.
Koehler believes that young filmmakers have the power to "move mountains" with their craft, and to open up the space for necessary—though at times difficult—conversations.
"Film reveals our common experience; you see yourself on screen, in one way or another, and you relate," Says Frank-Jones. "All of a sudden, maybe you have a different perspective on your problems or your life. It broadens your worldview."
Learn more about Aspen Film's educational initiatives and Shortsfest at aspenfilm.org.