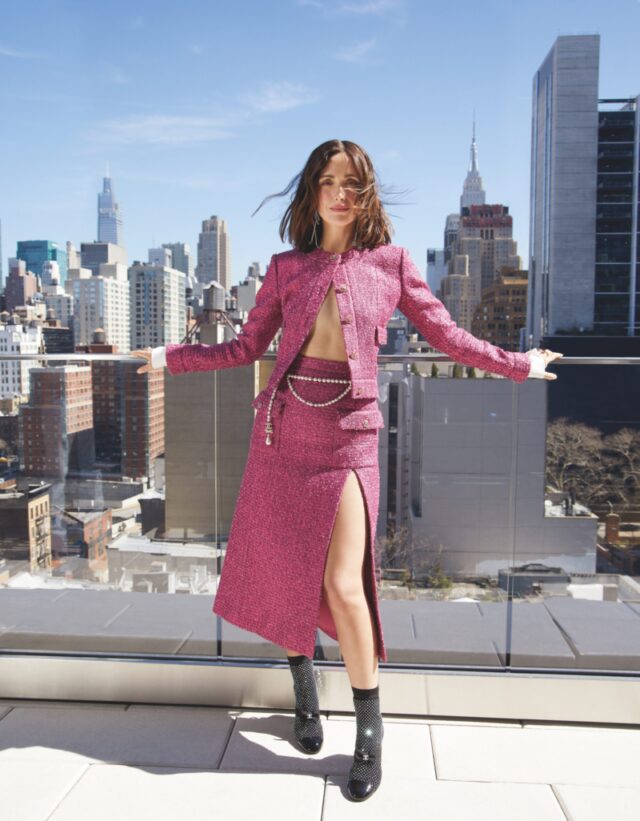 By Cristina Cuomo
CRISTINA CUOMO: I watched your new series, Platonic, last night, and it is hilarious. You and Seth Rogen have such a good dynamic. It's definitely a binge-worthy series. With Season 3 of Physical coming up, you're playing these quintessential American housewives with a dash of irony and comedy. As an Australian, what attracts you to those types of roles?
ROSE BYRNE: Physical was such an interesting world. I had just really never seen anything like it on the page—a housewife at the end of the second-wave feminist movement in the early '80s who is feeling disillusioned and finding herself worse off than she was before. Nothing had really changed for her, day to day. With Platonic, it's fun to reunite with people you've worked with previously [like Seth Rogen] and had a good experience with. Comedy is such a different set to be on. The joke is really the most precious part of every scene, whereas Physical has a different tone. Two quite very different things, but it's probably also my age—just getting the housewife roles.
CC: You played legend Gloria Steinem [in the 2020 series] Mrs. America.
RB: It was incredibly daunting, and I tried to get out of it at one point. I panicked and called Dahvi Waller, the creator, and said, "I can't do this. How am I supposed to do this?" I thought I knew about feminism; I very quickly realized I didn't know enough, and, of course not enough about Gloria Steinem. She dedicated her life, her soul, to the cause, and continues to do so. She became the face of feminism almost unwillingly. She embraced it and grew to become an incredible speaker, but she's very candid about the struggles she had in the early days of public speaking, how she got her voice and went on the road with many other feminists.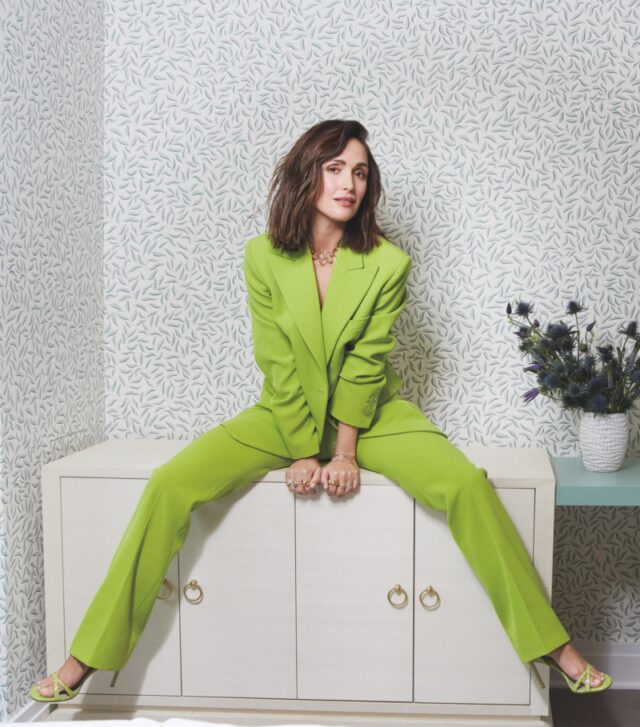 CC: Just before COVID hit, I saw your outstanding performance in Medea at BAM. What was it like doing theater with your partner, Bobby Cannavale?
RB: It was wonderful. In a way it was sort of more mundane. We would go and do this extraordinarily dark play—the rehearsals and you unearth all this stuff, and you're discussing everything. Then you come home and you go, OK, you need to go to the shops. I have to call this person to reschedule. It becomes a battle of mundane life. That's very grounding, because you have to leave everything at work. Theater for him is his church, so for him to take on the role of Lucas was really wonderful. It was a supporting part essentially, and he jumped on board, so it was really exciting.
CC: And it was so exciting to watch. You've done so many parts, voice-overs and family films, including Spirited, the recent retelling of Charles Dickens' A Christmas Carol. What draws you to family films?
RB: Any chance I get to just do a different genre, whether it is something like the Peter Rabbit film or Spirited. I did a voiceover for a beautiful documentary called Puff: Wonders of the Reef, which is incredibly sophisticated footage of the Great Barrier Reef and its destruction. I voiced the narration on that recently for a Netflix documentary, which is really targeted for children.
CC: I loved that, by the way.
RB: Yeah, I loved it too. Having kids has obviously changed me both fundamentally and profoundly, and that drew me to different material as well.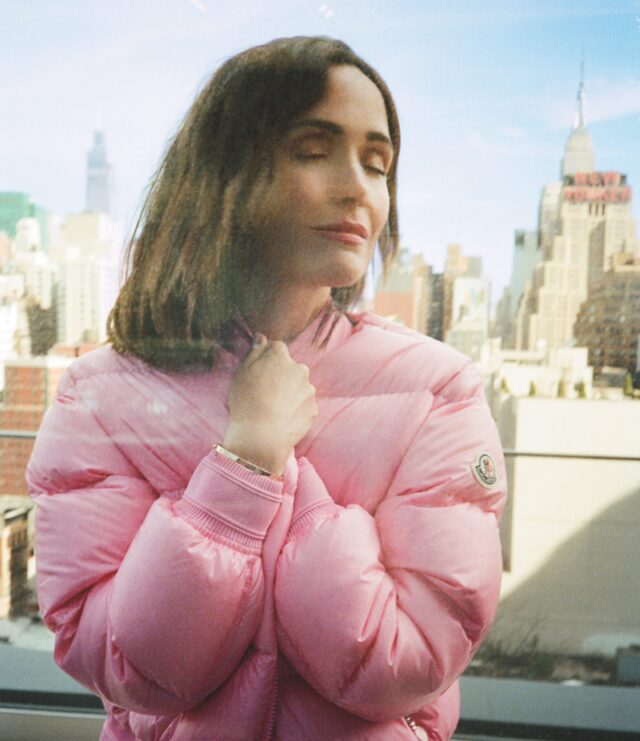 CC: How did Physical get you on a fitness track?
RB: I had not done aerobics since the Cindy Crawford workout in the late '90s, so I threw myself into training with our choreographer, Jennifer Hamilton. She runs her own studio, and we began training together in 2020 during the pandemic on Zoom, and then we started one-on-one. Every year we will start training for two months, to just get up my cardio and to start to break down the scenes where she's teaching. It's a lot of work, and I love it. Working with Jen is one of the many highlights of that job. I'm deeply uncoordinated, so every part of my brain has to concentrate on what I'm doing. You see why aerobics is addictive. You see why Jane Fonda said the workout saved her. I think it's important to mix it up. I love swimming laps, so I try to find a lap pool wherever I am. It's very meditative, and great for tone. In Australia, we have these outdoor saltwater lap pools, often right by the beach. But I definitely am lazy, so I need to kick my butt and get myself back into a high-impact aerobics class. A couple of times a week would be good.
CC: It's hard to manage it all. What is some of the best advice you've ever been given?
RB: I don't know if it's advice, but I think the reality of day-to-day — with parenting, working and marriage — is really chaotic and a struggle. I just take it one day at a time, to be honest.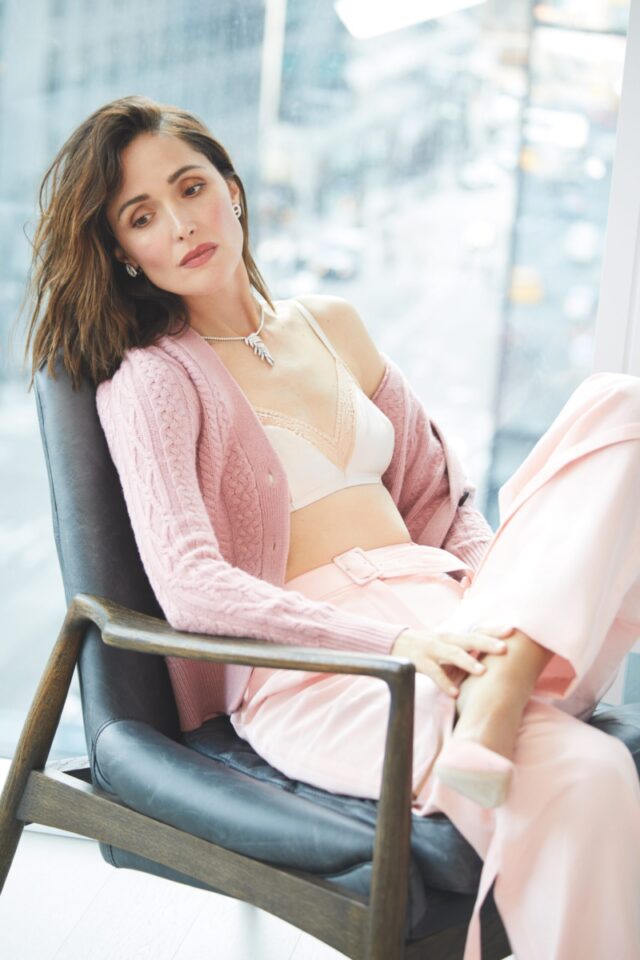 CC: Tell me about some of your wellness rituals.
RB: As I get older, I'm striving to tap into those wellness rituals, which I think are very good for resetting. I have invested in getting a trainer, and that was a pretty decadent thing to do. I hadn't done it before, and now I'm really committed to it. I have gotten into infrared sauna. I've really felt the benefits of it on my skin, general alignment and energy levels. Yoga has been a touchstone for me since I was 15. I'm really into skin care. I've tried every noninvasive procedure you can think of.
CC: What's your regimen? What's worked?
RB: I love Shani Darden in LA. She's an incredible facialist. I love the Christine Chin Spa here in New York. She's such a fantastic aesthetician. I've been trying to get a little vitamin D, sensibly. If the source of the sun is done properly, obviously with the right sunscreen, it can be so rejuvenating and so good for me and for the kids. I've started to let that in a little bit more, whereas Australia is such a sun-strict country, for good reason. It's got one of the highest skin cancer rates in the world. Our ozone had a big hole in it, so we grew up with government campaigns about wearing hats, sunscreen and sunglasses, which I do religiously. I've also tried to get a little bit of sun at the right times of the day, whether it's early in the morning or later in the afternoon. I think there's a way to do it sensibly that can be beneficial.
CC: What's the toughest thing about motherhood?
RB: All the times you realized you've failed. You try to turn it around and go, I need to try harder to get them to do this, or to get them to understand that. It's all reflected on you. They teach you everything about your own shortcomings, and it becomes clearer day by day. For me, the greatest challenge is trying to strive to do better as a parent.
CC: Agree. Your parents were foodies. Are you nutrition-minded? Do you have some favorite things to cook?
RB: Growing up, it was always about whole foods. There was no plastic in the house, no junk food. I've always had that ingrained in me—is it from the earth? If it's in a packet, you've got to be careful. But saying that, I'm trying to get better as a cook. That is definitely a shortcoming that I'm working on. Luckily, Bobby is a good cook, and he is really the source of the food in our house. But again, it's something I'm trying to get better at; I have no excuse, having grown up with such great examples. My sisters and my brothers are great cooks. I appreciate good food. I love going out to dinner. We just came back from Mexico, where we were indulging in incredible Mexican food for a week. I definitely do not shy away when it's time to be decadent.
CC: Mother's Day is coming up. Describe your perfect Mother's Day.
RB: It's something I'm embracing in America. Like Thanksgiving, it's less of a day in Australia. I'm getting into it more and more, but I love it. The kids always make me a great card, and that's so cute. Maybe I'll indulge myself and get a massage or something, or go for a nice walk. That's so daggy [Aussie slang for uncool].
CC: What is something about you that we don't know?
RB: Oh god. I am a big reader, and I love to sweep the floor. I'm a big floor sweeper. That's so daggy, too, but if I see something on the floor—I don't like any crumbs or anything on the floor, so I'm constantly sweeping. I'm like a big, big sweeper.
CC: Your rose-tinted brownstone was beautifully crafted. You did a deep renovation on it. How was that experience?
RB: We had an incredible architect, Fred Tang, and he guided the whole thing. We worked with my friend Michelle Jank, an incredible stylist who does interiors. She helped us just with the color palette. I had always loved those beautiful pink houses in England in Notting Hill, and those really beautiful neighborhoods. They have beautiful, pink, kind of classical British homes, and I would be drawn to just that color. Also in Mexico, there are beautiful pink exteriors and that was also a reference for the house. Initially the street was like, This is really obnoxious, but now I feel like we're being embraced. It was quite a bit of a dramatic color for Brooklyn, but I think it's settled in now.
CC: What's your favorite room in your brownstone?
RB: Gosh, I've got a few. I'm really into tiling. We have some beautiful tiling in some of the bathrooms, which makes me so happy. And there's a beautiful back room that the kids have, which is just essentially just a big playroom but with big, gorgeous bookshelves. To be honest, I really love every room. Every room was designed with great light and a great flow so you can really see from the front of the house to the back. And it's not a big house. We call it a little jewel. I love the size of it. It's cozy and it feels safe and it's home.