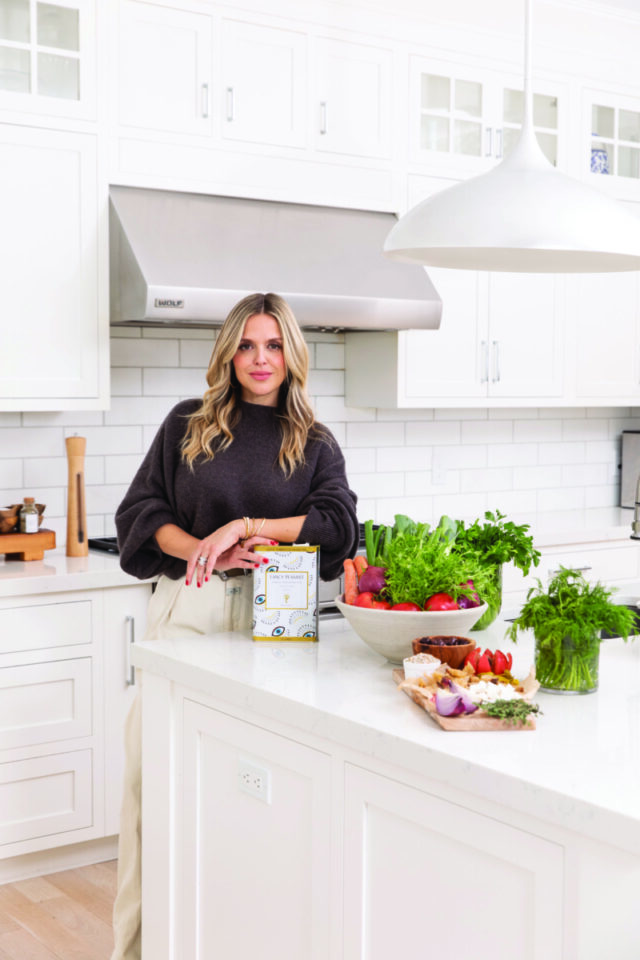 Rooted in the love of sharing her family's traditional Greek recipes with others, first-generation Greek American actress Anastasia Ganias-Gellin and her sister Stephanie Rapsomanikis set off on a mission to create the next wave of clean, simple and wildly medicinal Greek artisanal essentials, starting with their most loved organic Greek extra-virgin olive oil. Here, Fancy Peasant founder and local Southamptonite Ganias-Gellin talks about her journey to founding her business using food as medicine, and the health benefits of the product line.
PURIST: What inspired you to start Fancy Peasant?
Anastasia Ganias-Gellin: Fancy Peasant wasn't part of the plan—neither was my father dying after a 15-year battle with chronic lymphocytic leukemia. The loss of my baba took a lot from me, but it also gave me a surprising gift. In grief, I discovered that teaching others how to cook my family's Greek peasant recipes gave me purpose, pleasure and a path to healing. Our philosophy is inspired by the humble lifestyle of my father's birthplace, Vavouri, Greece, where the people truly live off the land. Their food is their medicine, and this same ethos is ingrained in our simple, modern recipes. It felt important to me to honor his memory by helping other people create healthy meals with and for their families.
PURIST: What are the health benefits of your products?
AGG: Before there were superfoods, there was Greek olive oil. Thousands of years later, olive oil is still celebrated for its radical medicinal properties. Our 100 percent Koroneiki Greek EVOO produces increased levels of phenolic compounds. These are anti-angiogenic, anti-inflammatory, and uniquely anti-cancer. This means that our antioxidant and polyphenol-rich GEVOO can support and optimize your body's remarkable defense system. Our olives are hand-picked by our team in Lechaina, Greece, to ensure there are no imperfections, and then milled within hours. Zero chemicals. Zero fillers. Cold-pressed perfection.
PURIST: Tell us about the addition of Greek Mountain Oregano salt to the line.
AGG: Mountain oregano is the quintessential Greek herb. Our oregano grows wild near pristine rivers and underground streams, some of the cleanest in Europe. Like our oil, the surrounding environment greatly influences the product's robust, earthy flavor. Because we collect from its indigenous ecosystem at high altitudes, our oregano has higher concentrations of antioxidants and essential oils. It is one of the most potent and delicious varieties in Greece. Oregano is collected in the spring and hung to dry all summer, and Greek cooks use it to infuse almost every recipe. They prefer dried over fresh for the flavorful finish it provides. Combined with our olive oil, lemon and garlic, this salt blend lends a distinctive Greek flavor and medicinal punch to every dish. We recommend adding it midway through the cooking, or toward the end as a finisher to maintain its bold flavor.
PURIST: Does a diet rich in olive oil promote longevity?
AGG: I believe it is crucial that we learn to listen to our bodies in order to care for ourselves and our children. By moving naturally throughout the day, eating wisely, connecting with our community and finding something to live for beyond just work, we can't guarantee 100 years for everyone, of course, but we stand an excellent chance of adding happy and hopefully healthy years to our lives. fancypeasant.com