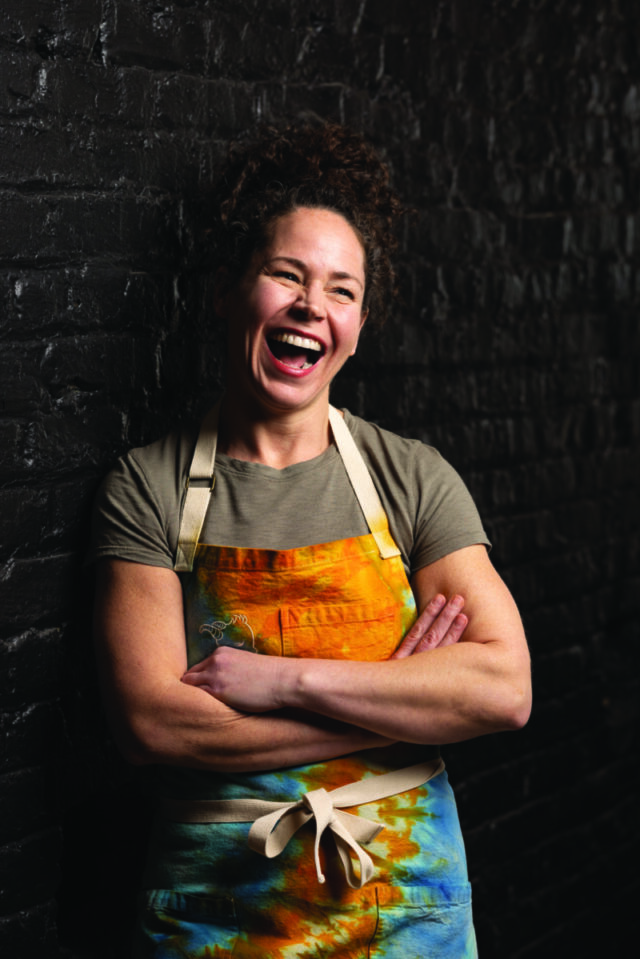 By Anne Marie O'Connor
Chefs today aren't necessarily the chain-smoking, exercise-averse hard drinkers of the past. They realize a healthy lifestyle is essential in order to have the energy and stamina needed to run a kitchen, and in the case of Stephanie Izard, a food empire.
Not only has Izard won Top Chef and Iron Chef Gauntlet, but she's also a fitness fanatic who'd have just as good a shot of victory on American Ninja Warrior. She needs to stay in shape: She owns six restaurants, including Girl & the Goat, which has locations in Chicago and Los Angeles, plus she does frequent TV appearances, has a product line (This Little Goat sauces and spices), and is the mother of 6-year-old Ernie.
Izard, who was also the recipient of the James Beard Best Chef: Great Lakes Award in 2013, credits F45, a high-intensity functional fitness group workout that she does six to seven times a week, with keeping her fit. "I was a competitive swimmer growing up, so I was always into fitness, but in the last couple of years I've been trying to get even healthier," she says. "I think a lot of adults still have this competitive drive, so F45's been a good outlet for me."
When the weather is warm, she also swims "mini laps" in her backyard pool. "Swimming is a great workout for your whole body without hurting your joints," she points out.
And though she's known for her "nose-to-tail" whole animal menus, she's also a major proponent of vegetables. Too often, they're an afterthought, she notes. "One way to make them more fun is to think about texture," she explains. She likes to top roasted cauliflower or broccoli or a salad with a crunchy topping made of a cereal, like Special K or puffed rice, marinated in soy and Worcestershire sauce and brown sugar and then air fried. "It makes vegetables so much more fun!"
She's also a fan of hydration therapy, which consists of an IV infusion of fluids. "Recently, I was so busy, I got so dehydrated. I started doing hydration therapy one to two times a week. Now I'm obsessed with it. It really keeps your body going." She will definitely do it before heading to Aspen for the Food & Wine Classic, where she'll be giving out samples of her This Little Goat line in the festival's tent all weekend.
On Friday afternoon, she and her friend (and fellow Top Chef winner) Brooke Williamson will be doing a surf 'n' turf taco night demonstration. "We're also going to do some cocktails and dance—I'm a danceaholic. It's such great exercise!" Food and fun—always a winning recipe!
The Food & Wine Classic takes place from June 16-18 in Aspen; classic.foodandwine.com