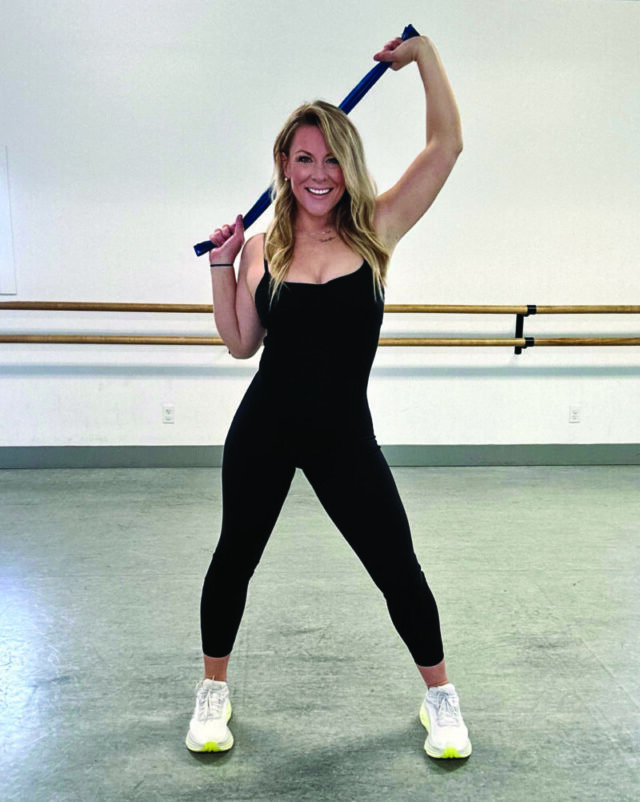 By Jenna Lebovits
Meredith Shumway lived to dance. "My heart, my soul, everything was in ballet—the training, regimen and process," recalls the Southampton resident. When an injury put an end to her professional life as a ballerina, she pivoted. Shumway transformed her passion for fitness and form into a now-robust career as a trainer, drawing inspiration from her past and understanding of anatomy and injury, an area of study she learned from top teacher Maggie Black. "She took injured ballerinas," says Shumway, "and brought them back to life."
Shumway now devotes her life to helping others find their fitness groove. This summer, she debuts an inclusive 60-minute workout created with athletes in mind, which she teaches at Project Hamptons five days a week.
Deeply embedded in the Hamptons fitness scene for the past 15 years, Shumway supports the wellness-minded person who is seeking a high-intensity workout that does not compromise any sensitive areas of the body, such as the knees, lower back, wrists or elbows.
"I wanted to create something that would target the muscles around the joints where people are experiencing major issues," says Shumway. "A workout that is geared toward athletes that also relieves pressure and pain from the joints." She wholeheartedly believes in a holistic, tailored approach. "For people who have major knee issues, the problem is usually underlying in the larger muscle that surrounds the knee—their thighs are probably not strong enough, or their IT (iliotibial) bands are tight."
Each session, which Shumway calls her personalized take on a group fitness class, commences with a short yet intentional whole-body warmup, and quickly transitions to a series of weighted and floor exercises that stimulate the entire body. Throughout the dynamic workout, Shumway maintains her injury-aware approach, suggesting modifications for those who need them. The class always ends with a stretch, which the instructor feels is "vital" and what many fitness classes lack nowadays.
The workout is inclusive and leaves room for a mix of genders and abilities. "It's almost a unisex type of workout," says Shumway. "I want everyone to feel that they are getting something out of it—that it's not just a generalized 'masculine' or 'feminine' workout—it's for anyone who desires an effective, high-intensity workout." projecthamptons.com