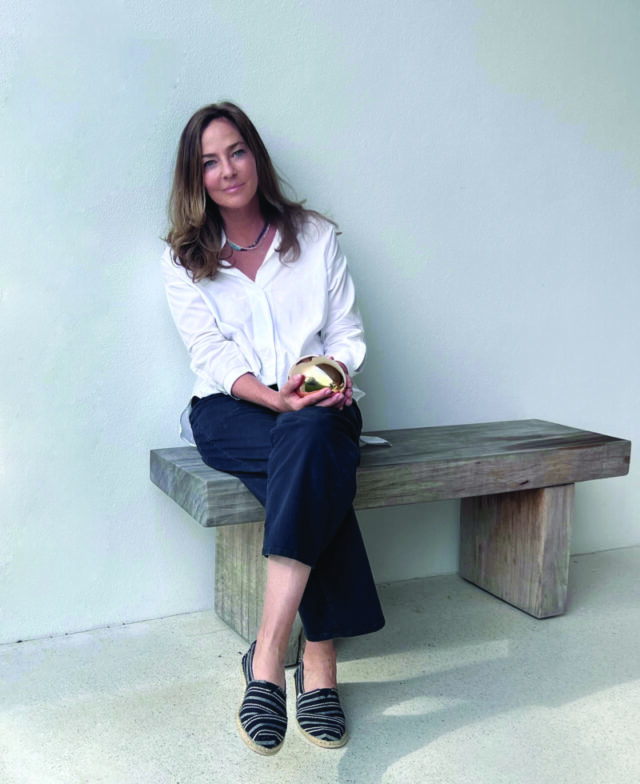 By Jenny Landey
Kelly Klein is many things. She's a mother, a photographer and a ceramicist. She has recently added "sculptor" to the list of accomplishments, and created a 17-pound solid bronze egg in a limited edition of 50, signed and numbered, selling for $6,000 with all proceeds going toward the prevention of gun violence. Purist sat down with the artist for a chat about the creative process.
Jenny Landey: How has your work as a ceramicist led to the creation of the limited-edition bronze egg, with proceeds going to the prevention of gun violence?
Kelly Klein: This is a continuation of the work I've been doing with ceramics, the next step with a new medium. I've always been curious about bronze sculpture and objects. My ceramics are modern enough in their shapes to lend themselves to being made into bronze. I'm lucky to have met my collaborator, Nancy Pearce, a sculptor who works in bronze. I made the original egg in porcelain, and she then created a mold and cast it in solid bronze.
JL: Where did the idea come from?
KK: It originated from the 1980s when the AIDS epidemic was out of control. I felt my way of helping was to do a series of coffee-table books, with proceeds contributing to AIDS charities. At this time in the U.S., the gun violence epidemic provoked the same feeling in my heart—that it's out of control. I felt a strong need to make a piece of art to raise awareness and funds for the prevention of gun violence and gun control. I have a school-age child and it's front of mind for me.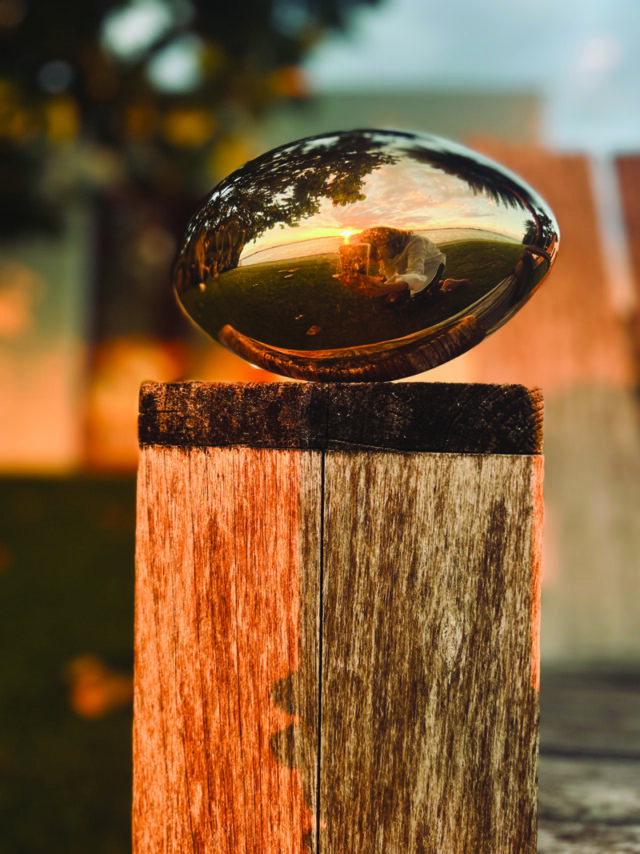 JL: What does the egg shape symbolize?
KK: The egg signifies life. I could have chosen many shapes, but this is the one that resonated with me to shed light on this important and timely topic.
JL: How did you get involved in this project?
KK: I saw an Instagram post by Julianne Moore over Christmas. She had created a bowl cast in bronze, and mentioned her collaboration with Nancy Pearce. I purchased that bowl; it, too, was created to raise funds for gun violence prevention. Months later, I contacted Julianne to see if I could also reach out to Nancy to work with my design.
JL: What do you love about the Hamptons? How has spending time here inspired your art?
KK: I have grown up in the Hamptons. I love the landscape, the light, the ocean, the salt air. I will always be a resident of the Hamptons. I collected shells and beach glass for decades, and feel they have inspired my interest in making shapes.
JL: Who most influenced the creation of the egg?
KK: Brancusi. Once I started making ceramics seven years ago, he was my inspiration for shape, design and materials. I call my ceramics modern pottery.
JL: You had a very successful career as a fashion photographer. How does working with your hands differ from creating images from behind a lens?
KK: It's the same thing. Any creative work you do, it's building a three-dimensional image. I'm so influenced and inspired by so many things I see, whether through travel or books. My eyes are always open.
JL: Modernism plays an important role in your aesthetic. Can you tell us a bit about the house you're building now in North Haven?
KK: I wanted to build a house in the shape of a modern barn. I think my passion for horses inspired that barn. I saw some Danish barns that were so simple and beautiful. I took that sensibility and am working with the firm 1100 Architect for our version of a modern barn.
JL: Purist is devoted to wellness and all it encompasses. Can you share some of your self-care routine with us?
KK: I keep it very simple. I use Epsom salts. I'm a big fan of baths. For the face, I love La Roche-Posay SPF 50 Anthelios Light Fluid tinted sunscreen. I love Westman Atelier for foundation, blush and highlighter. My night ritual is U Beauty Resurfacing Compound and The Rich Cream by Augustinus Bader. My fragrance is from Coqui Coqui, and the scent is Coco Coco.
JL: When is your favorite time of day to create?
KK: Morning. After I drop my son Lukas at school.
JL: What's the best piece of advice you've received as an artist?
KK: Perseverance. A lot of mistakes are made with pottery. Just keep trying. It's a learning curve and you need to just stick with it.
JL: Does art help you in other areas of your life?
KK: Working with your hands is very meditative and keeps me calm and concentrated and focused and I think they are all very good for the brain, a distraction from things that I might worry about. These are all healthy things to keep me calm and my mind settled.
kellykleinstudio.com