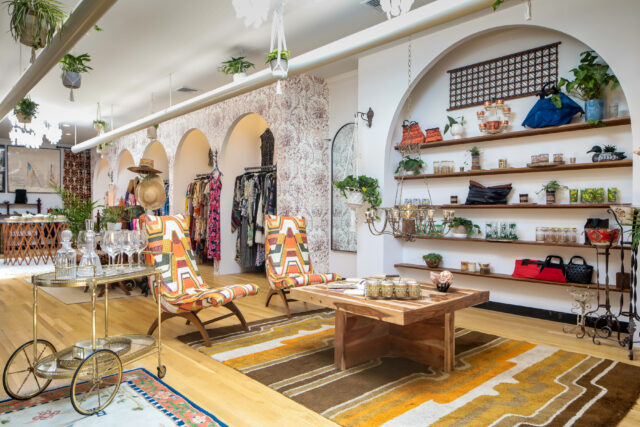 Morphew, the vintage retailer known for its curated selection of designer labels—from '60s Dior to rare finds by Alaïa—recently opened its second outpost, at 56 Hampton Road. The Southampton location follows its Miami flagship, located inside the Faena Hotel, that established itself as the go-to spot for vintage fashion and eclectic homewares and furnishings.
The new light-filled Hamptons location will carry vintage fashion from a range of designers, including YSL, Dior, Valentino, Vicky Tiel, Prada, Giorgio Armani, Giorgio Sant'Angelo, Lilly Pulitzer, Gucci, Roberto Cavalli, Emanuel Ungaro, Christian Lacroix, Halston, Celine, Chloé, Donna Karan, Issey Miyake, Yohji Yamamoto, Kansai Yamamoto, Byblos, Kenzo, Alaïa, Mugler, Versace and Oscar de la Renta, as well as its own Morphew Collection label with a Hamptons "edit" of breezy scarf dresses and kimono caftans.
An entire wall will be dedicated to summer whites—organic cotton pieces from the Victorian era mixed in with 1930s slip dresses and Morphew Atelier antique lace dresses. The boutique will house pieces exclusive to the Hamptons boutique, including Morphew's new plaid silk taffeta wrap gowns and play dresses in an array of sherbet colors. It will debut a collection of tablecloth dresses, made from Grandma's old linens sourced from France, hand-embroidered and cut loose on the bias that are machine washable and can go from the beach to brunch; and a range of new scents from the brand's candle line, sold in antique English teacups. Men will be able to choose from a selection of Victorian shirts, '20s linens, '40s Hawaiian-print shirts, Rat Pack-era smoking jackets and groovy pieces from the '70s.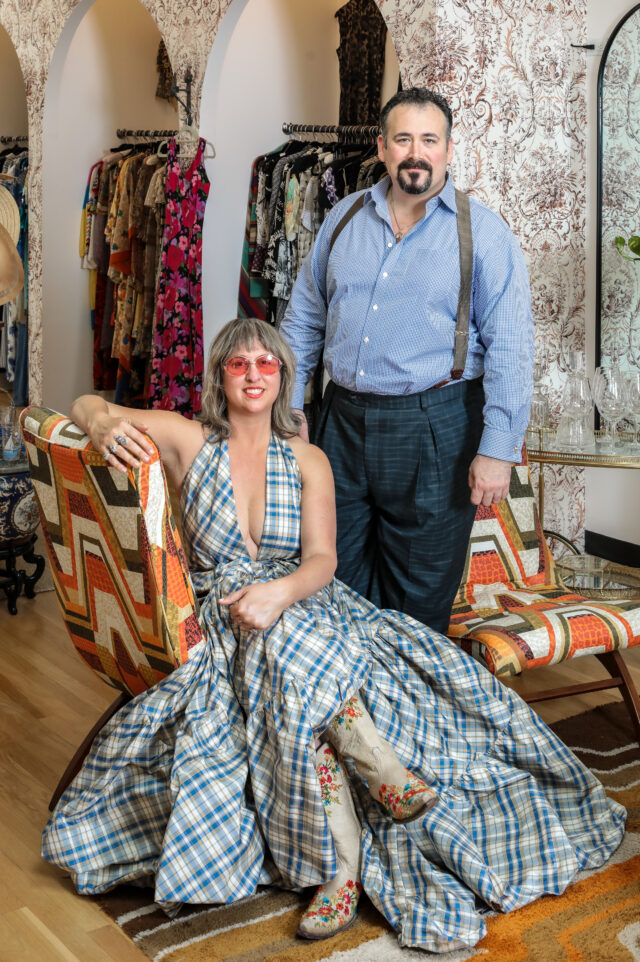 "Long Island is in our DNA at Morphew, so the opening of our store in Southampton is long overdue. We looked deep into the core values and vibes of this storied community and have put our own spin on the aesthetics of the space. The Hamptons is rooted in nostalgia and tradition," says Jason Lyon, Morphew's creative director. "The white Victorian trim, sun-bleached cedar shingles, loose linen and classic florals create an aesthetic which is undoubtedly The Hamptons. Our goal is to morph this casual luxury beachside aesthetic with the sexy maximalism Morphew is known for."
The '70s-era furniture, Victorian accents, hardwood floors and racks built into the rooms' wallpaper-covered arches draw upon Lyon's nostalgia gene with a nod to his own familial history with Long Island—in particular, his Ggrandmother's 1980s rec room. "We hope this mash-up of styles will resonate with the nostalgia of many, and read as modern and comfortable. We've designed the store to be a hub, a happening, a cool place for the kids to hang out and play dress-up while the adults sip their cocktails upstairs. Think Big Biba only Morphew in Southampton," says Lyon.