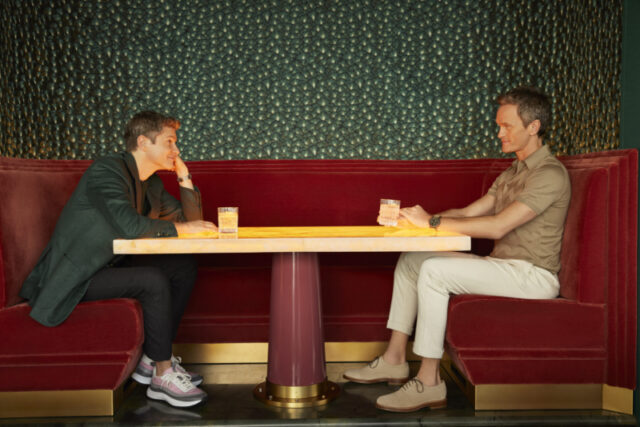 CRISTINA CUOMO: Congrats on the new series and all the different things you're doing. You are both very prolific, with your Wondercade newsletter and website, Broadway and off-Broadway plays, and new Hulu series, Drag Me to Dinner. What can we expect from the new show?
NEIL PATRICK HARRIS: Drag Me to Dinner is a comedy parody version of a cooking party competition show, where the competitors are two teams of drag queens. They're throwing the best dinner party to impress the judgers—we're not calling them judges, because they're drag queens.
DAVID BURTKA: Everybody knows Chopped and Top Chef and RuPaul's Drag Race. It's sort of a combination of all these fun shows. I am sort of the Tim Gunn of the group who talks them through, helps them with challenges and lets them know what the competition is going to be for that day. Neil is one of the judges.
CC: Are you selecting the drag queens for the series? Do you audition them?
DB: We have a really wide net of friends who are drag queens. We produced the HBO documentary Wig and we brought back Wigstock, an East Village staple for many years. We ended up asking a lot of our friends—we reached out to 40 of the very best of the best comedy queens of the drag community.
NPH: I feel like the world today, especially on television, can steer toward smack-talking and meanness. We wanted Drag Me to Dinner to be fun, to be silly, to be enjoyable. I think the drag audience knows these people really well, and so we were playing to them and respecting them and having a good time.
DB: That's not to say there's not smack-talking. With Bianca Del Rio's mouth, it's going to be hard to not have some insults flying. All these girls who come on the show and are doing this job together are all friends. They have such a strong sisterhood; they have each other's back.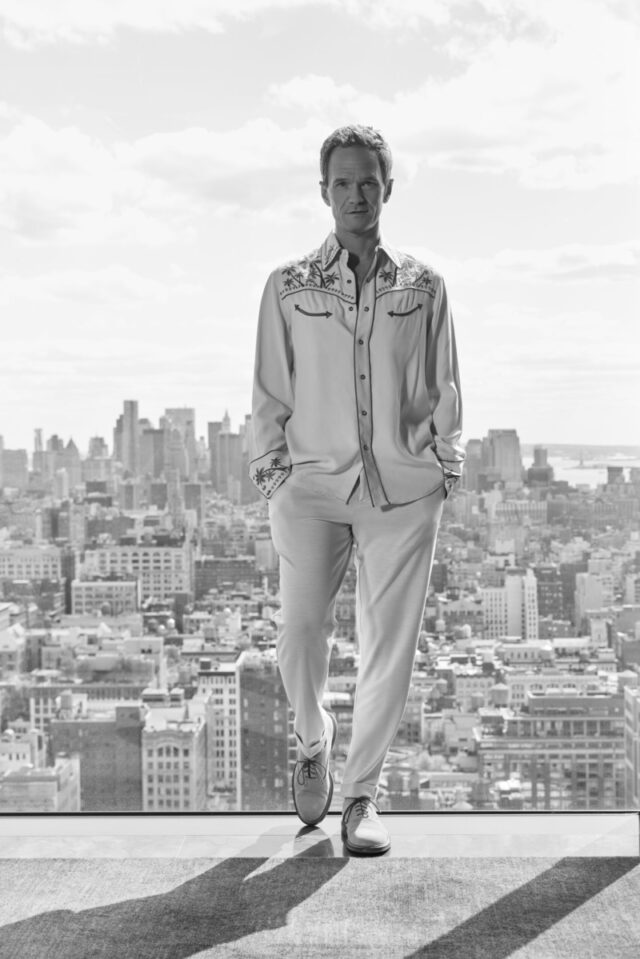 CC: Comedy is the great healer and a pillar of wellness, so thank you for bringing more laughs to a world that needs it. Neil, when did you know you were funny?
NPH: I have a brother, Chris, who is three years older. Our parents always talked to us as people and not children and had a good sense of humor. I was in my late 20s during the Harold & Kumar and How I Met Your Mother phase of my life, but fingers crossed I was funny before that.
CC: You've been praised for your role in the Broadway play, Peter Pan Goes Wrong. When you're on stage, what are you loving most—the singing, the dancing, the audience, the comedy?
NPH: When I was younger I saw a lot of live events and circuses, Cirque du Soleil specifically. I remember watching a clown comedian named David Shiner perform a Buster Keaton-esque silent comedy routine in a tent show. I had never laughed harder. Now I have been able for a short period of time to join forces with the comedy troupe called Mischief Comedy, and they have done these Goes Wrong shows. Physical comedy is designed to look sloppy, when in point of fact it's very rehearsed and thoughtful, almost like a Rube Goldberg puzzle. That's its own acting feat, and I'm wildly impressed by them.
CC: David, you have been teaching people how to entertain with all of your amazing cooking feats. In your cookbook, Life Is a Party, you make it easy to learn. Of the 106 recipes, what is your favorite thing to cook at home?
DB: I really love the grilled rib-eye with the porcini rub. My family goes crazy for it.
CC: I think Sant Ambroeus in East Hampton has adopted that recipe, by the way. When you're at home and you're cooking, do you enlist the kids to help?
DB: Lately I've not been cooking much. I'm doing a play as well—I just opened a show off-Broadway called God of Carnage, so my cooking has been shifted. But I try to make dinner at least once a week. I do try to get the kids involved. They're teenagers now or preteens so it's like pulling teeth, but when they were younger it was a little easier to say hey, come pick herbs or whip this up for me. When they were younger we would go and do trips around the world where I'd make Israeli food and we'd talk about Israel or Argentinian steaks and we'd do like a chimichurri. We'd get the map out and show them where Argentina is, and play tango music. Our lives have been super-crazy lately, so we haven't been able to do that in a while, but I look forward to the summer where the play will be wrapped up, and Neil and the kids will be around. I'll be able to pick vegetables from my garden and cook and enjoy family time.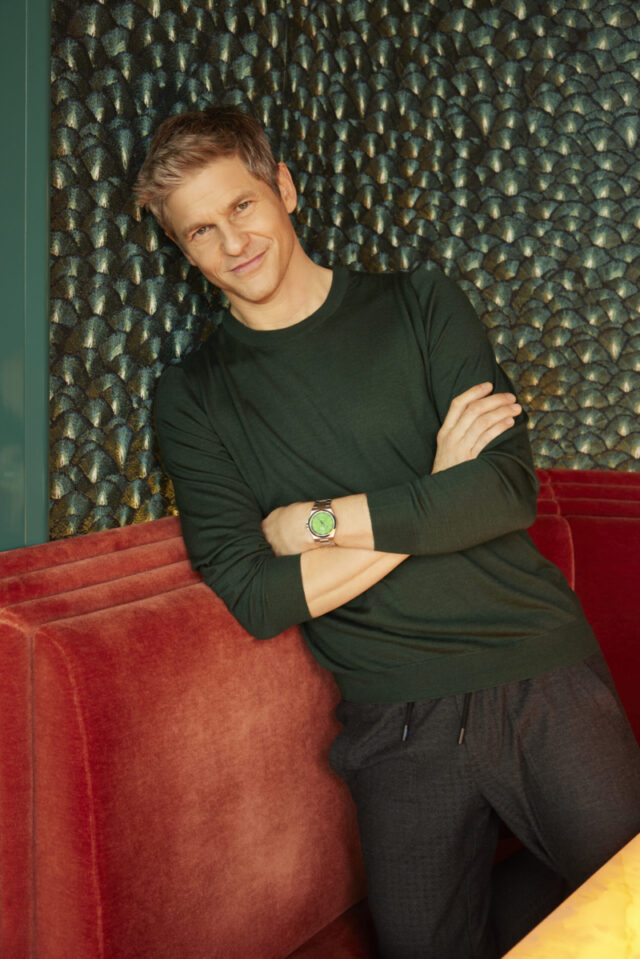 NPH: It's been amazing to have as part of our family life the understanding that we have a meal together every night. And it has been a little strange, with both of us working actors now on stage—eight shows a week doesn't really allow for that, but it's kind of nice that the kids miss it, and that they grew up with it.
CC: God of Carnage is described as 'a comedy of manners without the manners.' How much of what you do onstage or behind the camera comes home with you?
DB: I know when I was doing The Goat, or Who Is Sylvia? or The Play About the Baby, I would come home and go through a real progression of feeling a sense of loss. I would just start bawling for no apparent reason. But for this show, I have yet to feel that I'm taking anything home, maybe because the character is a high-powered lawyer who's just living for himself. With Drag Me to Dinner, I didn't feel like we brought anything home. We were tired. Maybe we were a little more sassy because we were working with drag queens all day.
CC: You two met when you were both on Broadway. What was that moment for both of you, when you realized it was serious?
NPH: I had such a talent crush on him, and so I just started showing up at places where I knew he would be, because my show ended about a half hour before his. I just kept being smitten by him, and then it was probably just wearing him down. It was a lovely fast start.
DB: Early on, before we started dating, we started to hang out as friends and we went to the circus. Just seeing his kid-like behavior, this fun persona of just wanting to soak in life and enjoying circus acts and getting cotton candy was really refreshing for me. And then when we had dinner, he ordered the chicken and waffles and I sort of was like, OK, that was it.
CC: I want to talk a little bit about Wondercade. This is a great newsletter, featuring a variety of your interests under one domain. What made you decide you wanted to launch a business like that?
NPH: I've been in the business of entertainment for quite some time, and at a certain point it seemed like I had things to recommend and opinions on how to improve experiences. Like David said, I love magic shows and immersive experiences. I love trying to make things better. I love inviting people over and having game night and creating the games ourselves. Wondercade is a traveling carnival of new, fun information, things to try and explore.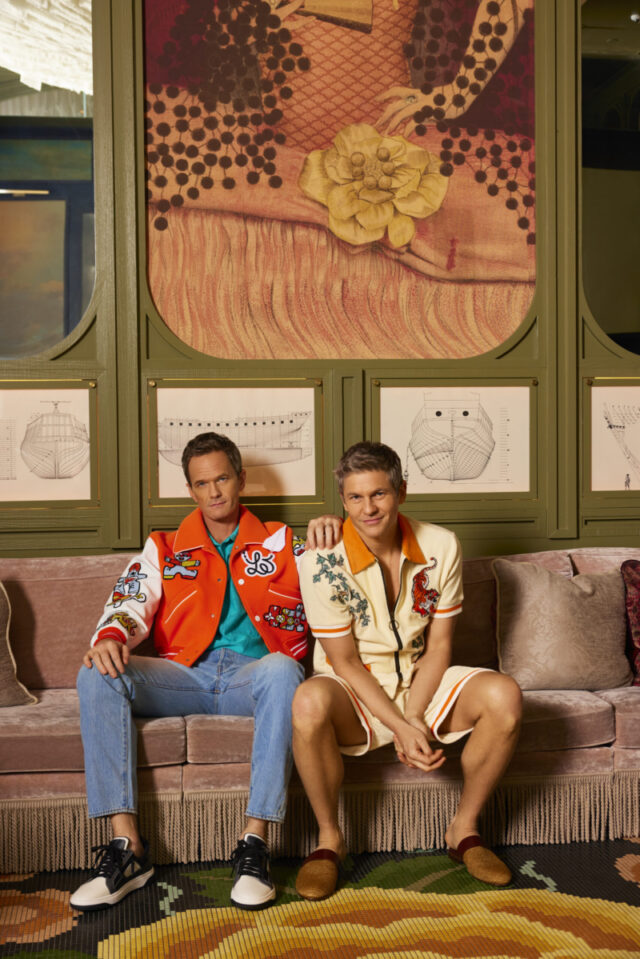 CC: So, you both decided to do Broadway and off-Broadway shows simultaneously. You're going to take the summer off and spend some time with your kids. Is there something that you haven't done or played that you would love to play?
NPH: I think I'd like to be in some sort of murder mystery. I read a ton of Agatha Christie and I love Brian Johnson and I think the whodunit style would be great fun. And the one acting style I haven't yet done is the motion-capture actor like Thanos in a Marvel movie where you're doing physicality, and then a year and a half later it turns into a fully realized character and performance.
DB: I wouldn't turn it down, but that's not my go-to. I feel like I've always strived to be an actor who just does good stuff and makes people think and feel.
CC: What is your favorite Broadway musical song, each of you?
NPH: My favorite musical show of all time is Les Misérables, and so I have to say "One Day More." When I was a kid and I heard that and I realized, Oh my gosh, they're singing different parts. And then at the end they're all singing the same parts on top of each other, and it crescendos.
DB: My favorite musical is West Side Story, and I've done it three times. In my past life I was a dancer and I did all the original Broadway choreography. Maybe "Something's Coming." It's super-exciting in the beginning of the show.
NPH: That's a great role for you.
DB: Tony?
NPH: No, Officer Krupke.
CC: You two are very funny. Neil and David, what inspires each of you?
DB: I'm really inspired by just my environment. New York is such an inspiring place to live. There's so much energy, there's so much life to see, fashion and music and people. It's a nonstop stimulant for me. I had a hard time in LA, because I felt so sleepy there; you're so isolated and alone a lot. Being here in New York, every single day you walk out and you can feel the energy.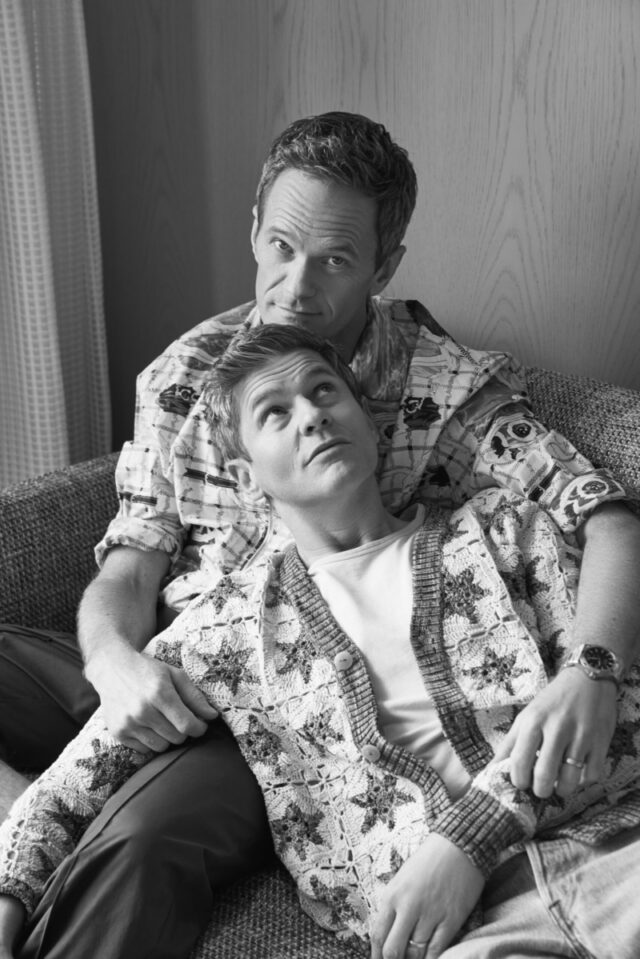 CC: Tell me about your dream home in the Hamptons—the design, the decor, what you love about it.
DB: A real estate agent friend of ours, Roxanne Briggs, showed me this property that had been on the market for a while, a crazy house on 16 acres. It was a tiny house, and when we toured it we said, we can't really live here. There was no closet space, and the kitchen was small.
NPH: It was so weird, in the best ways. There were weird cabinets, stairways that went up and over a fireplace, two little doors that opened on either side of it.
DB: Lots of secret compartments. It was on the market for a bit because no one knew what to do with it. So then we had an architect friend come in, Jeffery Povero, who did our Harlem brownstone, and he started to crack the code on it. We ended up building a massive house, an extension. We made the first house the guesthouse.
NPH: Let's describe it as a wing, because it's like the game Clue. The original house is now the guest wing. It's called Fun House Farm. It's a carnival sideshow sort of aesthetic.
DB: We've got lots of acreage of vegetables and flowers, and we've got 20 fruit trees.
NPH: He speaks of the fruits and vegetables. I'll say there's over 30 secret doors. There's a spiral slide going from the kids' floor on the third floor down to the playroom inside. That was their request when we were asking them what they wanted in the house. They said, What about a slide that would go from our room to a playroom? And we said, Well, we could maybe do that. So, it is not only my dream home, it is my end game.
DB: Yeah, it'll be generational.
NPH: It is the place we didn't buy to show off. It's the place we bought to live the rest of our lives in, have our kids grow up in. It provides us with tons of joy. There's two-headed taxidermy animals. There's haunted mansion memorabilia.
DB: People feel like they're in a movie set, because a lot of the furniture actually came from A Series of Unfortunate Events. Neil drove from Vancouver to New York with a whole big truck full of amazing props and furniture.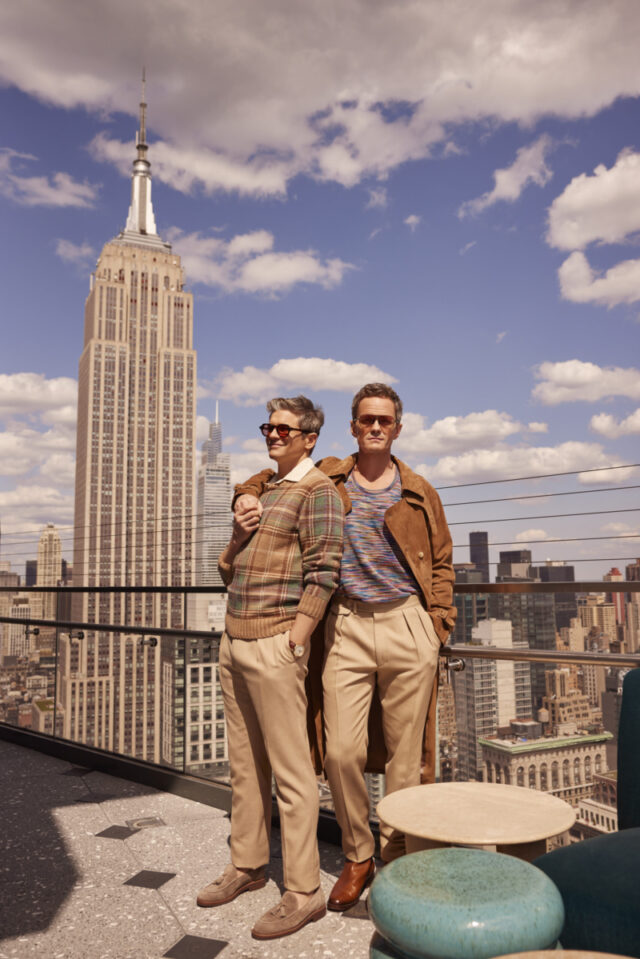 CC: What do you love about each other?
DB: When I first started dating Neil, it was such a relief for me to be with someone who had so much fun at his fingertips. I realized, This is how you should live the rest of your life—laughing through life. We have a really good time, no matter if we're at a music concert or a train headed to Venice, or wherever.
NPH: I tend to process information with my brain before my heart. That's just how I was raised, and I'm appreciative of it, but David is heart-forward, and he's just fiercely loyal and loving.
DB: We balance each other out. Granted we are fiery, we're actors, we're dramatic, and it's fun. There's never a dull moment.
CC: How long have you two been together?
DB: Nineteen years.
CC: What are some of your wellness rituals, from fitness to mindfulness?
DB: I did TM [Transcendental Meditation] for a really long time, but I slipped out of it for a bit. I'll do TM in a pinch, but I do love a guided meditation. We work out almost every day, whether it's cardio or with weights. We eat healthy. I have a salad bar ready to go every day—I cut up vegetables and amazing greens from the garden.
NPH: I'm trying to improve my body through exercise, not so that I look better, but so that I have more control, flexibility, strength and stamina. I think as we're getting older we're calming down and prioritizing more. Life is short. I think we should do things that we enjoy. Why see a movie when you can see the circus? Why eat a TV dinner when you can go to the farmers market?