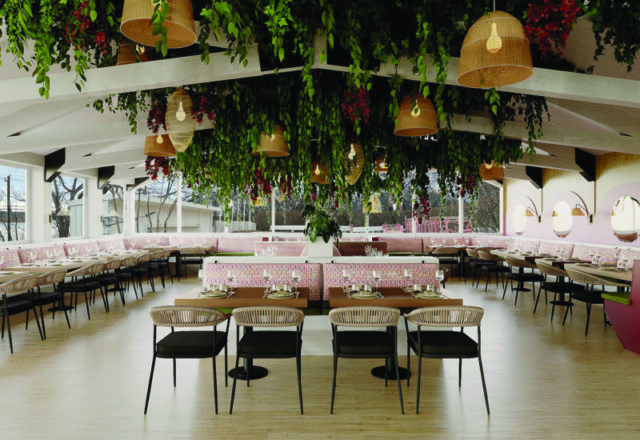 By Christina Chao
Montauk meets the Mediterranean at Talya, a chic new restaurant and bar located in the Ruschmeyers hotel. Open since Memorial Day weekend, Talya captures the essence of both Montauk and Greece with a tasteful menu of fresh dishes inspired by the vibrant and diverse culinary traditions of the Mediterranean.
Owner Thibaut Castet, who also co-owns hot spots Maison Close in Soho and Montauk, wanted to pay homage to both Greek and coastal French culture with this new restaurant (co-founded with Theliau Probst), nestled in a prime location in Montauk. "It's been a dream bringing people together over food and creating an atmosphere that is now quickly becoming the signature of our restaurants," says Castet on the opening of Talya. Guests can dine outside in the sandy beach area, dine inside next to the DJ spinning tropical house beats or enjoy a drink at the cozy bar with a welcoming staff.
Talya's design evokes a sultry jungle vibe and was curated by DMDesign & Architecture, which helped to develop an enchanting atmosphere filled with lush greenery and florals. Executive Chef Geoffrey Lechantoux, who has worked alongside Michelin Starred chefs Gordon Ramsay and Alain Ducasse, brings a distinctive French flair to the traditional Greek dishes, and is excited about adding fresh, locally sourced ingredients to the menu. "Helming the kitchen was the most natural path in my career as it combines my two greatest passions: food and connecting with people," says Lechantoux.
Talya's menu features mouthwatering and healthy options like Fried Cauliflower Salad made with heirloom cauliflower, Charred Octopus Salad with turmeric aioli, Crispy Zucchini and Eggplant Tempura, and more. The bar offers an impressive wine list and unique craft cocktails made with some of the finest and freshest local ingredients. Guests can also grab blankets when dining under the stars.
Castet is also excited about opening Maison Close in Montauk (its opening is delayed due to a fire). Guests can visit maisoncloserestaurant.com or follow @maisoncloserestaurant on Instagram for updates. talyarestaurant.com