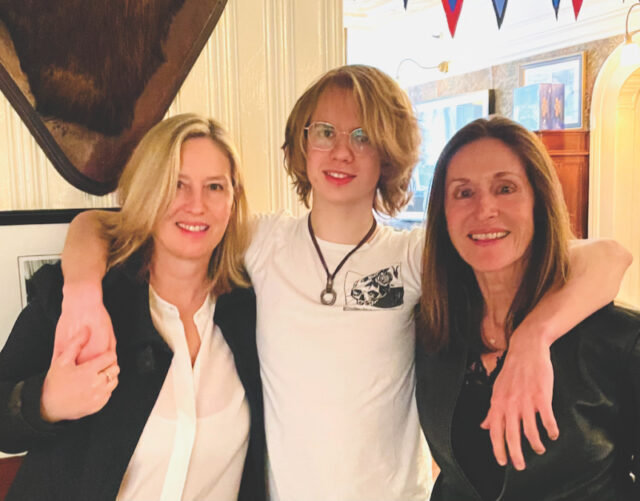 In the early hours of October 21, 2021, my life changed forever.
I heard a frantic banging on my front door in Water Mill. It was my older son, Jamie, in floods of tears. He told me Francesco, his brother, was dead. He had died by suicide on Little Plains Beach in Southampton a few hours after midnight. He was 17 years old.
All I could do was scream WHY WHY WHY WHY, again and again for what seemed like an eternity. How could this happen? I had just dropped him at school the morning of October 20. He had turned around and given me a huge hug and smile and shouted, "I love you, Mummy!" That was the last time I saw him. The night before, we'd had a lovely dinner at the Bell & Anchor in Sag Harbor. Francesco was so excited about his upcoming interview at Amherst College. He had just got a 1520 SAT score and was an honors student with straight A's, all of which came easily to him.
My partner, Jennifer Allsop, in an attempt to get me out of my despair following Francesco's death, suggested we go skiing in Aspen and stay with her friend Melissa Temple. Melissa was the president of AspenOUT, a nonprofit organization that provides financial assistance to grassroots charities helping the LGBTQ community in Aspen as well as nationally. She thought Jen and I should start a nonprofit in Francesco's honor to help other teens—to help prevent bullying and teen suicide, especially those in high-risk categories such as those in the LGBTQ community.
It had transpired over the last few weeks of Francesco's life that he had been cyberbullied because of his sexual orientation. Francesco had been openly bisexual among his friends since he was 15. He grew up in an environment where your sexuality didn't define who you were, and suddenly he was being ridiculed and gossiped about, his only outlet being a site with bold, cartoony graphics, which most parents assume is focused on video games. But on this site he shared his darkest thoughts with total strangers.
Jennifer and I set about creating Francesco's Foundation with the sponsorship of AspenOUT. We decided we should have three pillars: the prevention of bullying and suicide, gun safety with minors in the house, and internet safety. We are already working with an established nonprofit, the Yes Institute. It provides teachers, parents and students with the tools to help teenagers through programs they create in communities and schools, specifically to prevent bullying and suicide. The Yes Institute has 28 years of experience working in several states all over the U.S.
I have also just lobbied in Washington for Ethan's Law, a nonpartisan safe-storage law that has already been passed in Connecticut to protect minors from unsecured guns in the home. After meetings with several congressmen and senators, I had the honor of a private conference with Nancy Pelosi. I am lobbying to make this commonsense law federal. Regarding internet safety, we aim to educate parents and teens about the dangers of certain internet sites. We are also in preliminary talks with a mental health sports charity, RALLY4EVER, to help get disadvantaged teens away from their devices and involved in healthy activities. This charity has been set up by Louise Pleming, a BBC tennis commentator and former professional tennis player.
There is no greater time to prevent teen suicide. According to the Centers for Disease Control and Prevention, 1 in 5 teenagers thinks about killing themselves. A recent Gallup poll shows that 19.7% of Generation Z members identify as LGBTQ, and LGBTQ teenagers are four times more likely to attempt suicide than their peers.
After the devastation of my precious son's death, I have chosen to honor Francesco's memory by creating a foundation with my partner, Jennifer. Francesco's Foundation has been set up to help prevent the worst of tragedies happening to other parents and families and to help save valuable teenage lives. francescosfoundation.org
If you are having thoughts of suicide, help is available by calling or texting 988, the Suicide and Crisis Lifeline.