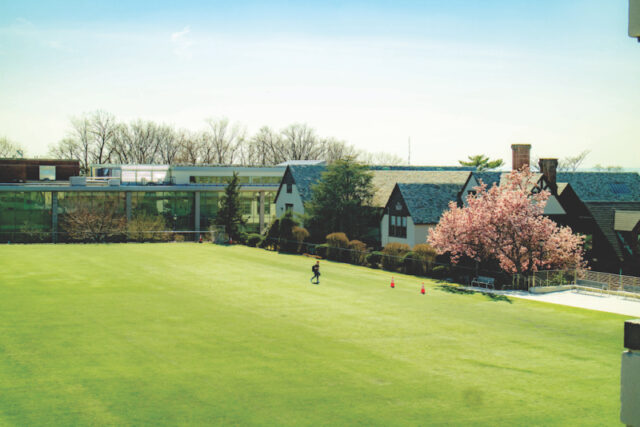 By Gabrielle Echevarrieta
In this turbulent world, a new generation is faced with the daunting task of creating a brighter future. Their caregivers have an equally crucial responsibility, to equip fresh minds with the tools to spread knowledge, compassion and ingenuity across the globe. Esteemed scholastic institutions like the Dwight-Englewood School share the same mission, serving as a positive space for children to grow and explore.
With origins going back over 130 years in Englewood, New Jersey, the Dwight-Englewood School teaches young thought leaders from prekindergarten through 12th grade. Following innovative academic strategies rooted in tradition, a student body of 1,015 allows for small class sizes incorporating both one-on-one and group learning. Distinguished alumni include Hollywood stars Brooke Shields and Mira Sorvino, Paramount Global CEO Bob Bakish, and culinary adventurer Anthony Bourdain.
Its commitment to student success proven in its 100 percent graduation rate, Dwight-Englewood is led by passionate faculty members that prioritize academic achievement, critical thinking, creativity and unity. Curricula are molded according to the ever-changing needs of developing children, creating a seamless transition through the lower, middle and upper grades. "As a community of learners, D-E strives to foster in each student a passion for lifelong learning," says Helen Roob Jerome, dean of admissions. "We believe both children and older generations are living in a changing world, and we want students to meet those challenges to make the world a better place."
The Dwight-Englewood School is a 15-minute drive over the George Washington Bridge, and along with New Jersey students, Dwight-Englewood attracts a diverse student body from Manhattan, Nyack, the Palisades and other tristate communities. Settled upon 45 acres of greenery, the school's outdoor spaces provide a sense of tranquility. A thoughtful layout reminiscent of a college campus features multiple academic buildings surrounding a quad, strengthening students' independence and priming them for university life.
Physical, social and emotional wellness are prioritized at Dwight-Englewood, with a variety of initiatives supporting self-expression, mind-body connection and healthy eating. Physical education offerings include yoga and spin classes, while robust art, sports, music and tech programs allow students to develop an eclectic skill set. D-E lunches are more sophisticated than the typical cafeteria menu, featuring salad, sandwich and rice bowl bars with gluten-free and vegetarian options. "We are mindful of children's mental health," says Jerome. "A child won't succeed academically if they are not doing well physically, socially, emotionally. We don't listen to react, we listen to understand. We are constantly examining the curriculum to satisfy children's needs."
315 E. Palisade Ave., Englewood, New Jersey; d-e.org