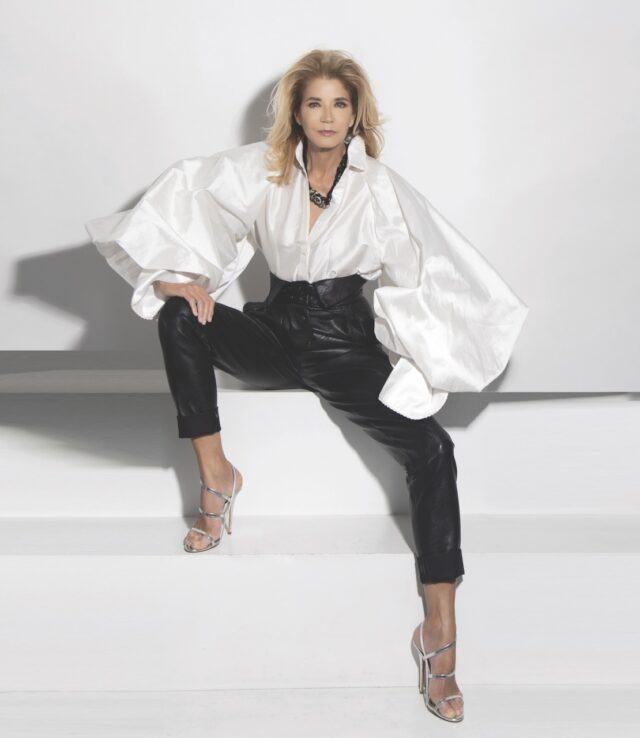 Cristina Cuomo: I'm so excited for your show at the Canoe Place Inn on August 17.
Candace Bushnell: I'm very excited to be doing it there.
CC: It's a great fit.
CB: So many people have performed there, like Frank Sinatra.
CC: I know. The Ramones and Led Zeppelin did. There were a lot of big bands there in the '70s and '80s before it became a club. What can audiences expect from this one-woman show? Last year you did Is There Still Sex in the City? and now it's evolved.
CB: It's 75 minutes, and it's basically how I created Sex and the City, why I invented Carrie Bradshaw, and what happened to me afterward. We play a little game, Real or Not Real? because everything that happens on the TV show is a little bit better or a little bit worse than my real life. It really is exactly what the title is—True Tales of Sex, Success and Sex and the City.
CC: Things do evolve, so as a social anthropologist how have you seen a shift in that world of dating and the scene in New York City?
CB: Social media and dating apps have made a big difference. There are lots of stories about people who met on dating apps, and they're getting married and they've connected—but the story that I hear more often is, there are no second dates. It's not difficult to find people to meet. It seems to be difficult to capture somebody's attention. It works both ways. People are really busy these days. There are just a lot of things that are diverting our attention, and I think it's hard to find a lasting connection.
CC: Have you done any of the dating apps? Have you signed up on any of them?
CB: Oh yes.
CC: Which is the best one?
CB: I'm on Raya and Tinder and Bumble. But I meet lots of people just going out. That's really how I meet most people.
CC: That's the tried-and-true, best way. If you make a connection, you have to do that in person. You can't do that online.
CB: Yes, and luckily New York and the Hamptons are still really social.
CC: So what's the difference between dating in the city versus the Hamptons? It's quieter out here.
CB: In the summer, people are dating in the Hamptons, and the rest of the year they're dating in the city. Also, a lot of people are spending more time out here during the year. I know lots of women who are out here full time, even in the winter. They're all dating and passing on recommendations, and that sort of thing. People still fix people up, so all of that is still going on, plus there are dating apps.
CC: Are there any dating rules or rituals that you have observed? Can you date your friend's boyfriend who they broke up with a year ago? Can you date the same guy who someone else dated, but it didn't work out? Has anything changed or evolved?
CB: No. First of all, when I was writing Sex and the City, everybody was dating the same guys anyway. I don't think any of that has changed. Remember, I wrote a book about dating over 50 called Is There Still Sex in the City? It was all about the dating apps. In the show, I talk about some of the differences, and the different types of men out there. For instance, there's this guy who says he's 75, but when you Google him he turns out to be 85.
CC: And 3 inches shorter.
CB: Yes and shorter. One of the things I can assure you is that the dating scene is very lively for people of all ages, and especially for people over 50. That is the biggest difference between now and 25 or 30 years ago.
CC: What's your take on why Sex and the City franchise continues to resonate with all audiences?
CB: People are still looking for answers. Sex and the City was one woman's real, authentic lived experience. That's something that really carried through the original Sex and the City series. It's something that young women are continually finding. If you go to college, you and your college roommates will watch it. It's a bonding experience. People are always interested in relationships.
CC: I'm sure you've been asked this a million times, but which character would you say you relate to the most, or are they all sort of suits of yourself?
CB: You know, Carrie was my alter ego. I created that character.
CC: But knowing you as I do, I see a little bit of each of them in you.
CB: I think there's a little bit of each one of those characters in all of us, and that's one of the reasons why people continue to relate to it. They do relate to those characters, and it was also a show about really independent women. I think that women still wrestle with the issues that the characters wrestle with, like how to be independent and hold onto self-esteem and autonomy while also finding love. Those things are still a challenge for women today. Women are more independent. At that time when I was writing it, that was the beginning of a new independence for women.
CC: You've been in the Hamptons now for years. Has it been 10 years?
CB: I bought my house in 2016, but I've been coming out here since the '80s. Do you remember The Human Cartoon? That was the precursor of Sex and the City, in 1990 and 1991. I was writing about mating and dating in the Hamptons.
CC: That's right, I remember. What brought you to New York City?
CB: I came to be a writer. New York was where all the writers were. I really felt like New York City was where I was going to make my life. I always wanted to move to New York ever since I was a kid growing up in Connecticut.
CC: What are some of the things you love about living in the Hamptons?
CB: My favorite thing is seeing people. There's a great group of people out here. People are social, they're interesting, they're doing things. It is a little bit like New York people transplanted out here, but it's still really interesting, and people are very active and ambitious. Whereas, I don't want to say anything bad but you go to other places like the suburbs, one just gets so used to being around New York types. It's hard to let that go.
CC: Now that you're out and about a lot, what are you observing at these parties? What are some fashion faux pas? What are some social norms that you're observing? What do you see in this current post-COVID zeitgeist?
CB: Well, it's a lot of influencers. I feel like in general, fashion is a bit on steroids, and everybody is competing a bit for attention these days, because attention is now our currency. Men are much more flexible and creative with hair fashion, because that door has been opened. There are certainly no suits and ties anymore.
CC: What is your favorite accessory for women?
CB: Handbags. Shoes are tricky in the Hamptons, because so many parties are on grass so you have to wear wedges.
CC: I know, that's a bit frustrating. I agree. What's a fashion faux pas?
CB: I'm trying to think. When you get to be my age, not a lot bothers you.
CC: Here's what my dad said the other day: "When you get to be my age, nothing gets you angry anymore." There's a positive.
CB: Yes, there's a positive. I don't look at things like fashion faux pas anymore. People have their style, and there's a lot more room for expression. I don't really judge. I think if I were younger I would probably be—when you're younger, you notice the details a little bit more.
CC: You look the same. What's the secret? What's your ritual from when you wake up until you go to bed?
CB: When I wake up, I usually go do some exercise. Then I work. I power walk to Sagtown Coffee from my house in Sag Harbor and I get a coffee and I power walk back. I do some work, and then take my dog to the beach. It's pretty easy to eat well out here; there are so many farm stands and really good restaurants. We're lucky.
CC: Do you have a favorite restaurant?
CB: I always go to Le Bilboquet, or the American Hotel.
CC: The gold standards in Sag Harbor. I love those.
CB: And Pierre's in Bridgehampton. I love Pierre's.
CC: Any travel plans?
CB: I'm supposed to go to South Africa in the middle of September to do some shows.
CC: Seventy-five minutes of talking. I don't think I could do it straight.
CB: There are a lot of details involved in doing the show. You need stamina and you need to be in shape. I definitely put more time into working out. I probably work out for a couple of hours, at least four days a week.
CC: Do you do strength training?
CB: I lift weights a little bit. I do the treadmill, I bike. I don't do anything very formal, but I do exercise.
CC: You like to be outside.
CB: One of the most fun things is biking in Southampton. I'm in Sag Harbor, but I go over to Southampton a lot. Biking to the end of Meadow Lane is amazing.
CC: OK, so beauty rituals for this new show.
CB: Beauty rituals are pretty simple. It's just some cleanser and a serum and cream. I use a lot of E'shee products. I found them online, and people always say my skin looks great, so I keep using it.
CC: Anything else you've liked lately?
CB: I go to a dermatologist out here, Dr. Mark Halsey. He said he has a new kind of Botox, so I tried it. Supposedly it lasts longer, six months as opposed to three months.
CC: Your brand resonates all over the world.
CB: Sex and the City certainly does.
CC: But that's you. I was there. Any projects coming up that you're considering, or working on for TV?
CB: I do, but there's a writers strike and now there's the actors strike, so definitely some things are on hold. We'll see what happens. Hopefully some things will be coming up, and Cristina, I keep working. canoeplace.com