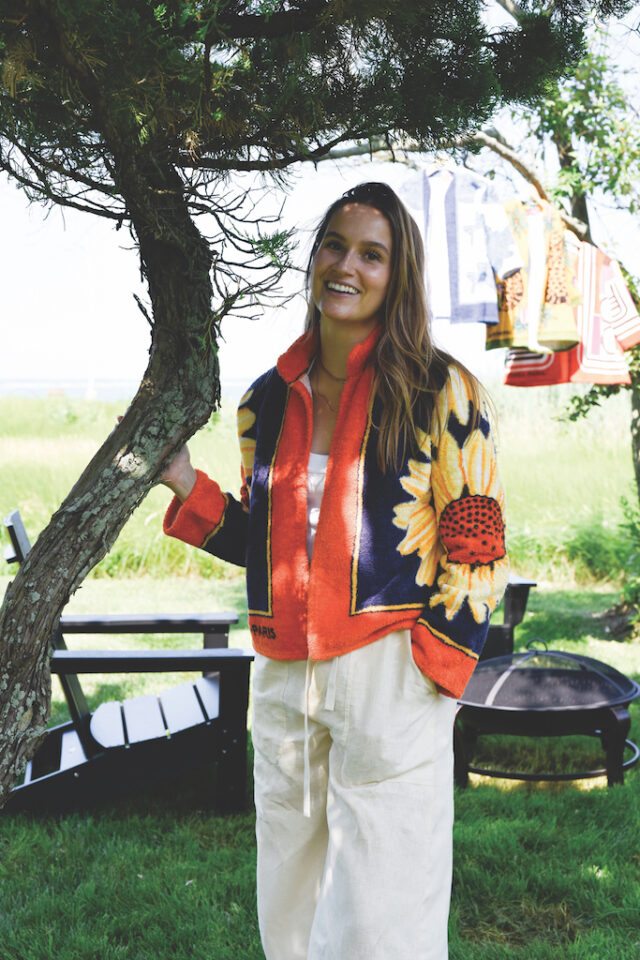 By Jim Shi
What began for Lily Clempson as a way to raise money for COVID-19 relief in 2020 has flourished into LilyEve, a fully sustainable label with a thriving e-commerce website and retailers like Kirna Zabête, Lane Crawford and Bergdorf Goodman, the latter currently featuring LilyEve in its windows as part of a "conscious curation" of sustainable and socially conscious brands.
"During the shutdown, I wanted to do something to help. My mother had these Hermès towels laying around and, not knowing their value, I decided to cut them up and make face masks," says Clempson, 26, who moved from London to study at the Parsons School of Design, where she graduated in 2019. "After they went viral on Instagram, I was inundated with orders and we ended up raising $10,000 for Food Bank for New York City."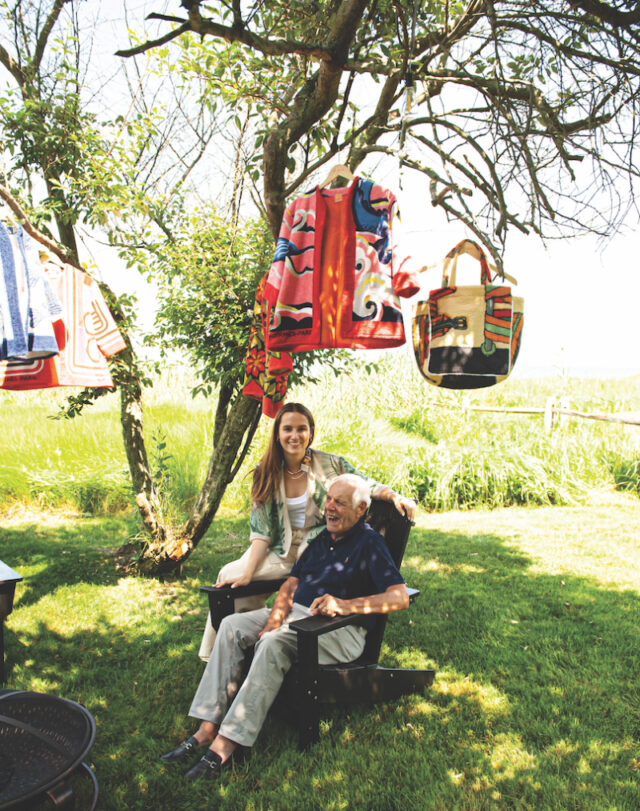 Needing to expand beyond her kitchen table, Hamptons-based Clempson sought help from a most unexpected source: a fairy godfather by the name of Michel Cantin, a spritely longtime resident of Springs who quickly became a beloved member of the Clempson family. "For the first few months, I'd sit with him outside his home and we started this relationship with him making face masks," Clempson recalls of the former couture designer who turns 90 years young this September. "I learned that he had a full working studio in the basement of his house and that he had an incredible background in fashion."
Fast-forward three years, and LilyEve now produces a full collection of upcycled garments and accessories fashioned from Hermès towels and scarves sourced from resale sites, auction houses and estate sales. "What we found is that the quality of the Hermès products is incomparable," Clempson notes. "Each piece being so colorful and unique allowed us to stick to our theme of one of a kind." Up until this year, everything in the LilyEve collection was made in East Hampton. While Michel continues to make all of the brand's hero products, all accessory production—made from off-cut fabrics—is outsourced to Brooklyn-based ethical production studio Panâh Project ("To throw away Hermès towel remnants would be criminal!"). To wit, the newest LilyEve's categories have been launched: cabana dresses, floor-length creations fitted with silk buttons, oversize bows and trimming made from Hermès towel off-cuts.
"Buying one of our pieces you are supporting sustainable fashion, but given we are at a luxury price point, we really emphasize the investment aspect," says Clempson. "Being one of a kind, we help people buy less and spend responsibly."
Easier said than done. Sourcing remains the No. 1 challenge when bulk-buying is not possible. "But that keeps us in check in terms of keeping us small and unique," Clempson says. "When you don't readily have fabrics by the yard, you have to work with what you have—which at times is not a lot." Clempson's dream is to collaborate with large luxury brands and utilize their vast fabric vaults to create unique pieces while reducing waste on a more global scale. "The demand is there and we're trying to fulfill it, but we don't want to be everywhere," she says. "The nice thing about our brand is that it's nearly impossible to be repetitive." lilyeve.store