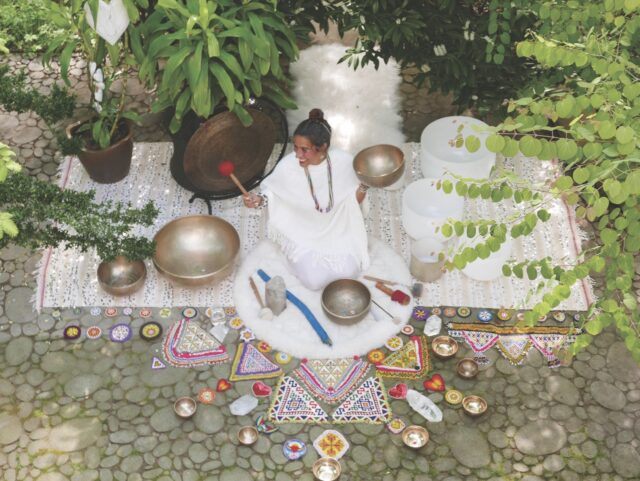 By Jenna Lebovits
When guests enter The Enchanted Heart, the first thing they'll see is a hand-painted image of the Buddha holding the message, "Please be mindful of the energy you bring into this home." And that's exactly what it feels like: a personal abode. Part energetic healing and part bead boutique, the shop's proprietor and interfaith Rev. Jolene Star welcomes everyone into her light-filled two-story wellness center in northern New Jersey, roughly 25 minutes outside of New York City. Her mantra—"Love is the message"—rings true. Here, the young and old create personalized malas (strings of prayer beads) at the long wooden table in the center of the room while drinking freshly brewed tea and exchanging stories. Strangers quickly become friends in the 2,000-square-foot sanctuary.
Specializing in all things spiritual, Star has a spectrum of creative wellness offerings for the virtual and in-person community: individual and group sound ceremonies, Aura-Soma color therapy, Reiki, chakra mapping, meditation and breath work activation. For those seeking deeper metaphysical healing, she recommends one-on-one Aura-Soma color therapy. The modality utilizes self-selected, topical applications (think: body oils) of 123 colorful bottles of plant and crystal essences for energetic balance. The brand's tagline, "You are the colors you choose," speaks for itself. "It's a system of the soul," says Star. "It's about having a conversation with your higher self. It allows people to really look at their life from a different perspective and be in a state of remembrance."
The center's most popular offering is a monthly group sound ceremony, in which Star guides eight to 12 participants on a three-hour meditative journey using crystal alchemy bowls, drums, gongs and flutes. Sound healing, according to Star, teaches people to surrender and exist more comfortably in the present. "Sound runs a beautiful gamut," she says. "You can go from the deep, primal frequencies all the way up to the heavenly, etheric space." Star believes humans are energetic beings, resonating from the inside out. "The body is made up of 60 percent water, and when sound passes through the body, it recalibrates the water in your body on a molecular level."
Participants often notice a calming and centering effect after a sound session, due to its ability to downregulate the nervous system. "Sound is a powerful method to release the mind and find inner and outer alignment," says Star. "It's like a full-body energetic massage." Star believes that this modality is for everyone—people of all ages, genders and occupations—and has made it her mission to make it accessible for all. She is mobile, often traveling to teach workshops, host retreats and offer her services to a greater population. Her goal is simple: to attune you to your best, highest self with her arsenal of gentle yet powerful modalities.
"When people have these tools, they start to realize they're the medicine," says Star. "Healers are guides for people to remember who they are and how to heal themselves." 216 East Ridgewood Ave, Ridgewood, NJ; theenchantedheart.com; @jolenestar_