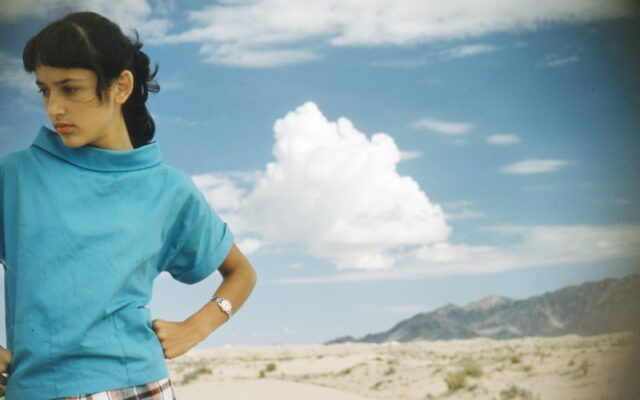 By Vivien Goldman
Joan Baez I Am a Noise, the unconventional new documentary on legendary cultural activist and folk chanteuse, crystal-voiced soprano Joan Baez, will awaken a new generation and stir the hearts of longtime admirers.
"There's an incredible candor," says Karen O'Connor, who co-directed the film with fellow award-winning radical documentarians, Maeve O'Boyle and Miri Navasky. From earliest childhood, Baez's musical talent was adored, prompting sibling rivalry with her dancing and sometimes singing sister, Mimi. The tension is realistically and compassionately chronicled, as is another sort of intimacy, Baez's relationship with the very young Bob Dylan. So greatly did she, then the bigger star, admire his talent that she handed Dylan her microphone to sing onstage before joining him in a duet—as a highlight of her own major show.
Fittingly, the documentary is mostly made by women, in a web of sisterhood. The team had worked on the film since 2017; Baez's long-time friend, Patti Smith, one of five executive producers, signed on to use her own contemporary clout to make sure the film got done.
Spiraling out from a pivotal time for Baez, her 2019 farewell tour, the film is languorous, subtly knitting together years, songs and scenes, loves, losses and recoveries. The remarkable immediacy of its multitextured narrative is down not just to the filmmakers' expert skills, or even to Baez's own intelligence, humor and charm, evidenced throughout, but through the team's deployment of every documentarian's fantasy. Says O'Connor, "We filmed it just as it happened."
Baez opens a door to reveal shelves stacked with boxes of a lifetime's labeled archive of all kinds, from home movies to music and diaries—treasures left untouched since they were closed years before, including line-drawing cartoons that the filmmakers wittily animate. We become enchanted by her bohemian, beautiful mother and handsome Mexico-born physicist father. Family trauma that might form the centerpiece of a more sensational flick here glides into the tale almost serenely, but still leaves the viewer shaken and wondering.
Featured on the cover of Time magazine at 21, an active supporter of Martin Luther King Jr. and the Civil Rights Movement, Baez suffered setbacks of all sorts that sometimes threatened to defeat her. Hearing Baez today, talking such good sense as she potters around her charming home, is an encouraging vindication for female viewers.
Screenings have been a confessional revelation, says O'Connor. "Here's a woman talking publicly about her own personal, deeply private struggles and making an opening for others to talk about their own inner demons. People have been grateful for her talking so honestly about not only the triumphs of her life, but the darker, harder times as well, and doing it with honesty, humor and a little bit of humility."
As to Baez's retirement from the stage, says O'Connor, "Joan was watching life speed by and wanted to get ready for whatever is next. She's painting, involved in the world. She hasn't regretted it."
Joan Baez I Am a Noise screens as part of the HamptonsFilm's SummerDocs series on Sunday, August 13, at 7PM at Regal UA East Hampton. Joan Baez will be in conversation with artist and musician Laurie Anderson after the screening. hamptonsfilm.org