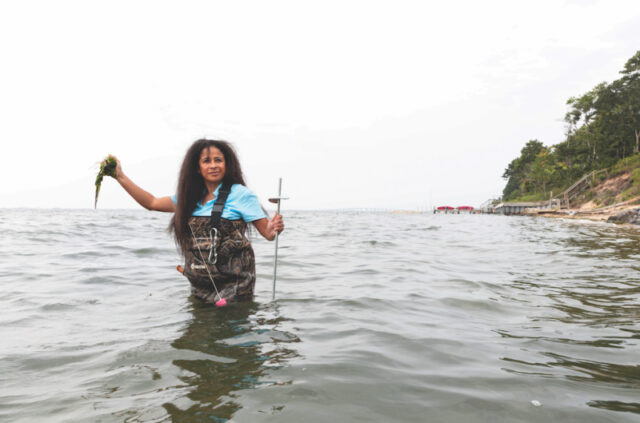 By Nancy Kane
A multigenerational group of six Indigenous female kelp farmers have come together to address the climate crisis in their own backyard. The Shinnecock Kelp Farmers are a women-led nonprofit (the first Indigenous-owned and operated sugar kelp hatchery and farm on the East Coast), who leverage knowledge drawn from an over 10,000-year relationship with the sea. Working in partnership with the Sisters of Saint Joseph, Brentwood and GreenWave (a global network of regenerative ocean farmers), they farm kelp in the bay to fight climate change: Kelp, large brown algae or seaweed, keeps waters clean by removing carbon, helping to improve quality and mitigate the effects of acidification. The women also harvest the kelp to provide an eco-friendly alternative to conventional soil amendments.
A typical day for kelp farmers depends on the time of year. "We have four phases: hatchery (August through January), out-planting and growing (January through June), harvest (May and June) and processing (June and July)," says Danielle Hopson Begun, a member of the Shinnecock Kelp Farmers. "We dismantle and rebuild our hatchery every year, and we nurture them every day. We change the water, feed them and ensure they're getting the right levels of light."
It's not a leisurely day on the bay. "Out-planting is physically demanding," says Hopson Begun. "When our seedlings are a few millimeters long, we out-plant them by unwinding them onto the marine rope. We operate by the tide and go out on foot in very cold water." Wearing thermal waders and special layers of gloves makes navigating the water much harder. Heavy anchors and marine rope are used to secure the farm grid. Storms come through and loosen the lines.
"Our nemesis is an algae called slip gut," Hopson Begun notes. "It's a slimy substance that coats and threatens to suffocate our baby seedlings." Farmers remove the algae carefully. They go at low tide and harvest by hand, loading the crop into bags and hauling it back to shore. Then they dry, grind and turn the kelp into a soil amendment that is available at farmers markets and through the Shinnecock Kelp Farmers website.
"Kelp cultivation is a nature-based climate mitigation strategy that draws on our Shinnecock tradition of using seaweed," says Begun. "We have long harvested and used seaweed to meet a range of our needs: it's a source of vital nutrients and medicine, food in our clam bakes, fertilizer for our plants, and we've even used it as insulation for housing."
The farmers' mission has become more urgent in the face of climate crisis. "The world we are living in is dangerously out of balance, and Shinnecock territory is particularly vulnerable to sea level rise and extreme Atlantic storms," says Begun. "Years of neglect and abuse have pushed Shinnecock Bay to the breaking point, threatening the people, plants and animals that depend on the bay for sustenance."
The kelp farmers have initiated a "Kind Words" project to help cultivate their crops. Each prepares words of encouragement, prayers, poetry and song. "Through this, we were all able to connect, nurture and watch our little kelp grow," says Hopson Begun. The Shinnecock Kelp Farmers invite all who wish to contribute to send in Kind Words to their website and they will recite them in the bay.
But words are not enough. "We can't do this alone," cautions Hopson Begun. "People don't need to grow kelp like we do. They can find their own individual way to make a difference. Everything counts." shinnecockkelpfarmers.com