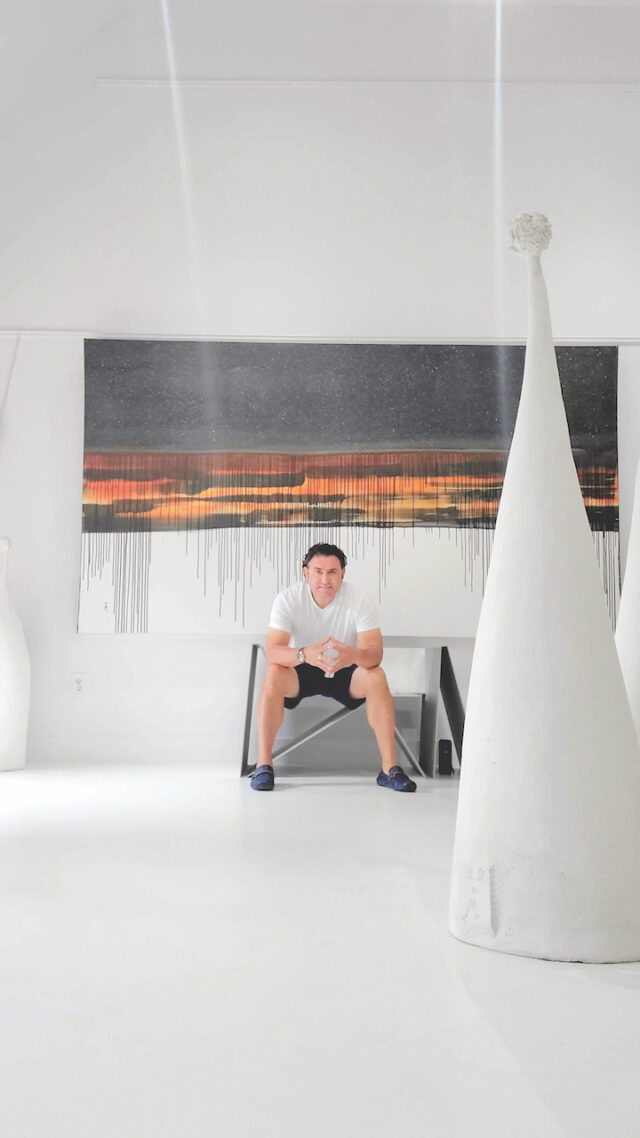 By Ray Rogers
Sporting paint-splattered Sperrys on his feet and a protective terry robe over his clothes, J. Oscar Molina adds a bold stroke of cerulean to the composition on his easel, "Stages of Love," at his industrial studio in Southampton. He favors this shade, he says, as it is "soft and powerful at the same time."
The same can be said about the artist's work—whether in the paintings on canvas of silhouettes under the night sky or in the elongated human form-like sculptures he creates for a long-running series called Children of the World. In this body of work, Molina draws on his own experiences making the treacherous journey from El Salvador at age 16, crossing through Guatemala and Mexico into the United States as a refugee from a country torn by a civil war that left over 75,000 people dead. Yet while much of the 1989 expedition was fraught and frightening—he started out with an older brother, but the two got separated en route—what shines through in Molina's work is a message of hope and interconnectedness.
"At night we would travel, and that's when I would see the beautiful memories shown in my paintings and sculptures," he recalls. "I'd see the little people in front of me and the group of people behind me, like a little line. And in that field, you could almost touch the stars, those big bright stars in the desert sky." It was a small gap of time in the journey, but a memorable one. "All of us aiming for that particular moment to make that cross in search of a better future. There was no harm in our minds—it was just about loving each other and making it to the other side."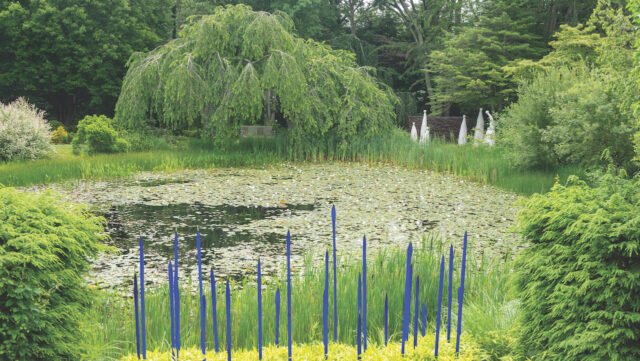 The small heads on the sculptures lean upward toward the night sky, but their faces are purposefully featureless. "When I started doing the sculptures, I couldn't replicate the faces of people I saw. I just don't remember them," says Molina. "But I know they were there, and I know they had the same emotions as I did. So, I decided that if I cannot remember their faces, I can at least memorialize them and see them with my heart."
An installation of sculptures from the series has been on view at LongHouse Reserve this summer, where, as LongHouse director Carrie Rebora Barratt says, "Oscar's exquisitely moving pieces have moved the hearts and minds of visitors throughout the season, from their arrival on Cinco de Mayo to their migration around the garden."
They're also traveling throughout Long Island, and showing in several spots in San Miguel de Allende, Mexico, and onward to museums and galleries in Buenos Aires, Argentina; Quito, Ecuador; and Paris next year. Perhaps most meaningful to Molina: He's bringing the work back to his homeland, where he's creating an installation in Ilopango Lake, San Salvador, and showing at the Salarrué National Exhibition Hall in San Salvador.
It's an important body of work that is particularly resonant now in the U.S., when anti-immigrant rhetoric is yet again at fever pitch and immigrants are being used as political pawns by various members of the GOP.
"If you go behind the kitchen, there is one. In the landscaping field, there is one. We are everywhere. I put myself in there, because I was also an immigrant," says Molina, who rose to being the CEO of the high-end building company he co-owns, MOE Masonry, before stepping down two years ago at age 50 to focus on his fine art career and launch his namesake gallery at 28c Jobs Lane in Southampton. "These compositions speak for those people that are behind the counters in every position in the workforce that are unknown to the laws of the United States or any country. Those are the people you might not think of, but they are the ones providing your vegetables on the table. My story is just one of millions of stories." oscarmolinagallery.com