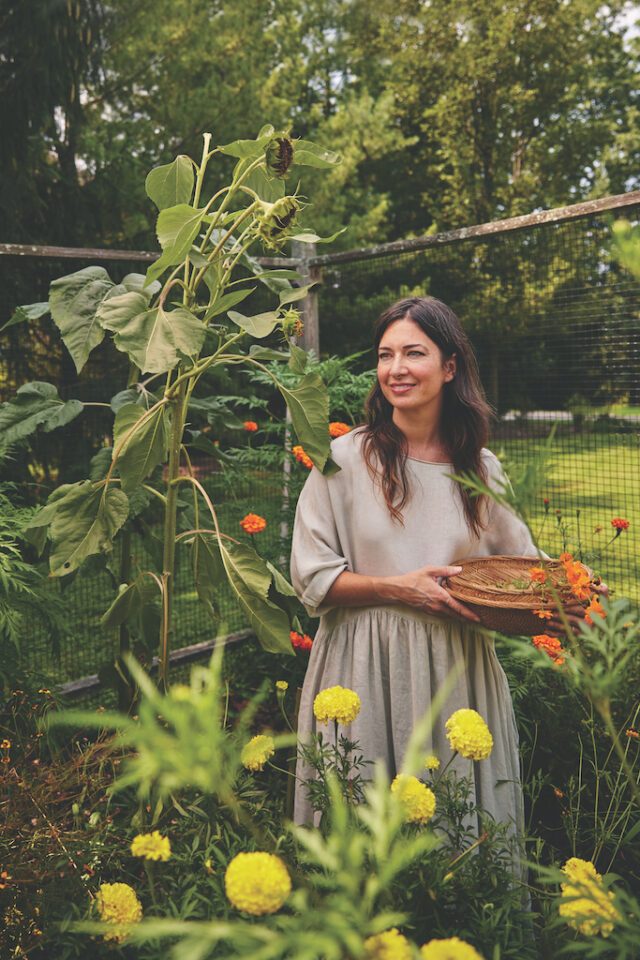 By Jenna Lebovits
Inspired by her Finnish roots and egalitarian, craft-oriented culture, lifelong textile enthusiast Anne-Marie Kavulla founded Pirtti (meaning "cabin"), a vibrant community hub in the Hudson Valley for exploring and experimenting with sustainable fashion.
Pirtti is Kavulla's small-batch, handmade clothing brand and studio space: a place for people of all experience levels to gather and practice the art of creation, or "meditative making," as the founder calls it. Kavulla's mission is to spread the message of sustainable fashion in an accessible, approachable way, through group mending events, skill-share circles, at-home dye kits and natural-dye workshops. "There are wonderful natural dyes already in your kitchen," she says. "Foods such as avocados, onions and pomegranates produce gorgeous green, yellow and pink hues."
Kavulla sources the materials for her pieces in two ways: foraged or garden-grown. Her favorite natural-dye sources include found walnut husks, avocado pits and onion skins from her kitchen—she calls these "compost dyes." They are beginner-friendly tools to get started with natural, slow fashion. A large part of her business centers around problem-solving global waste issues. "One of them, for me, is gift wrapping and ribbons. It's all about these pretty packages and then come holiday morning they're in the trash bag," says Kavulla. "So, last winter I held a ribbon-dying workshop and we made our own silk ribbons."
The brand's tagline, "a conversation with nature," rings true throughout the artist's process. "When I work with the natural materials, it's the magic of the plant and what the plant and water quality are going to offer, and the soil quality they're going to give me on that day," says Kavulla. She creates a range of pieces for sale—bandannas, scarves, cloth napkins and her popular Muse top, made from hemp, cotton and natural rubber elastic, which is 100 percent backyard compostable.
Besides combating global waste and serving as an outlet for stress relief, textile skills, Kavulla believes, are essential for living responsibly in today's world. "A lot has been lost that would have been taught generationally—by your grandmother or your mother—and these skills seem so antiquated and sort of like little hobbies," she says. "I feel that it's important to learn how to take care of your things. I come from a time when we witnessed a huge change; we went from inheriting your grandmother's china to buying everything cheap at IKEA." Still, the brand founder remains hopeful. "It's not that we are in a doomed sort of situation. You always have a chance to stop and reflect and work with nature, not against her." pirtti.com; @pirtti.studio