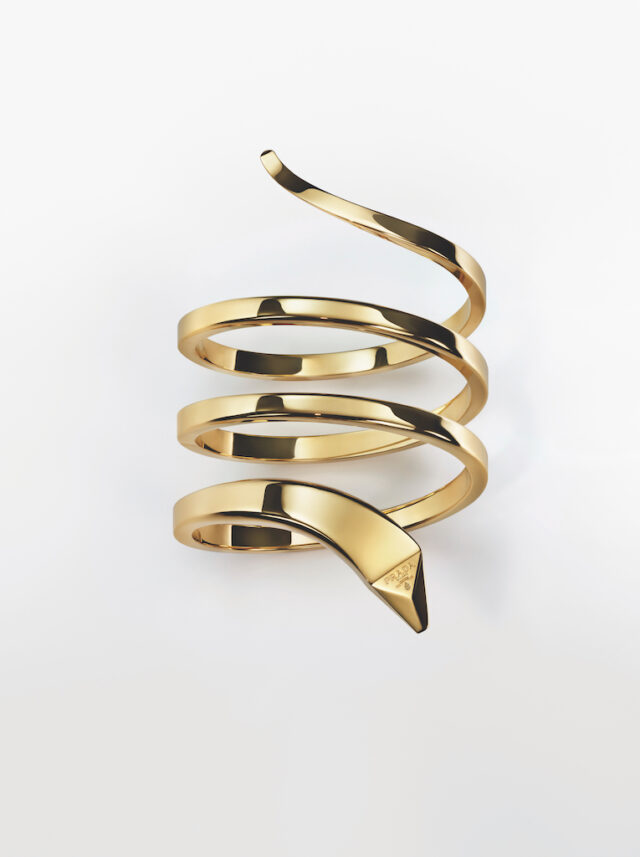 By Julia Szabo
The Milanese marque recognized worldwide since 1913 by its triangular logo, Prada has always maintained one elegantly shod foot in the fashion arena and the other in the art world, showcasing contemporary artists at its Fondazione Prada and commissioning buildings as art by visionary architects. Now, with the launch of Eternal Gold—its first-ever fine jewelry collection—last fall, Prada marries conceptual art and architecture with thought-provoking results.
Everything historically precious about fine jewelry is on display in this collection: symbols of eternal love's power in the form of snake bracelets, heart motifs, chain necklaces and ribbon chokers, with precious gems for punctuation. This being Prada, the symbolic classics of luxury adornment are reimagined with modern, impactful proportions and a timeless glamour, creating the wearable jewelry of the future, available today.
Eternal Gold provides an opportunity for luxury consumers to ponder where jewelry comes from, and its impact on our shared home planet. The provenance of each item in the collection will be accessible by Prada's clientele, allowing them to trace its history for themselves: Such transparency on origins, sourcing and production is rare indeed, and proof that Prada is as committed to doing the right thing as it is dedicated to the highest quality craftsmanship.
Conceived as a mark of luxury by Mario Prada, the house's paterfamilias, now reborn in 100 percent certified recycled gold, the iconic Prada triangle is recognizable throughout this collection, reinvented with subtlety to convey sustainability and luxury in equal measure. The triangle appears as a clasp closure, as earrings and pendants, and as the head of a snake bracelet encircling the wrist with a fluid spiral motion. prada.com