By Jenna Lebovits
"Humans are social creatures. Having a sense of community and feeling connected is integral to health and wellness, both physically and emotionally," says Dragon Hemp founder Kevin Menard, LAc. The renowned practitioner is a passionate advocate for the power of care, and believes that supporting local healers and businesses greatly enhance community. As this year's Hamptons International Film Festival draws near, locals and tourists alike are asked to consider what it means to be part of a local network.
For Menard, the belief that community care is equivalent to self-care is the driving force of Dragon Hemp, his brand of plant-based therapeutics that blend organic CBD hemp and Chinese herbs. "Sharing ideas, suggesting wellness tips and recommending medical interventions is important for those who might not be aware of alternatives when faced with various medical conditions. We learn and share when we are together; we help others by sharing information and we feel better ourselves just by helping others," says Menard.
Dragon Hemp's latest addition, Liniments, launches Friday, October 6, just as the 31st annual Hamptons International Film Festival gets into full swing. The line of body products offers powerful relief. A unique blend of essential oils, enriched with Dragon Hemp's signature full-spectrum CBD, fights inflammation caused by elemental exposure while offering deep nourishment. "The entire Dragon Hemp therapeutic line was born from inspiration," says Menard. "I created the core formulas which blend hemp extracts and Chinese herbs to address the conditions that I would encounter mostly in my Sports Medicine Acupuncture practice: namely pain, injuries, trauma, difficulty sleeping and anxiety."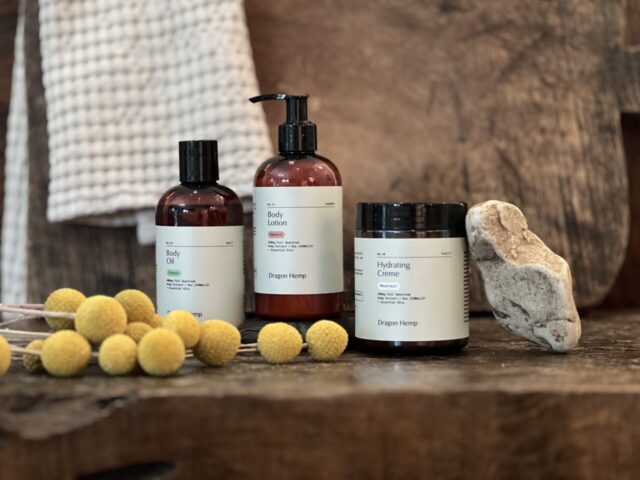 The idea for Liniments came about from a trip Menard had taken to Utah in 2022, while being treated for metastatic prostate cancer. Seeking emotional and physical healing, he ventured into the desert and was introduced to natural products infused with indigenous desert sage bush. "I was inspired to create a unique line for Dragon Hemp embracing essential oil profiles reminiscent of the places where people go for the healing of the spirit and soul," shares Menard. "Blended with full spectrum CBD to calm inflammation in the skin, it was one that would be therapeutic, both for the skin and emotions." Liniments products are inspired by the healing biomes of Earth—the oceans, mountains forests and deserts.
In addition to Liniments, Dragon Hemp is excited to unveil another community-focused venture this week. The brand, a partner of the Hamptons International Film Festival, produced a cinematic commercial that highlights the raw beauty of the Hamptons and the brand's healing power. Menard, in conjunction with filmmaker Jasper Rischen, produced the piece, which features footage from a local cannabis farm, surfing, polo, in-store footage and Dragon Hemp products. "It was exciting and fun," says Menard. "It was so wonderful to work with so many talented people and to participate in the film festival in this unique way." The piece explores locals' experiences and underscores the transformative power of therapeutic care, healing and joy. For a stimulating, yet relaxing movie-watching experience at this year's festival, Menard recommends the brand's Leisure Gummy. "It's flavorful and delivers just the right amount of fun." dragonhemp.com