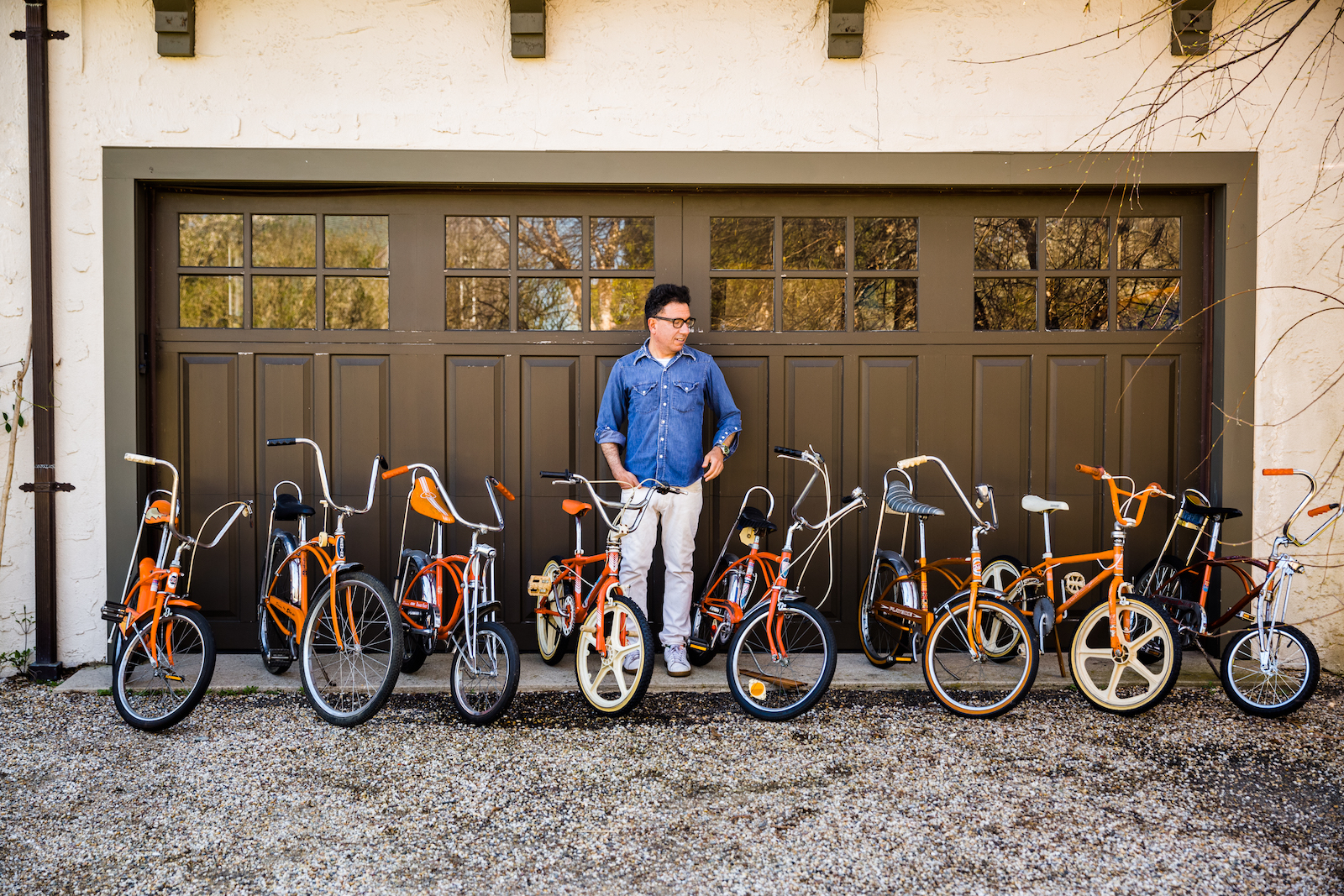 By Nancy Kane
Larry Schwarz loves orange. "Not every orange, not fluorescent orange, but yeah—ever since I was little kid, I just loved the color orange." Drawn to the hue, Schwarz started collecting orange things. "But I don't just collect orange things. My friends tell me my house looks like a seafood restaurant because there is so much nautical stuff in here," he says from his Carl Fisher Tudor home near the Surf Lodge in Montauk.
At 47, Schwarz is a summer resident who comes out year-round, mostly to write—he has a young adult novel, Romeo, Juliet and Jim debuting in June (Macmillan)—and work on television shows. He is the producer and creator of many popular TV series for kids including Kappa Mikey, Speed Racer: The Next Generation and Three Delivery, with his production company, Larry Schwarz and his Band.
He found his first orange bike in 2002 at the world-famous Brimfield Antique Flea Markets in Massachusetts. It provided a practical use. "I bought it right at the beginning and I could ride it to other parts of the market," he says of the oldest flea market in the country, which sprawls over a mile long. "I'm not exactly obsessed with orange; I'm like a fanatic collector. If I have one orange bike I need a dozen," he explains.
He has well over a dozen now, maybe 17, he says. Not that he rides them. "It's more from a collecting perspective," he says. Although he does have a favorite: a Huffy Heat Lightning Bolt with a banana seat. Another favorite is a Concord Freestyle dirt bike he found at a Paris flea market and took back home on the plane.
"I had the pedals in the pocket of my coat," he recalls. "They set off the metal detector." He admittedly has no self-control. In addition to bikes, Schwarz collects orange surfboards and drives an orange 1973 International Harvester Scout. "The bikes are great for guests who stay in the summer—they ride the bikes," he said.
If Schwarz does go bike-riding this season, it will be on the brand-new orange beach cruiser he recently got at Air and Speed in Montauk. Most likely he'll be riding to a yard sale, keeping his carbon footprint down.