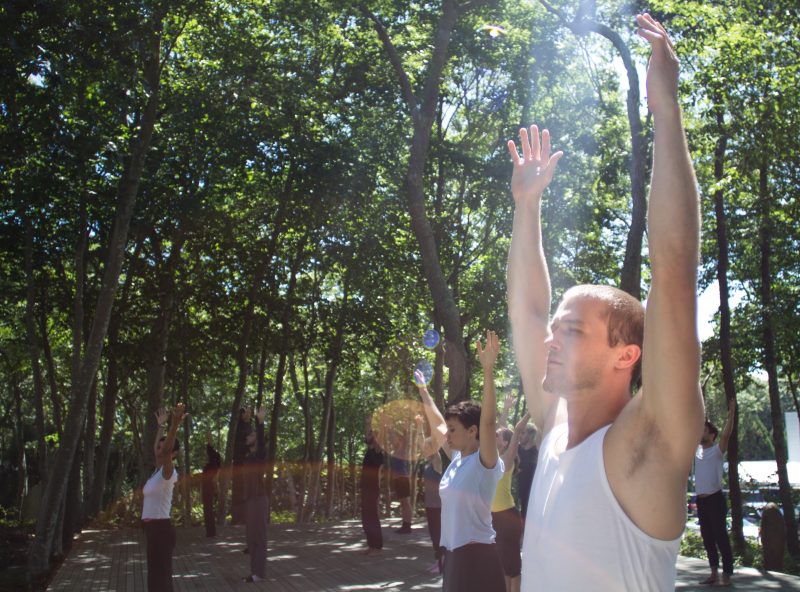 Exercise your mind and body on the enchanting outdoor grounds of The Watermill Center, now offering free, 90-minute yoga classes. Each class, led by yoga practitioner Nixon Beltran, will be based on the principles of Ashtanga yoga as developed by Sri Pattabhi Jois in Mysore, India. Students will focus on breath synchronized with movement and a mind-centering practice that improves understanding of the architecture of the body.
Beltran has been practicing for more than 30 years and is originally from Colombia, where he first learned Hatha Yoga Asana. In the '90s, he began studying Ashtanga yoga with Sri Pattabhi Jois and his daughter Saraswati in Mysore. Beltran is also a trained dancer having studied at Martha Graham School of Contemporary Dance in New York City. He joined The Watermill Center as a participant in the 2002 International Summer Program and has been The Watermill Center Manager since 2006. Beltran says, "Yoga at WMC revisits a 4,000-year-old healing art that we practice on our beautifully landscaped and art-filled grounds. This living tradition adds another layer to the retelling of human history that the Center offers through its eclectic collection of global artifacts dating back to antiquity. One of my mentors, David Swanson, once told me: 'the equality of oppositions brings balance.'"
Classes will be held on select Sunday mornings (weather permitting) through September 24. All skill levels are welcome, but participants must bring their own mat. Keep in mind that space is limited and reservations are required.
39 Watermill Towd Road, Water Mill, watermillcenter.org