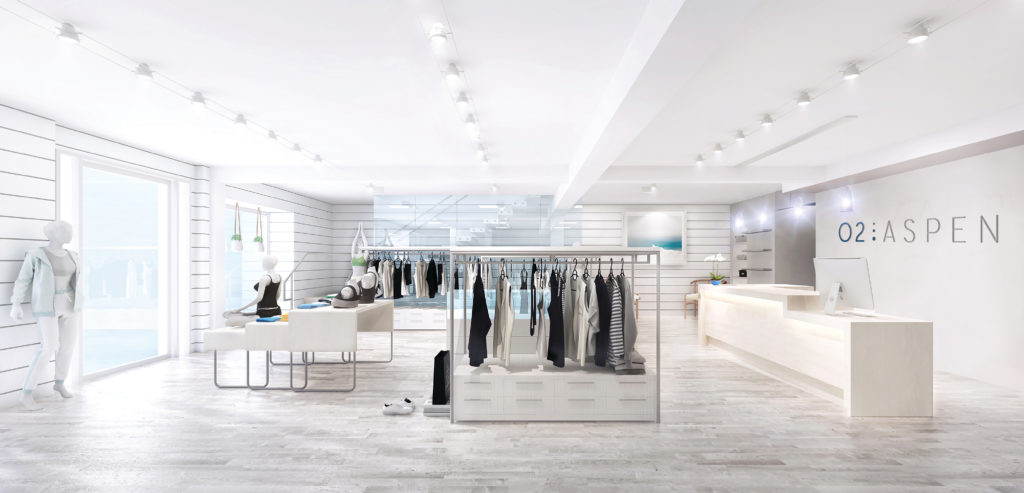 By Tess Weaver Strokes
A Fritz Benedict-designed historic building next to Wagner Park gets an enlightened makeover when yoga studio and spa O2 Aspen moves from its former Victorian digs on West Main St. in the new year. O2 owner and Roaring Fork Valley native Brittany Van Domelen has been working with her father, Bill Pollock of Aspen's Zone 4 Architects, and friend Kristin Dittmar of Kristin Dittmar Design on the renovation.
The bright, modern sanctuary welcomes visitors with 1,550 square feet of street-level retail space that doubles as a gallery for popular local photographer Kate Holstein (whose prints grace the walls of the Pilates studio and spa). The lower level includes a new mini store called O2GO, selling organic delectables and beverages.
"Aspen caters to athletes, but we all realize that being active isn't the only thing that makes you 'healthy,'" says Van Domelen. "I have clients of all ages coming through our doors seeking much more than a toned physique—they are digging deeper to find contentment in the present moment."
The yoga and Pilates studio opens to stunning views of Aspen Mountain, while the storefront facing Wagner Park beautifully frames the colors of each season. "In the summer and fall, all you will see is leaves," says Van Domelen. "It's incredibly calming."
The yoga studio includes a rope wall—the "mother of all yoga props"—to help yogis lengthen and align. Two or three classes per day at the new space will have added humidity, and, once a month, studio pop-ups will feature cult fitness instructors. Van Domelen, a trained yoga instructor, mother of 1-year-old twins and a fashion buyer, is also launching her own activewear and loungewear line, ARTEM, named after the Greek goddess Artemis. "She's the goddess of child birth, nature and the mountains—the same things that have changed my life and inspired me. And, she was a twin." 408 S. Mill St., O2aspen.com.