Awaken the Peace's patent-pending formula inside the charms protects against and diffuses lower vibrational energies. Inside the OM charm is the formula where Beckley's scientific studies are applied.Aquamarine
Healing Properties:
Inner peace, harmony and serenity
Chakras Connected:
Throat
World Areas Sourced:
It is mostly found in Brazil, but other sources include Pakistan, Myanmar (Burma), Russia, China, Namibia, Mozambique, Zambia, Kenya and the U.S. (Colorado and California).
Additional Notes/Tips:
Like its color, aquamarine offers the soothing calmness of the sea—inspiring fearlessness and letting go. It also encourages compassion and tolerance as part of a service to the world.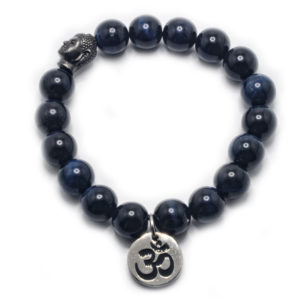 Blue Tiger's Eye
Healing Properties:
Soothing, dispels fears and phobias, and increases clairvoyance
Chakras Connected:
Throat, Third Eye
World Areas Sourced:
The chief source is South Africa (the Northern Cape province). It is also found in Australia, India, Namibia and Thailand.
Additional Notes/Tips:
Also known as the podium stone for strong, powerful and truthful public speaking.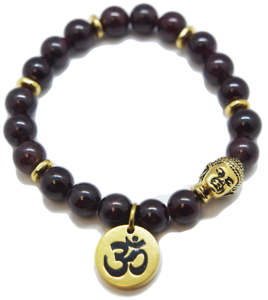 Garnet
Healing Properties:
Grounding, vitality and protection
Chakras Connected:
Sacral, Crown
World Areas Sourced:
There are various types of garnet found worldwide in places throughout Europe, Africa, the U.S., Canada, Mexico, Japan, Australia, Brazil and China.
Additional Notes/Tips:
A master grounding and balancing stone used to boost self-confidence and self-worth, garnet is often known to heal feelings of disconnect and separation.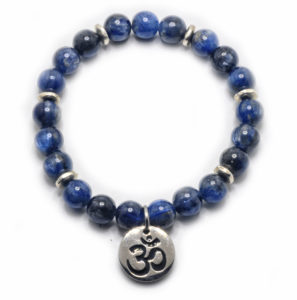 Kyanite
Healing Properties:
Dream recall, tranquility and balancing of all chakras
Chakras Connected:
All
World Areas Sourced:
Traditional kyanite sources include Brazil, Cambodia, Myanmar (Burma), Switzerland, Russia, Kenya, and the U.S. (North Carolina, Connecticut and Maine). It was also discovered in Nepal in 1995.
Additional Notes/Tips:
Kyanite perfectly aligns all chakras and is a channel for guided messages as well as a master healer stone that doesn't require cleansing of old energies before reuse.

Labradorite
Healing Properties:
Transformation, protecting aura and enhancing inner strength
Chakras Connected:
Third Eye, Throat
World Areas Sourced:
Canada, Finland, Ukraine, Madagascar and Australia
Additional Notes/Tips:
Labradorite is "pure magic" and is ideal for meditation, as it brings you closer to your spirit guides. It is also great for transformations and new ventures, and it seeds positive thought patterns.

Rose Quartz
Healing Properties:
Heart healing, unconditional love and self-forgiveness
Chakras Connected:
Heart
World Areas Sourced:
Brazil, though it is also prevalent in Madagascar, South Africa, Mozambique, India and the United States (Maine and South Dakota).
Additional Notes/Tips:
This is the primary stone for attracting and renewing pure love—external and internal. It promotes compassion, forgiveness and unconditional devotion, and can be enjoyed in both bath and drinking water. awakenthepeace.com