By Julia Szabo
East Hampton
Longhouse Reserve, 133 Hands Creek Road, 631.329.3568, longhouse.org (closed Sundays)
This season, the kaleidoscopic landscape of designer Jack Lenor Larsen's lush alfresco culture mecca sports a bold new hue: blue, the color of "Honey," Orly Genger's captivating, 70-foot web of recycled lobster rope, painted shades of cobalt and cerulean (through October 31, 2019). Walk a little further and take a moment to meditate on yet another mood-lifting blue space: the entrancing Peter's Pond, home to water lilies and wildlife.
The Drawing Room, 66 Newtown Lane, 631.324.5016, drawingroom-gallery.com
Drawing ascends to astral heights with a show of ethereal abstractions by two talents: Gustavo Bonevardi (New Watercolors) and John Torreano (Gold Gems Balls) (through June 11). Later, follow abstract master Hector Leonardi on his Chromatic Journey (June 15–July 15).
Harper's Books, 87 Newtown Lane, 631.324.1131, harpersbooks.com
A woman's gaze meets the female form in exquisite photographs by Iranian-born, London-based author Maryam Eisler. Pop by the opening reception on May 26 at 6PM or meet Eisler at the "Book Signing and Bagels" event for her title Voices East London, on Sunday, May 27, at 11AM.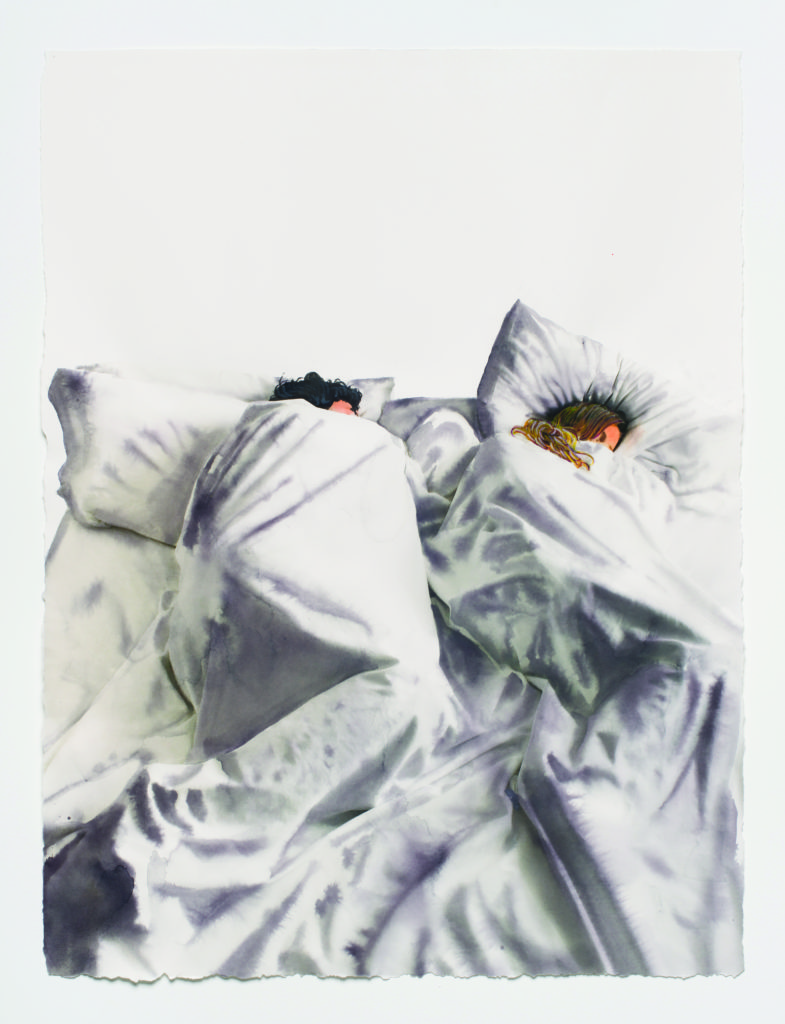 Southampton
Tripoli Gallery, 30 Jobs Lane, 631.377.3715, tripoligallery.com
Exploring the portal between dreams and reality with bedroom eyes, Judith Hudson: Under the Covers presents beguiling watercolor bedscapes; further fostering feelings of intimacy, the gallery space sports wallpaper Hudson designed especially for this show (through June 18). Keith Sonnier: Tragedy and Comedy reveals the numerous works on paper that preoccupied the artist all winter, when illness kept him away from his studio; these small drawings cast healing, illuminating shadows on Sonnier's light art (June 29–July 29).
Sag Harbor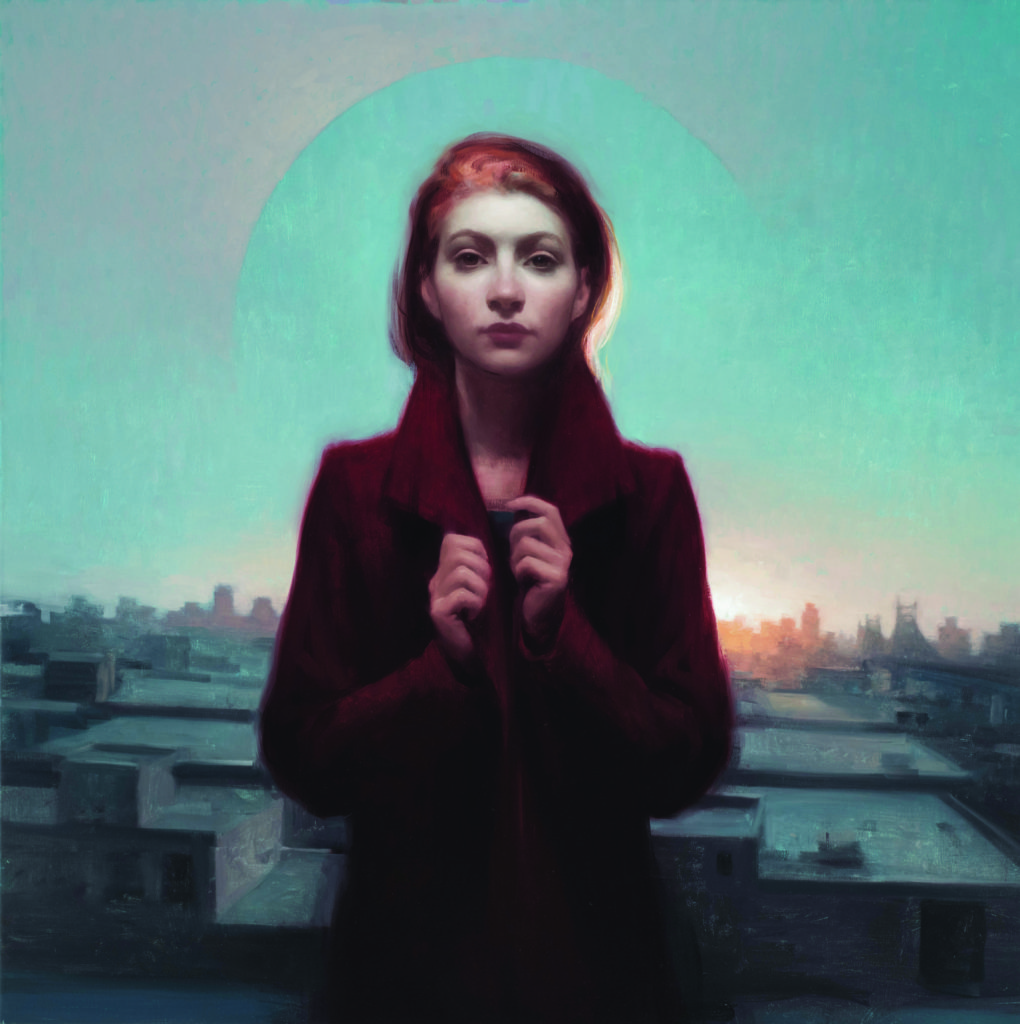 Grenning Gallery, 17 Washington St., 631.725.8469, grenninggallery.com
The two-person show Bauman | Bretzke pairs Stephen Bauman's tonal figurative paintings and graphite drawings with Carl Bretzke's plein-air paintings of contemporary Americana (through June 18). Setting up his easel by the gallery entrance on Saturday, May 26, Bretzke will deploy palette and paintbrush to capture meditative vistas of Main Street for inclusion in the exhibition; go observe this latter-day Hopper at work, and enjoy complimentary Grindstone Coffee & Donuts.
Bridgehampton
RJD Gallery, 2385 Main St., 631.725.1161, rjdgallery.com
Secrets of the Twisted & Entwined: Contemporary Painters from Around the World, a dynamic group show whose theme is "intricate compositions and maze-like patterns," gathers works by, among others, Britain's Mary Jane Ansell (who supplied the art for Adam Ant's most recent album cover) and France's Alain Vaes, whose "Water Lilies and Carp," reminiscent of Rousseau, is a peaceable ecosystem inhabited by fish, fireflies, and frogs (June 16–July 15).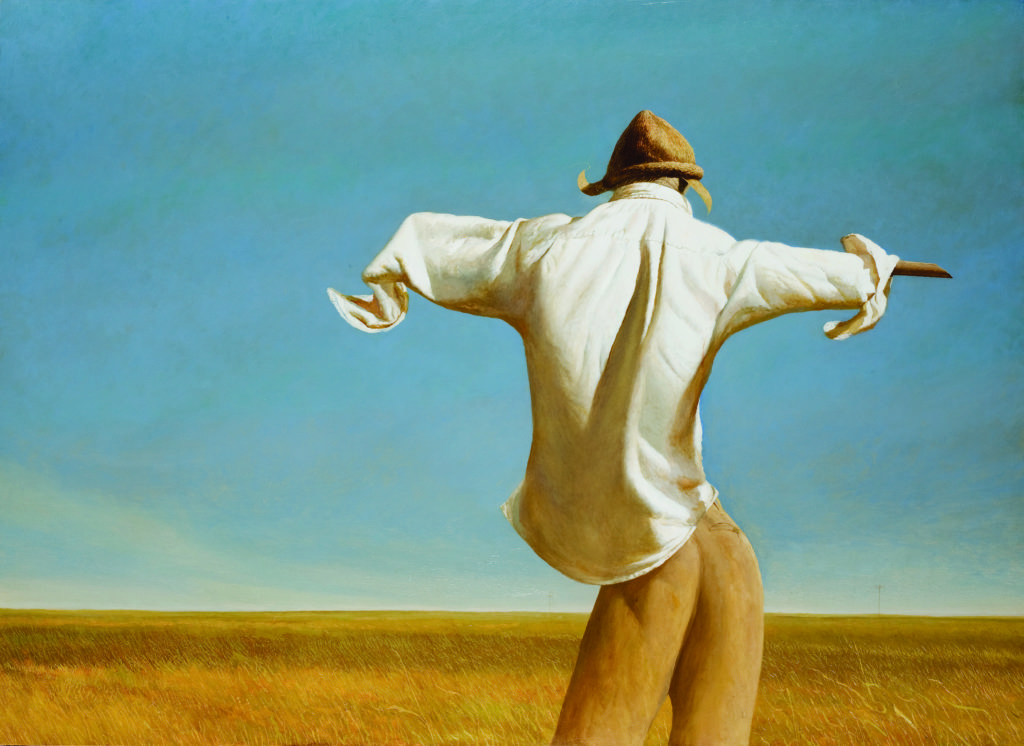 Market Art + Design at The Bridgehampton Museum, 2368 Montauk Hwy, 631-537-1088, artmarkethamptons.com
Back for its eighth edition, the East End's premier modern and contemporary art fair mines dealers and designers from around the world (and the Hamptons). Taking place July 5-8 just off Highway 27, the fair makes acquiring artwork as convenient as a pit stop. Two booths not to miss: RJD Gallery (see above), featuring Bo Bartlett's Wyeth-iconic realist paintings; and Tripoli Gallery (see above), offering celeb portraits by Yung Jake, the Chuck Close of emojis.
Amagansett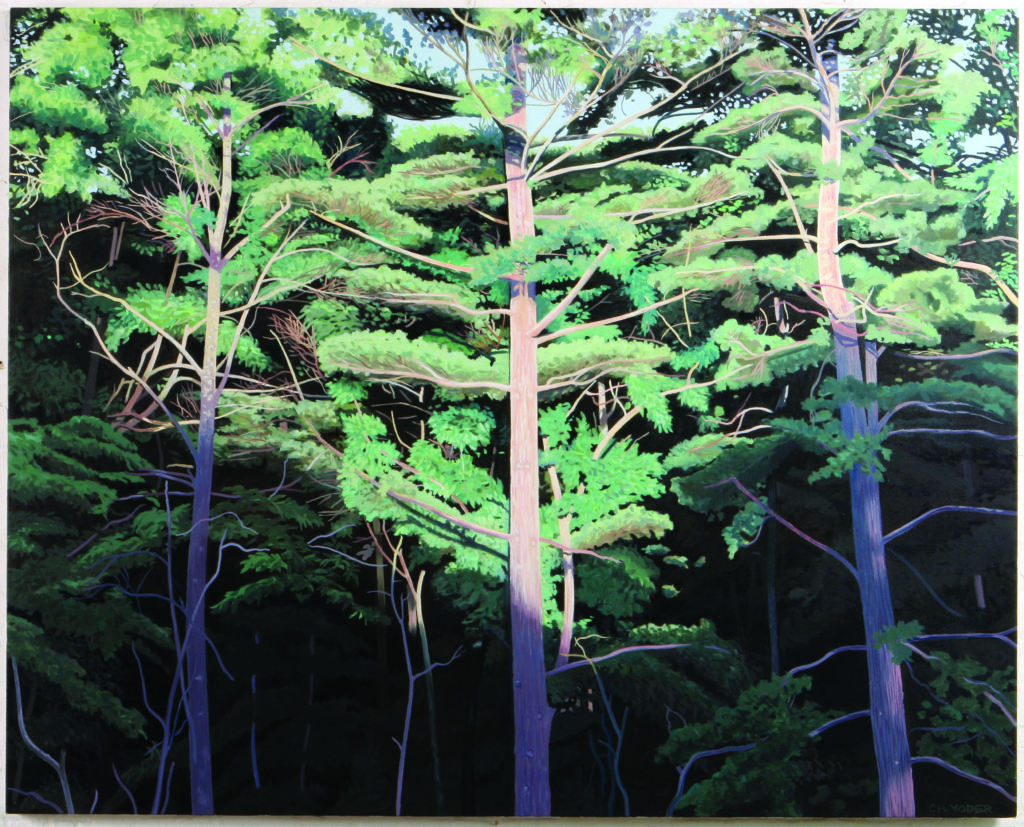 ILLEArts, 171 Main St., 631.905.9894, illearts.com
The natural world is top of mind for gallerist Sara De Luca. Meditations on Nature displays large-scale platinum print photography by Koichiro Kurita, printed on handmade gampi paper, whose fibers are harvested from trees that are not killed in the process (through June 18). De Luca likens the subsequent paintings exhibition, Charles Yoder: Woodwork, to "taking a walk in the woods: mysterious, slightly dangerous, full of possibilities." (June 23–July 16).
Water Mill
Parrish Art Museum, 279 Montauk Hwy, 631-283-2118
The transformative power of architecture is celebrated every day at this venerable East End institution, housed in a building created by master builders Herzog and de Meuron. Photography adds its own metamorphic magic, a phenomenon celebrated in the exhibition Image Building: How Photography Transforms Architecture, featuring works by lens luminaries past and present, from Berenice Abbott to Candida Höfer, Julius Shulman to Balthazar Korab (through June 17). Don't miss Permanent Collection, highlights from the museum's holdings, guest curated by artist Rashid Johnson (through October 31).
Montauk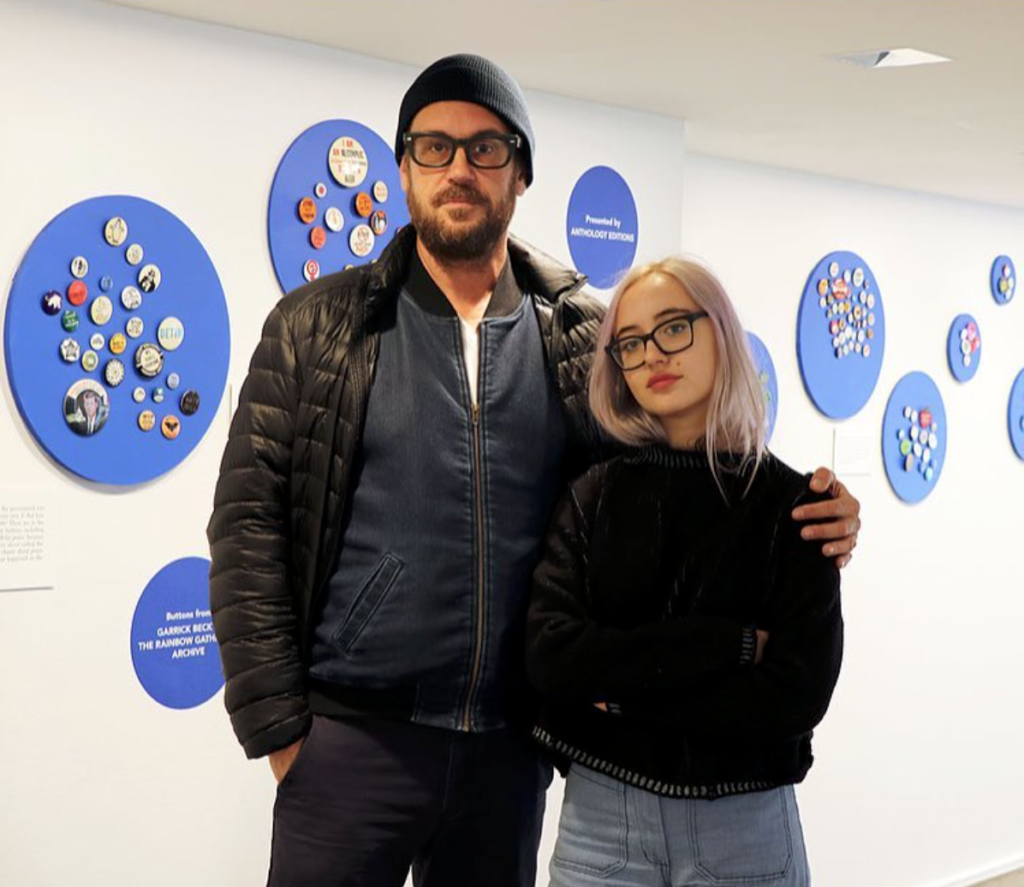 Boo-Hooray Summer Rental, 649 Montauk Highway, www.boo-hooray.com
Johan Kugelberg is the notorious Swedish-born archivist renowned for raising eighties-era fanzines, posters, and other ephemera to the status of Sotheby's objets de vertu; the auction house has partnered with Kugelberg to sell items from his carefully-curated stash of historic hip-hop and Paleolithic punk. Visit his Montauk gallery, the Boo-Hooray Summer Rental, to see it transformed into a cool curatorial playground for his aesthetic heir, daughter Sofia Leilani, 18. Kugelberg the younger is the prodigy behind an exhibition of protest buttons titled "Wearing Buttons is Not Enough," cherry-picked from the archive of lifelong activist Garrick Beck, co-founder of the Rainbow Gathering. (If you happened to be in Paris last year, you may have caught this show at the legendary, now-permanently-closed lifestyle store, Colette).
"This show was originally curated for Colette in Paris," says Kugelberg, "with whom I have staged all kinds of events; punk rock store windows, a Lou Reed poetry event, rare vinyl record cover galleries, and more. When my daughter Sofia came across this exciting archive of original protest buttons, her enthusiasm for them resulted in the staging of her first curated exhibit at the store. Karl Lagerfeld loved it, but I am still her number one fan!"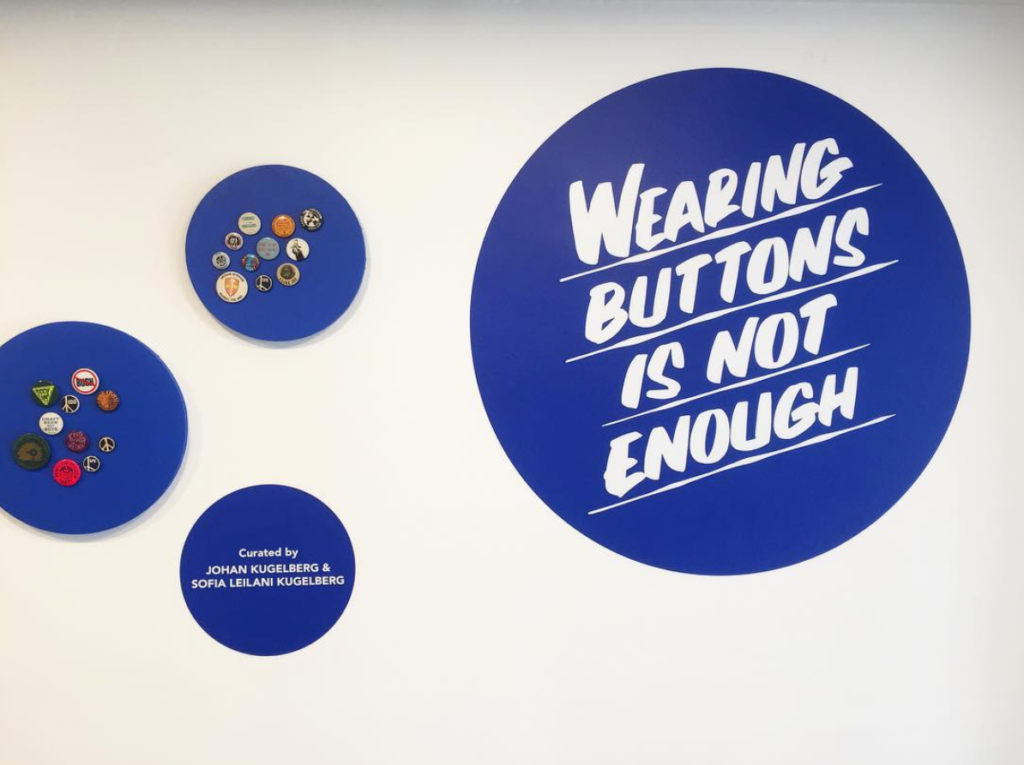 Through the decades, the art of protest has expressed itself in many media; but the small, metal button with the big, impactful message ranks as one of the most enduring, appeals to the radical in all of us. Among the specimens on display: badges proudly proclaiming "Question Authority," "Bored Teenager," and "NOBODY FOR PRESIDENT," plus a profusion of peace-sign pins.
"It was pretty amazing organizing and curating these protest buttons from almost half a century ago," says Sofia Leilani, "and realizing that activism continues to flow in America. They are a huge inspiration for my work as an artist, and in my everyday life." (June 9-22)