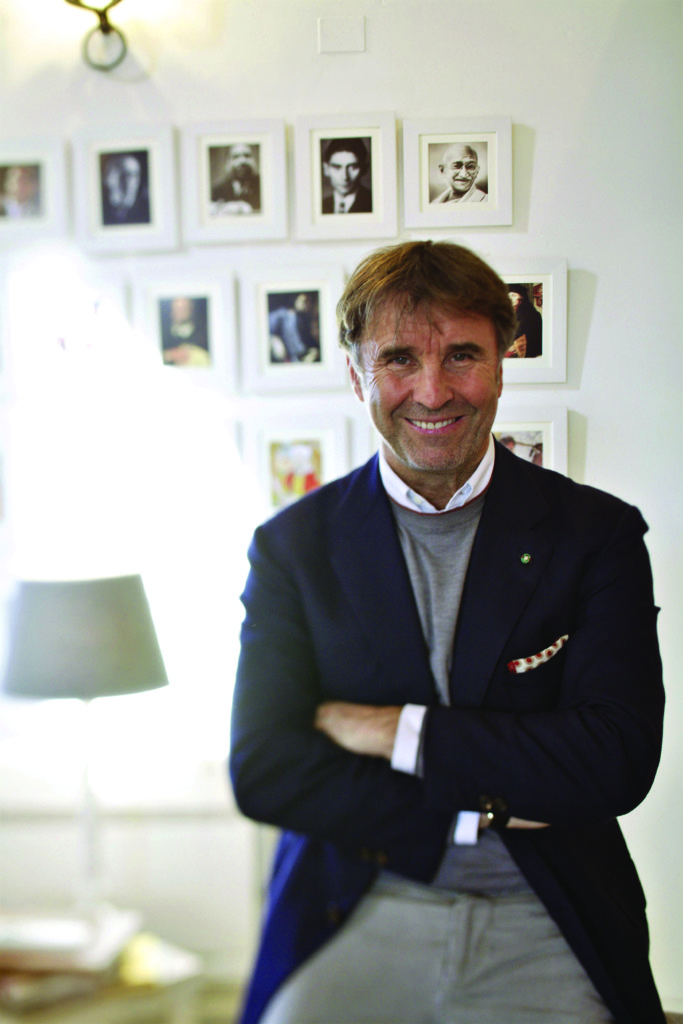 ALINA CHO: You've had a boutique on Newtown Lane in East Hampton for as long as I can remember. What initially drew you to the Hamptons?
BRUNELLO CUCINELLI: The Hamptons reminds me of the village life I've always loved. It is easy to admire its sophistication, artistic roots, pristine land and long stretches of beach. The communal spirit, charm and serene beauty are all reminiscent of the close-knit community in Solomeo [his hometown in Perugia, Italy]. I feel in line with the locals as well as the visitors who want to respect and preserve the land and culture in the hopes of leaving it more beautiful than they found it.
The aesthetic of Brunello Cucinelli is best described as casual luxury, which East Hampton most certainly embodies, making the two a perfect fit. Our clothing truly allows one to look and feel put together, even in more relaxed moments.
AC: You grew up in rural Italy in a home with no electricity and no running water; now you're personally worth more than a billion dollars. What do you remember about your childhood and how on earth did you first get interested in fashion, especially cashmere?
BC: Until I was 15 years old, we were very needy. My family, we were farmers. We worked the land using animals, not machinery. We had no electricity. There was a lot of silence, quiet. But we lived a very serene life. We were joyful. I still hold beautiful memories of those years. And when we actually moved to the city, my father took a job at a factory and was subject to humiliation. He was demeaned. I couldn't understand why something like this would happen. That was the beginning of my perspective on how people should be treated. I said to myself, I don't know what will happen to me or what I will do with my life, but one thing is for sure: I want to work in order to foster human and moral dignity. This has always been the great dream of my life.
Cashmere is at the core of our collection. The timeless quality of this elegant yarn is what I have always been attracted to. It embodies a simple luxury that you never discard; it is cherished eternally in one's wardrobe. I see our collection as timeless, wearable beauty that is forever a part of one's life. You never want to part ways with a cashmere item from your wardrobe. It creates an emotional connection with the person wearing it.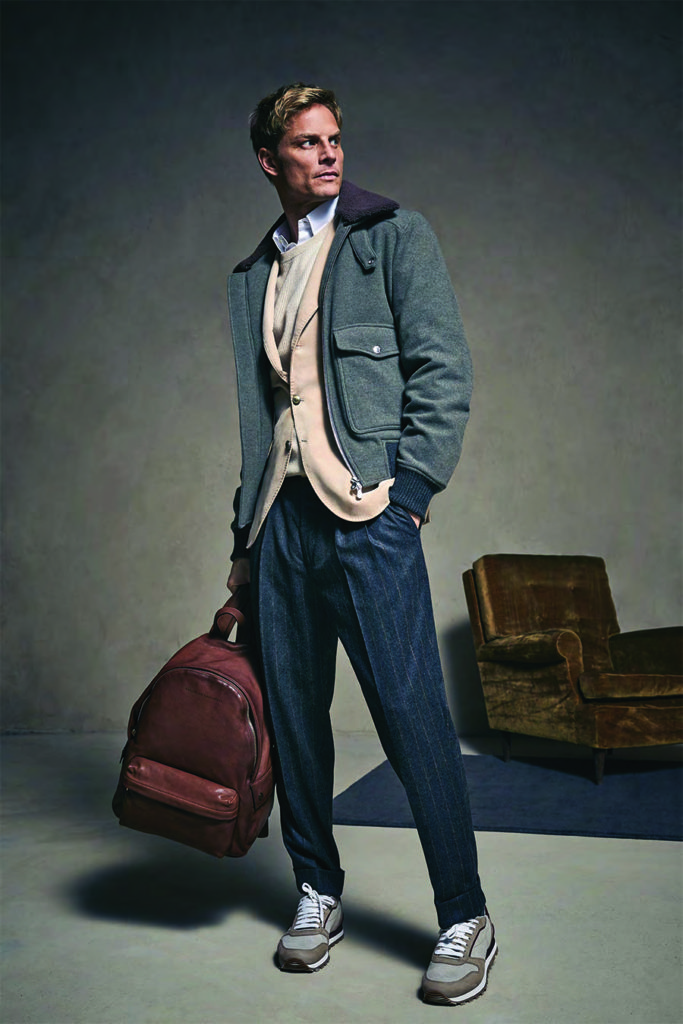 AC: When I think of Brunello Cucinelli, I always think of the most luxurious everyday clothes. People will be fascinated to learn that you started your company in 1978 with just $550. What was your idea back then, and how has the company evolved?
BC: In 1978, with a bank loan of only half a million lire, I found a knitwear factory willing to manufacture my sweaters. The success was instant, and to meet the growing number of orders, I was forced to make people believe I had 72 employees. In fact I was a one-man band, packing and dispatching the sweaters myself. Often I would answer the telephone using voices of nonexistent secretaries and factory workers. Back then, cashmere was worn only by men and in dark colors, so I decided to introduce pastel-colored cashmere to the women's market, which turned out to be my big break.
AC: You're known as the "King of Cashmere" and Brunello Cucinelli is now a massive public company, but you were extremely cautious about how you grew it. Most designers in business want to be as big as possible and get there as fast as they can. Why not you?
BC: I think the key to creating a collection that complements a very particular lifestyle without rivaling the work of any other designer goes back to Solomeo. Even though my design team is constantly scouring the globe for great new movements in fashion, architecture, art and design, our village, removed from the hustle of bigger cities, allows us to focus on our craft and not lose sight of our mission. We stay true to our craft and aren't distracted by what other brands are doing.
AC: You pay your employees 20 percent more than the industry average. What's behind that thinking?
BC: When you take care of your employees by giving them a nicer work environment, better offices, and a work-life balance that allows them to be with their families, these additions will ultimately make them more creative, productive and committed. As a result of this philosophy, we have been able to create a beautiful, Italian-made product that is not only luxurious and with high craftsmanship, but also maintains integrity. My company is only as strong as the people behind it.
AC: I love how committed you are to giving back: You give away 20 percent of your profits to your foundation, the Brunello and Federica Cucinelli Foundation.
BC: The idea of extending my efforts outside of fashion came from the passion of wanting to make a positive difference and impact on others. My vision is to continue a brand experience beyond clothing, to give back to the community, and to ultimately create a better quality of life for all the people around our company and town. Today, we have created a youth center, a school of arts and crafts, a theater, a hospital and a library. It brings me serenity and pleasure to create change beyond what the brand is doing in fashion. The focus of the Foundation has been embracing and preserving humanity. We are very inspired by nurturing our culture, country and family values, and continually keeping ourselves open to new ideas and opportunities to give back.
AC: Since this is a magazine about wellness, what is your secret to looking like you age backward? I read that you practice yoga.
BC: I believe that there are three things in life that you must absolutely do for yourself, because nobody else can do it in your place: keeping fit, following a diet and accumulating culture. Before I turned 45, I would spend half an hour a day working out. Then, between 45 and, let's say, 50, I started working out for an hour and a half a day. Now that I'm 65, I've gone up to two hours because I want to stay fit. I start with an hour of swimming every morning. After swimming, I do about 20 minutes of a series of exercises called the Five Tibetan Rites, which is an ancient form of yoga.
About 15 years ago, I was going through my library and rediscovered this book on Tibetan yoga, Tibetan Secrets, that a martial arts teacher had given me. I have done it ever since, and have given the book to all my friends. Many people note health benefits, such as hair growing back. Four years ago, I couldn't read my mobile phone display without my glasses and now I can, so there must be some truth in it.
I think it is essential to also devote some time to oneself through reading and reflecting. I have always maintained that the quality of our products is the result of the inner quality we all have.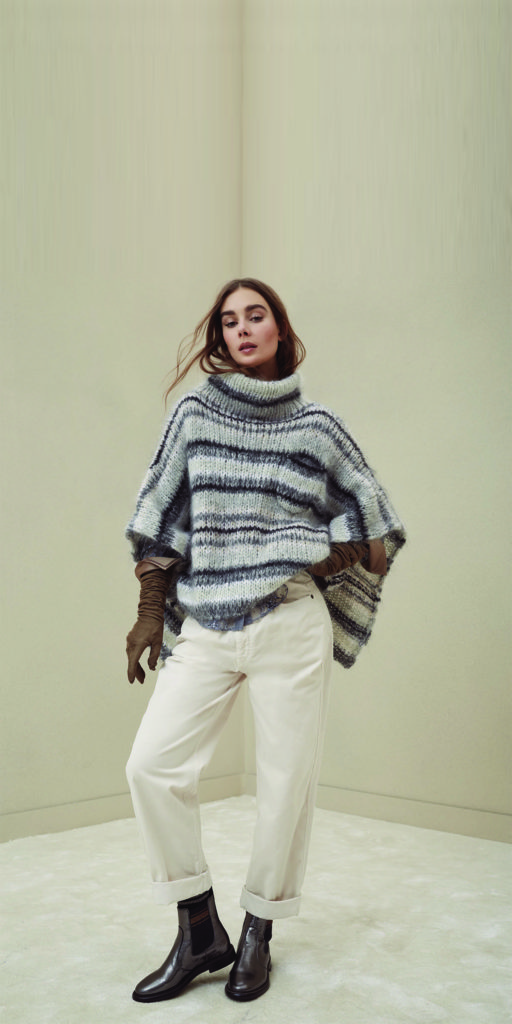 AC: You've said that you have a uniform, of sorts. I'm the same—it's one fewer thing to think about. Is that part of it, to eliminate some of the decision-making in your life?
BC: I believe for a man who is often traveling and has a semi-public life, it's important to have essential pieces in the wardrobe that make it feel effortless to be organized every day. I still manage to have fun and try combinations of outfits on myself, especially as we prepare for the men's fairs, since it's a time of great creativity for us on the designs of the collection.
I have staples in my wardrobe, like white cotton buttons-downs, a navy travel blazer, cargo corduroy pants and my favorite Western-style leather belt.
AC: You married your hometown sweetheart. What's the secret to staying together all these years?
BC: I think we have always respected each other, and we still find time to laugh and have fun with friends, even after so many years together. We still give each other compliments, and I make sure she feels special and important. We go on walks together and talk, plus we make family holidays an important tradition, even as the kids age.